Configuration
Reserved for internal or future use. This section is dedicated to fill in all the relevant configurations, required to make the process of product listing & management on eBay seamless. This section also reflects a default profile that gets created automatically from the information you provide while onboarding.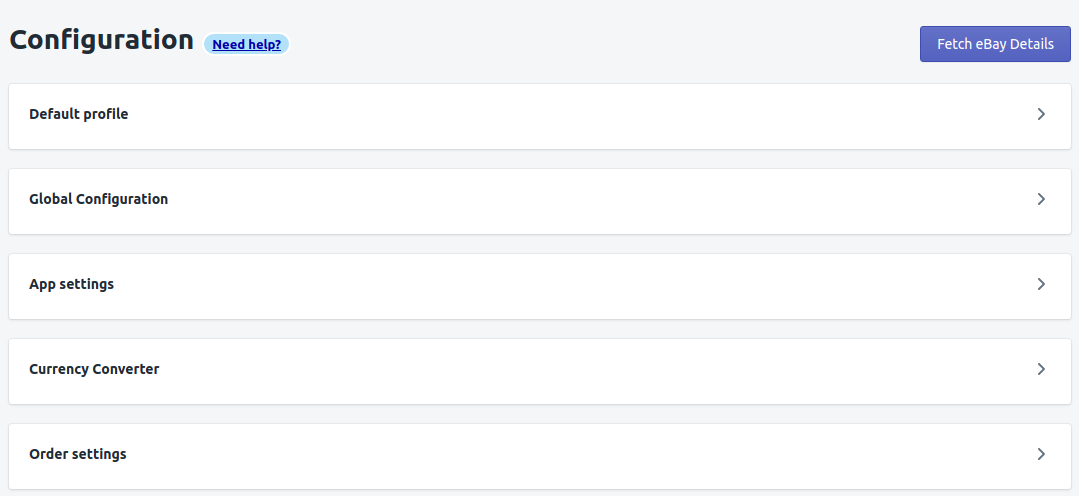 1) Default Profile: This consists of the automatically created profile consisting of the business policies ( Shipping, Payment & Return) and Templates (Category, Inventory,Pricing & Title).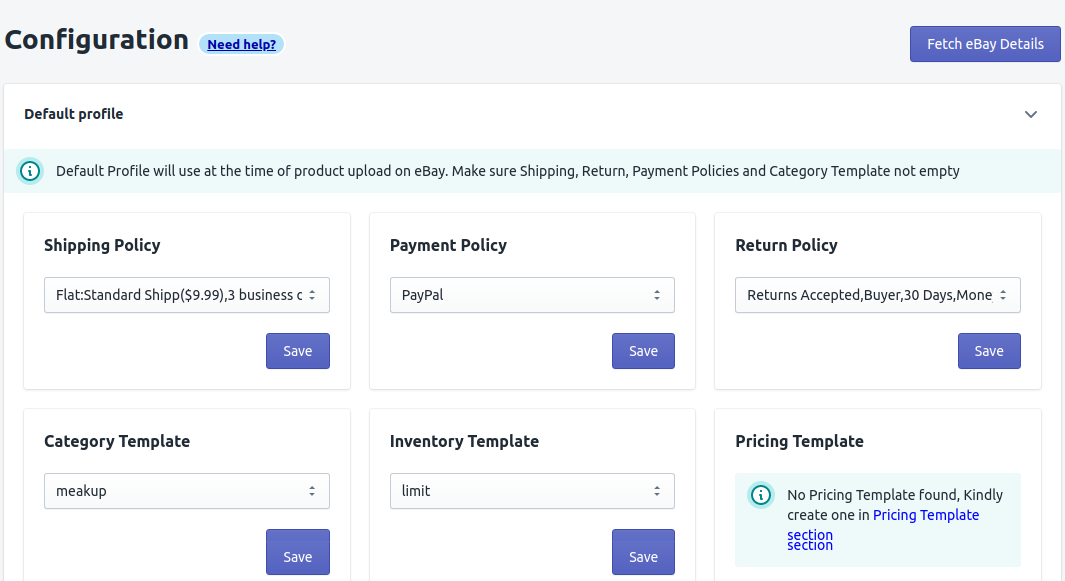 2) Global Configurations: This subsection includes the sales tax details (Sales Tax Details, VAT Details), Product Dimension (to aid the shipping process), Variations setting, Webhook setting, etc..
i) SALES TAX DETAILS: it indicates whether or not the seller applies sales tax to shipping charges in addition to the item cost. The concept of 'sales tax' is only applicable to eBay US and Canada (English and French) sites.
ii) VAT DETAILS: The VAT (Value-added Tax) percentage rate that will be charged to buyers when an item is purchased from the listing, and to enable Business Seller-related features. 
iii) GENERAL SETTINGS:
Variation image setting:  if you want to send variation images then please select the attribute which you want to use for variation images.
iv) ITEM LOCATION: Choose a location from where your products will be shipped.

v) EXCLUDED SHIPPING LOCATION: You can create an exclusion list of the locations where you don't want to ship your products.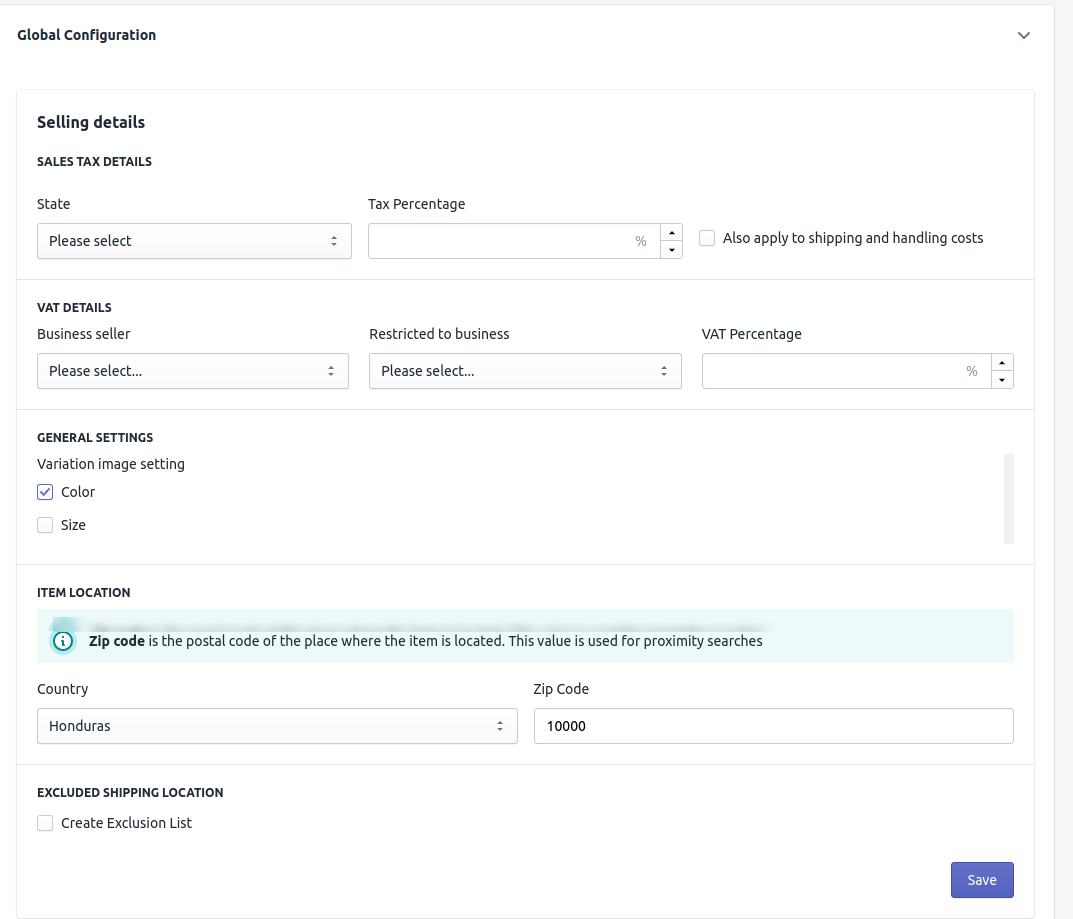 3) App Settings: From this section, you can enable or disable auto product syncing, auto order syncing.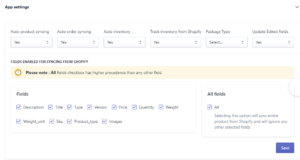 Auto Inventory:  Enables the automatic inventory sync of the products from Shopify to eBay one time in the day.

Track inventory from Shopify: In this section, you will have to choose between either yes or no.
If you opt for yes, your orders will not be created after the inventory limit is reached to 0 or less then 0.

If you opt for no, then your orders will be created irrespective of your inventory quantity of the products(infinite inventory). And all the order-related details will be shared directly to you (or your fulfillment service) for easy fulfillment.


Package-Type: Through this section, you can set the package type for your products. This will help you to offer the best shipping option to your buyers. The package type cannot be applied with the flat shipping type.


Update Edited fields: This enables you to resync the edited fields like product titles, descriptions, etc between Shopify to the app. The fields edited previously will be resynced and the changes will reflect the same on the app from Shopify.

FIELDS ENABLED FOR SYNCING FROM SHOPIFY: You can select the fields you want to sync in real-time from Shopify to the app. This means that the selected fields will reflect the same Shopify as well as the app.
4) Seller Preferences: This section allows you to set filters for importing the products in the app.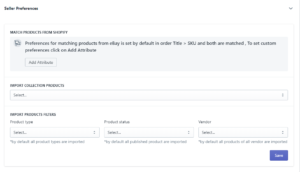 Match Products From Shopify:

From here, you can set preferences to match your already existing eBay products to the Shopify products if you are already selling on eBay.




You can set the preferences for both, Title & SKU or for anyone.

Import collection products:

From this section, you can import products of a specific collection from Shopify to the app.

Import product filter:

This section will allow you to set filters for importing products in the app. You can filter the products on the basis of Product Type, Product status, Vendor.
5) Currency Converter: Enable or disable the option to convert your Shopify to the currency in which you want your products to appear on eBay, depending on the location.
Suppose you sell a t-shirt for € 2 on Shopify, the currency converter will help to get this converted into your eBay shop's currency. Thus, this t-shirt would appear to be of $ 2.20 on eBay.com

5) Order settings: Map Shopify order cancellation reason with the reasons for the same available on eBay.

×