Lazada Product
Once you are done with the Configuration part, the next step is to go on the Lazada Product part. In this section, you may import your products from Lazada as well as edit them as per your requirements.
To do so, click on the left navigation bar of Lazada Product Importer in your admin panel and click on Product as shown in the figure below: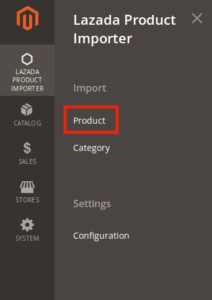 In doing so, you will come across the page where you'll have to click on Import button and all products will be listed as shown in the following section on the page:

To see the details of the product you need to click on the Eye/View sign in the last column adjacent to the product and you will be shown your product details as shown on Lazada as below:

Now from here, you may import the products to your Magento store with simple steps.
Click on the drop down arrow on the Import button and you will see two options: All Product Import and Search and Import
If you wish to import all the products, simply click on All Import button. All your products will be imported to your Magento store.
On the contrary, if you want want to search a product and import, you may click on Search and Import button and you will see the below section:

You may enter the Search Query in the bar, SKUs and Status of the product you wish to import and click on the Import button. All your products will be imported.
×