Onboarding the App
This section will guide you through the seamless onboarding process of the CedCommerce Amazon Channel App. Learn how to effortlessly install the app within your Shopify store and integrate the store seamlessly with your Amazon account. Prioritize a successful start by ensuring you have all prerequisites in place.
Primary access(owner's access) to your Amazon Seller Central account. ( Avoid staff access)

An active seller account ( i.e., not suspended, inactive, or in vacation mode).

An Amazon Professional account with an updated Payment method ( i.e., not Amazon Pay or other account types). 
Follow this guide to achieve a smooth onboarding experience and establish a solid foundation for your multichannel selling endeavors.
How to Install the CedCommerce Amazon Channel App?
CedCommerce Amazon Channel app provides seamless integration between your Shopify store and Amazon, allowing you to expand your sales channels and reach more customers. Follow these simple steps to install and set up the app for your Shopify store:
Step 1: Accessing the App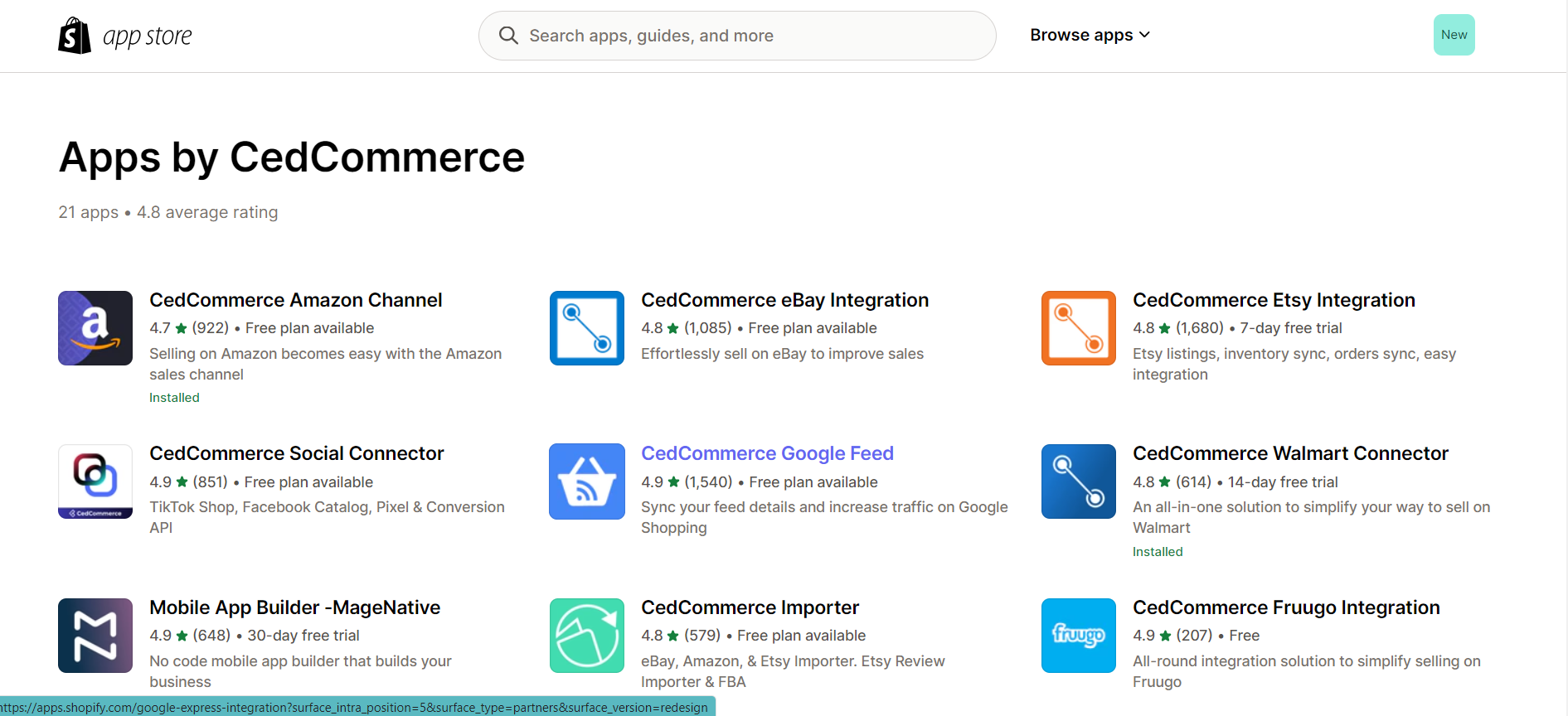 Step 2: Installing the App

On the Shopify app store page, you will find an "Install/Add App" button. Click on it to initiate the installation process.

Shopify will prompt you to confirm the installation. Click "Add app" to proceed.

You will be automatically redirected to the Shopify login screen.
Step 3: Logging Into Your Shopify Store
Enter your Shopify store's login credentials (email and password) and click "Log in."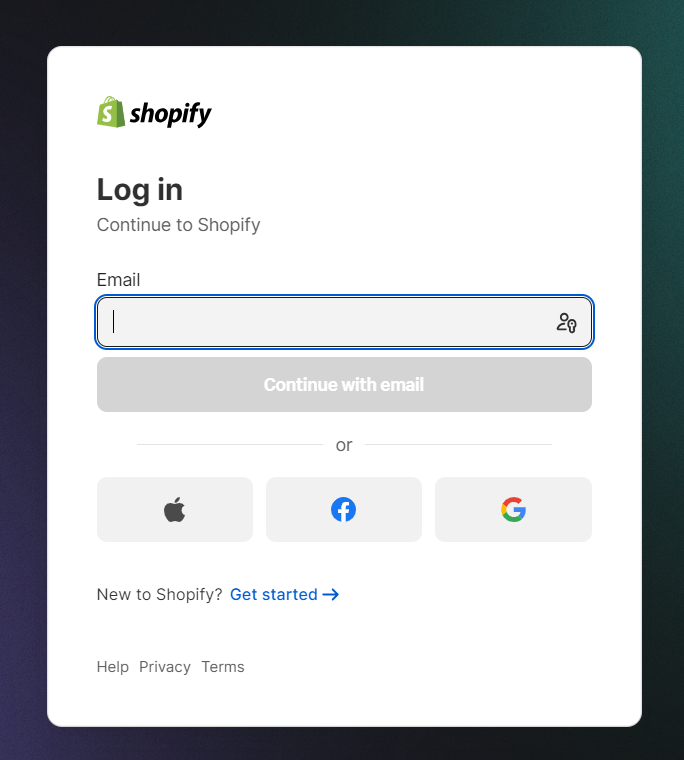 Upon successful login, you will be directed to the consent page.
Step 4: Integration Confirmation and Onboarding
You will receive important information about the integration process on the consent page. Carefully review the details provided to ensure you understand the implications of the integration.

Double-check the name of your Shopify store to ensure you are integrating the correct store with the app.

Once you are confident that everything is accurate and in place, locate and click the "Add Sales Channel" button.

You will be taken to the onboarding page, where you can begin the setup and configuration process for the CedCommerce Amazon Channel app.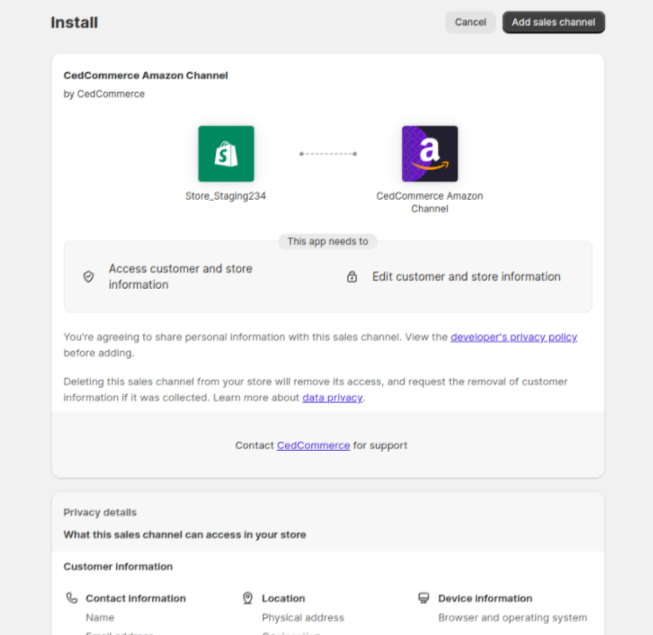 How to onboard the CedCommerce Amazon Channel app?
Step 1: Installation and Initial Setup
Once you've successfully installed the app, you'll be guided through the onboarding process.

Select your business operations country from the provided list.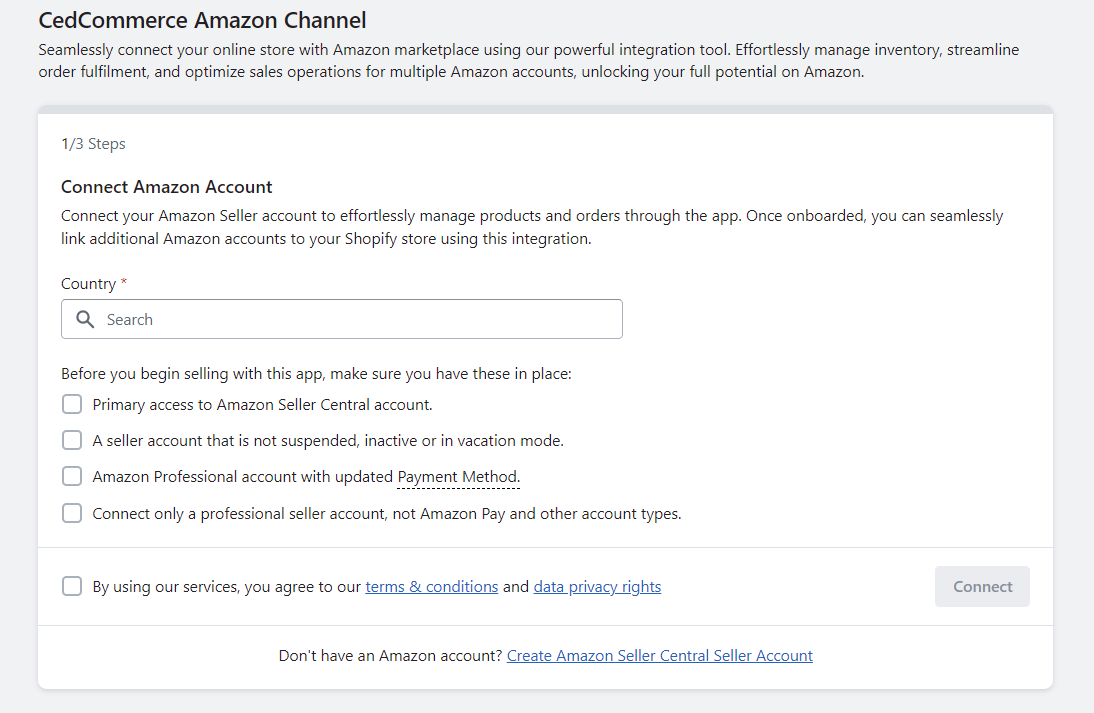 Review the prerequisites for using the CedCommerce Amazon Channel app. Make sure you have:
– Primary access to your Amazon Seller Central account.
– An active seller account (not suspended, inactive, or in vacation mode).
– An Amazon Professional account with an updated Payment method (not Amazon Pay or other account types).
Carefully read and accept the terms and conditions.

Click "Connect" to initiate the account connection process. If your seller account meets the requirements, your Shopify store will be linked to Amazon.
Troubleshooting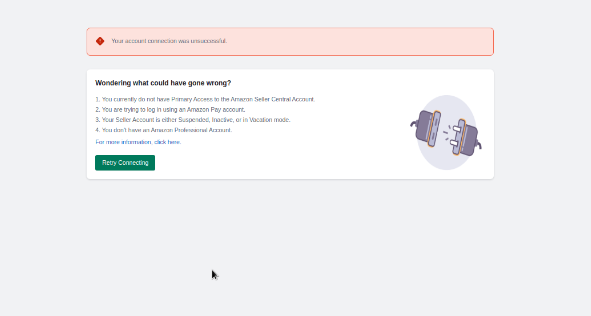 Step 2: Amazon Account Setup
Create a memorable name for your Amazon account to distinguish it from any other of your accounts.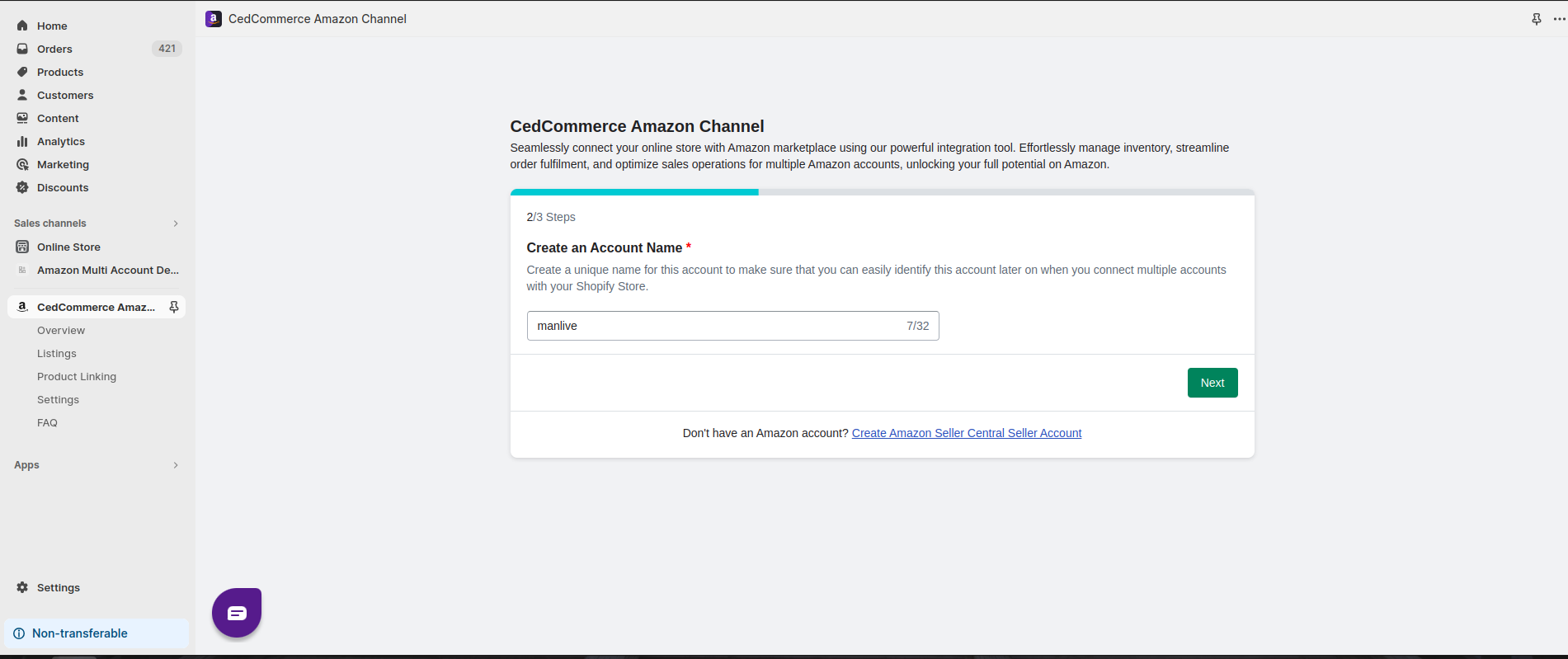 Indicate whether you're a New Seller or an Existing Seller on Amazon.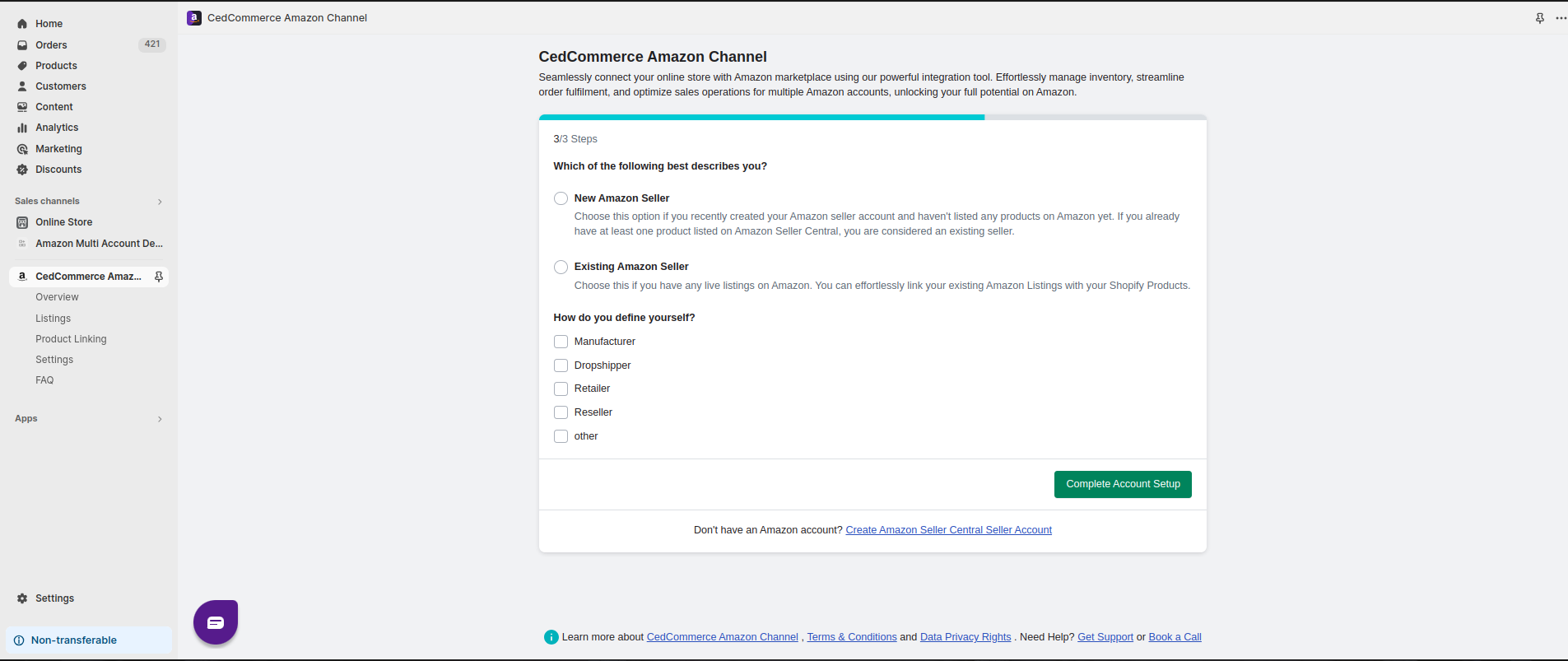 If you choose New Seller(no product is listed on Amazon):

Your Shopify products will be listed on Amazon as new listings or offers.**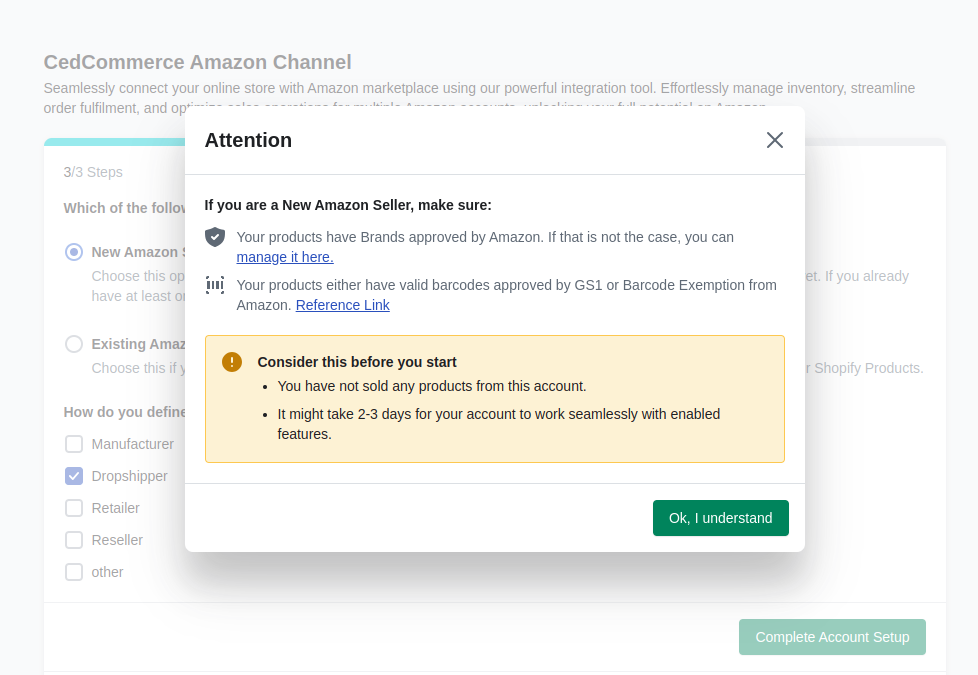 You will have to verify Amazon Brand approval and ensure valid GS1-approved barcodes or barcode exemption.

If you choose Existing Seller (Products are already listed on Amazon):

If you are an existing Amazon seller, link your Shopify products to your current Amazon listings via the "Sync Status" operation. Use SKU or Barcodes for linking. Optimize results by choosing both metrics.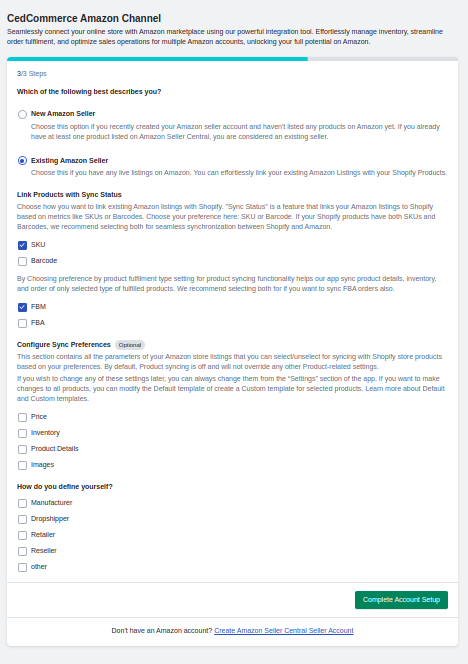 To proceed, at least one metric must be selected for the Sync Status action.

Optimize synchronization by choosing either FBA or FBM fulfillment methods which defines what data will be synchronized. It will sync Amazon data with Shopify. 

Individually select product data (Price, Inventory, Product Details, Images) to synchronize between Shopify and Amazon.

Choose your business model:

Manufacturer: If you are the entity responsible for producing products 

Dropshipper: If you market and sell products to customers without holding inventory, and the products are directly shipped from a supplier or wholesaler to the buyer.

Retailer: If your business entity sells goods directly to consumers.

Reseller: If you purchase products or goods from a manufacturer or distributor and then sell them to consumers or other businesses, often without significant modification.

Other: If your business model doesn't align with any of the options mentioned above, kindly specify the appropriate type here.
**
New Listing:
If there are no pre-existing Amazon listings for your product (identical SKU or Barcode), your items will be listed as a New Listing.
Offer:
When another seller has already listed the same product using the same Barcode, your item will be presented as an offer within the existing listing by that seller. Gain further insights into this process, available here.
Note: Account activation may take around 2-3 days.
×