Getting Started with CedCommerce Amazon Channel
How to connect your Shopify Store with Amazon?
CedCommerce Amazon Channel, the native Shopify Sales Channel App helps you integrate your Amazon Seller Account with your Shopify store faster than ever before. Whether you are selling with a single-account feature or multi-account feature, connecting your accounts with the app is faster, more efficient, and error-free at any given point in time.
To begin with, Install the app from the Shopify App store. However, to ensure a hassle-free installation and working of the app, make sure you are ready with the following pre-requisites:
Pre-requisites for using CedCommerce Amazon Channel
Be sure not to Log In with your Amazon Pay Account
When trying to connect your Amazon account with Shopify through the Shopify Sales channel of Amazon, you must ensure that you are not logging in with your Amazon Pay account. Amazon Pay account is essential for your customers to leverage faster and more secure payments from your site. Make sure to connect with your Professional Amazon account.
Ensure you have a Professional Amazon Account
Only Professional Account holders can connect their Amazon Seller account with their Shopify Store using the CedCommerce Amazon Channel App. The app services are not available for Individual Accounts, as of now.
Click Here to know more about Amazon's Individual and Professional Seller Plans.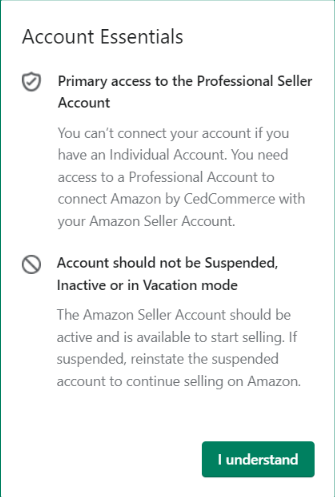 While connecting the account with CedCommerce Amazon Channel app, you need to make sure that you select the same country on the app with which you have logged in to your Amazon seller account. On both platforms, the same country should be selected.
Seller Account should not be Suspended, Inactive, or in Vacation mode
Before connecting Amazon Seller Accounts to the Shopify store using the app, make sure your Seller Account is active. In case of your account is suspended, get it restored first. In case, your account is inactive or in vacation mode, turn them back to active mode before trying to connect.
Multi-Account Connectivity with One Shopify Store
The CedCommerce Amazon Channel app offers sellers the convenience of managing multiple Amazon Accounts from the same Shopify Store very quickly. Now, you can easily connect your accounts from one country or multiple Amazon-approved countries. The app now facilitates multiple account connectivity, switching b/w accounts and managing all the feeds from one centralized platform.
If all the prerequisites are met, it is time to connect your Shopify Store to your Amazon Seller Central Account.
How to check your Amazon account status
Step 1
Log in to your Amazon Seller Central account.
Step 2
Go to Account Info under the Settings section; you will see your account status, which shows one of two things- Active or Inactive. If the account is ACTIVE, then follow the steps given below.
Click on Add a product -> I am adding a product not sold on amazon ➝ select the category.
If any error occurs, it means your account is not set up completely. First, you must set up your account and make it ACTIVE.
Problem Connecting your Shopify Store to Amazon using the App?
Have you encountered any problems with the process of establishing this connection? In that case, ensure you have followed the following few steps:
Do not use OTHER Amazon-Shopify Integrations in parallel with CedCommerce Amazon Channel.
In case you are using other Amazon-Shopify Integrations installed in your store, it is recommended that you disconnect them before proceeding with CedCommerce Amazon Channel. This is because using multiple apps to integrate Shopify Store with an Amazon Seller account can lead to Incorrect or Outdated Status updates for Products. This irregularity is a consequence of the different feed information against the same product available on multiple apps at once.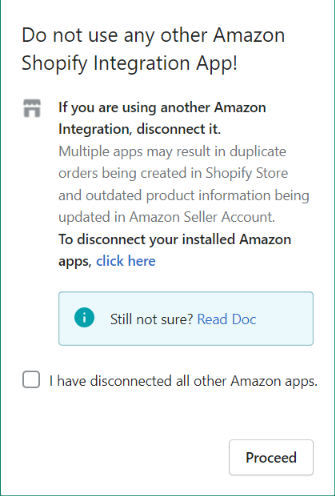 What to do if you have Products already Listed on Amazon?
In case you have products already listed on Amazon, you can choose which product data you wish to synchronize between the store and Amazon. Initially, the default sync setting is kept disabled to avoid any changes in the synchronization of the product details b/w your store and Amazon listings.
So before starting, enable synchronization by choosing specific information from the below list as per your need: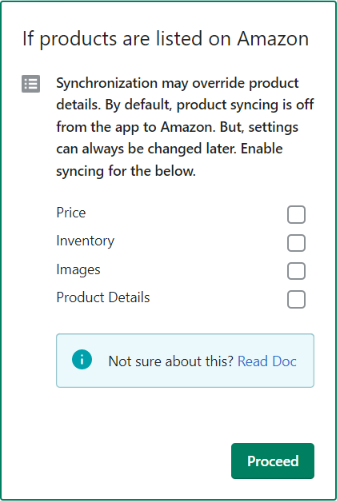 When Starting with a New Amazon Account
When starting with a new Amazon Account, ensure that the account is not under review by Amazon. Under such circumstances, an error will appear with the following message:
Bad Response! 401 Unauthorized: AccessDenied- Access Denied
Additionally, there is a possibility that you still do not have permission to upload products on Amazon at the moment.
If you cannot troubleshoot the issue, get in touch with team CedCommerce for guided resolution.
How to check if your Account is Restricted?
If you encounter errors with your account, check if your account is restricted. Follow the process below to find out your account status quickly:
Go to Settings and then click on Account.
Now go to Settings
Select user permissions, followed by clicking on the third-party developer and apps.
If everything is okay, a charge way sends a confirmation Screenshot of the Cedcommerce App status and shares the token after generating it on Amazon.
You need to make sure that you select the correct country when connecting with CedCommerce Amazon Channel.
×