Onboarding the App
Here's a look at how to get yourself onboarded on the CedCommerce Amazon Channel app after you have installed the app. The entire process is pretty simple and requires you to satisfy a few prerequisites and follow three simple steps.
Step 1: Connecting Seller Account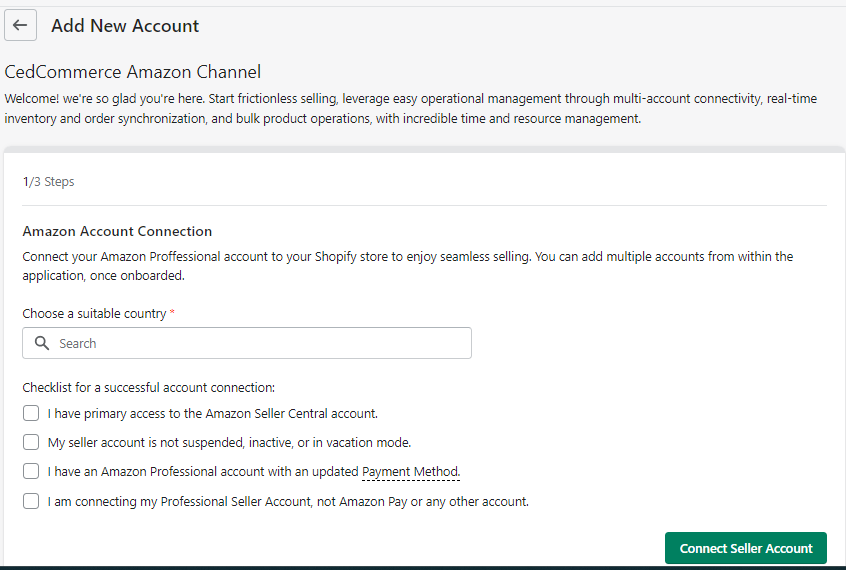 The first step in onboarding lets you select the country from where your Amazon seller account is based. Below this search box is a series of checklists every seller must check for a successful Amazon connection.
1. Primary Access to the Amazon Seller Central Account
Primary access (owner access) is required to connect the CedCommerce Amazon Channel with your Amazon Seller Central account. We need it to connect and initiate the synchronization between your Shopify store and Amazon Seller Account.
Note: Any other access will not work when connecting the account.
2. Requires an Amazon Professional Account
One of the prerequisites includes having a Professional Account on the Amazon Marketplace. Individual Account holders cannot connect their seller account with the CedCommerce Amazon Channel application. Also, ensure that your payment method is updated and you are not using an expired/invalid payment method.
3. The Seller Account should not be Suspended, Inactive, or in Vacation mode
Suppose the Amazon seller account you want to use has been suspended for some reason or violates Amazon policy. You need to reinstate that suspended account to continue selling on Amazon. Using an Amazon seller account in inactive mode is as good as not using an account. You must ensure the Amazon Seller Central account is active and available to start selling.
4. Ensure Professional Seller Account is connected
The onboarding process may not be complete successfully, or our app may not work as per your expectations if you try to use your Amazon Pay/Personal account with our app instead of your Amazon Seller Central account.
After selecting the country and ticking all the checklist boxes, click the Connect Seller Account button. Clicking on this button will open a new window wherein you'll have to log in to your Amazon Seller Central account and agree to some consents for the proper functioning of the app. Once this has been done successfully, you'll be redirected to the CedCommerce Amazon Channel app.
In case you didn't tick one of the boxes on the checklist, your account connection will be unsuccessful and you'll see a screen as shown below.

You'll have to restart the entire onboarding process again if you see this screen come up during the onboarding process.
Step 2: Creating Account Name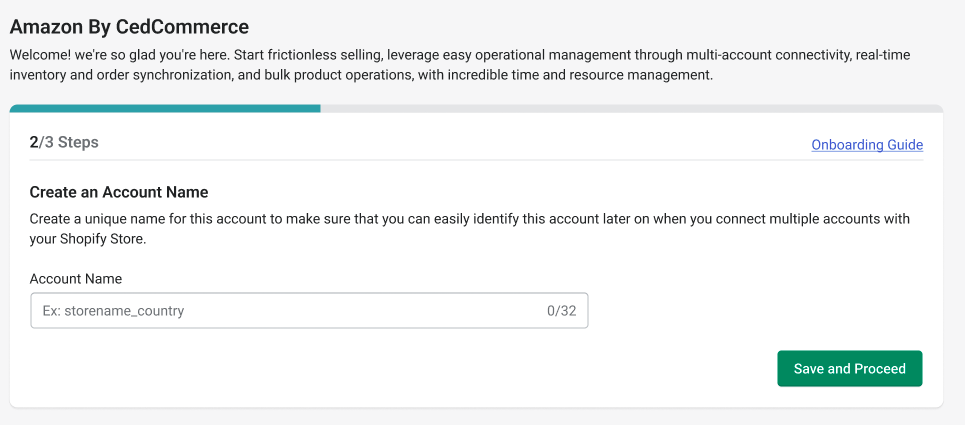 Once you have successfully connected your Amazon Seller account to our app, you will be redirected to the account name page. This is the second step of the onboarding process, where you must provide a unique name for your account. If you provide a name that's not unique and has been used by you in one of your previous accounts, you'll get an error message asking you to provide a unique name for your account. Click on Save and Proceed to continue to the third and last step of the installation process.
Step 3: Categorising as a New or Existing Amazon Seller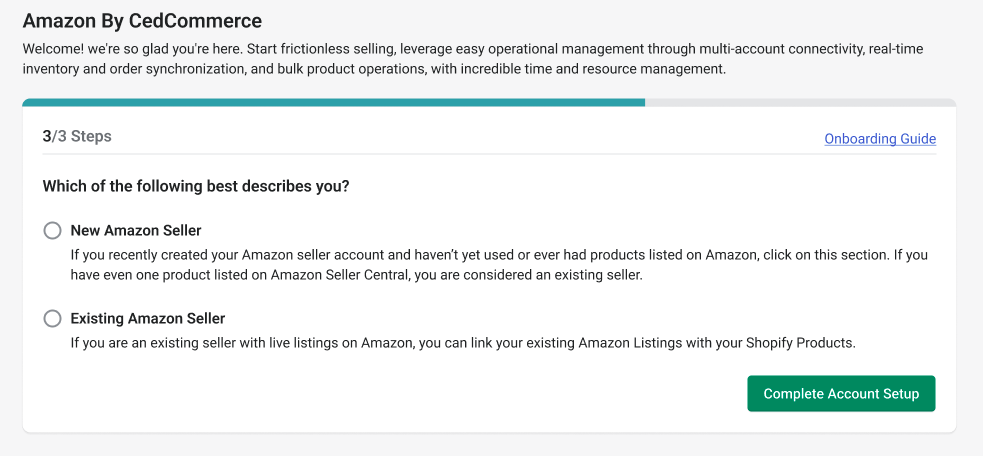 The third and final step of the onboarding process is where you will have to describe yourself to which category of sellers you fall. You will have two options: New Amazon Seller and Existing Amazon Seller.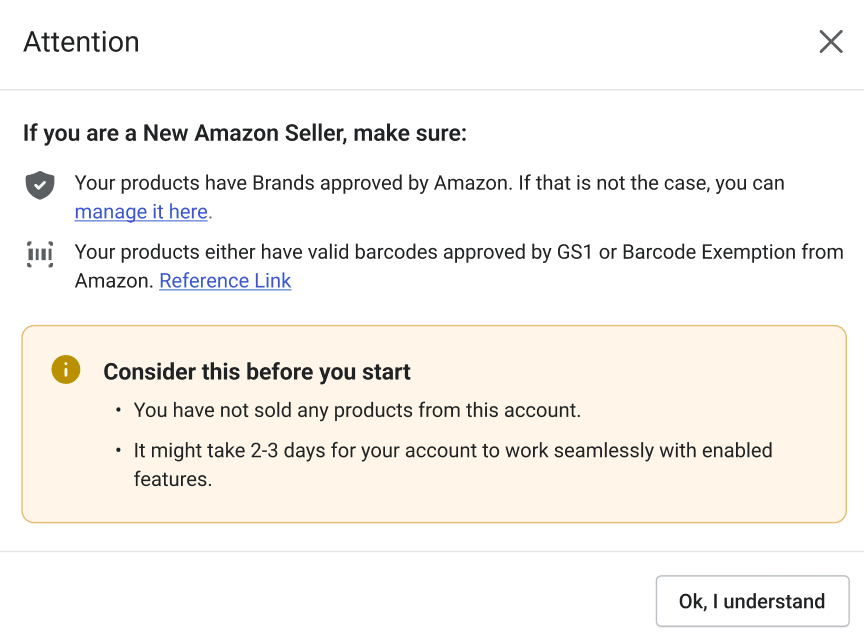 If you choose the New Amazon Seller option, you will first have to reconfirm this by clicking on the Ok, I understand button on the dialogue box, which pops up once you choose the New Amazon Seller option. You will now be directed to the Pricing Plan page of our app where you can select the plan that suits your business needs.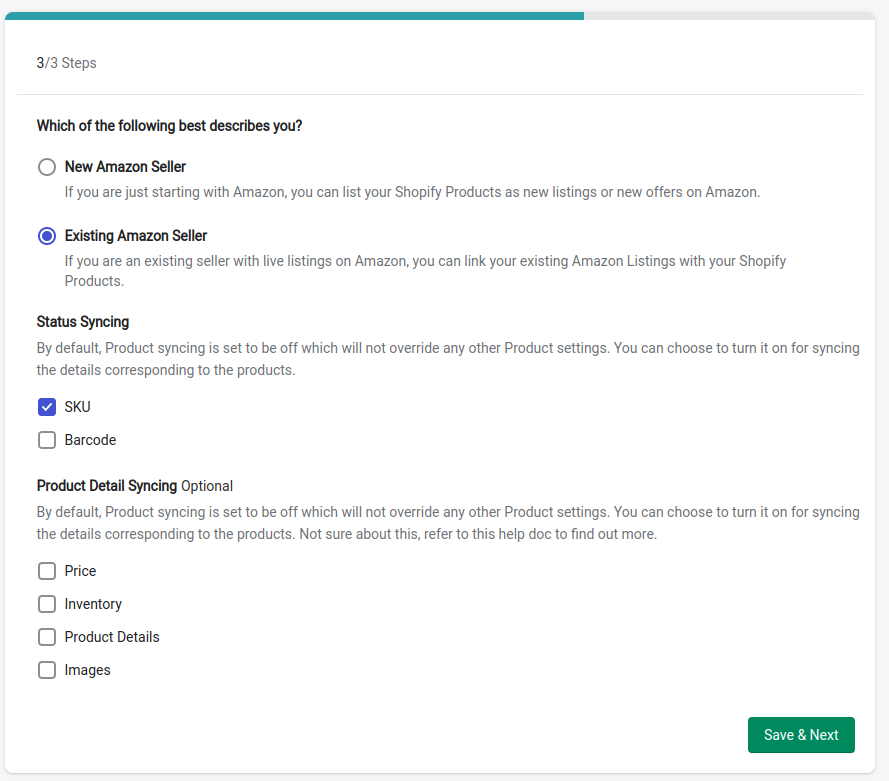 If you select the Existing Amazon Seller option, two more settings will open up:
This option allows our app to link your Amazon products corresponding to your Shopify store products, based on SKUs and Barcodes. You can select either one of these metrics or both of them, depending on your preference. If you select both SKU and Barcode, SKU will get a higher preference.
This section contains all your Amazon store listings parameters that you can select/unselect for syncing with your Shopify store products. The parameters that you can select include Price, Inventory, Product Details, and Images. If you wish to change any of these settings later, you can always change them from the "Settings" section of the app.
After choosing these sync settings, you must now click the Save & Next button. This is when our app starts to import your products and set up your account. However, this process may take some time.

Once all three steps have been completed, you will be directed to our Pricing Plan page. Here, you will have to choose a subscription plan as per your business needs to proceed further. Once you choose a plan and complete the payments, the selected plan will get activated. Once the payment is successful and the plan gets activated, you will be redirected to the Overview page of the CedCommerce Amazon Channel app.
Things to Remember When Onboarding
When using a new Amazon Account
Make sure to check if the setup is complete. There may be an instance where your newly created Amazon account might be under review by Amazon Marketplace. Under such circumstances, you may get a Bad Response from Amazon, as shown below,
Bad Response! 401 Unauthorized: AccessDenied – Access denied
Kindly check if you have access to the upload of the products, as Amazon restricts product upload during this time.
If the Bad Response persists, connect with us for a guided setup process.
How to check if your account is restricted?
Go to Settings and then click on Account.
Now go to Account Settings, select user permissions, and click on the third-party developer and apps.
If everything is fine, a charge way will send a confirmation Screenshot of the CedCommerce App status and share the token after generating it on Amazon.
https://sellercentral.amazon.com/gp/mws/registration/register.html?signInPageDisplayed=1&devAuth=1&developerName=Cedcommerce+Inc&devMWSAccountId=337320726556&
You need to make sure that you select the correct country when connecting with CedCommerce Amazon Channel.
Note: You must complete the authentication process to ensure we can get validation from Amazon to upload the products.
Do not use any other Amazon Shopify Integration App
It is highly recommended that you disconnect and uninstall all such apps to integrate your Amazon Seller Central Account with the Shopify Store.
Using multiple apps to integrate your Shopify store and Amazon Seller Central Account may lead to duplicate order creation in your Shopify store.
Also, having multiple apps means a different user data feed may get uploaded to the Amazon seller central account from one of the apps, which may be incorrect/outdated in respect of the present status of the product.
To avoid any such inaccuracy in data, it is advised that you disconnect and discontinue using any integration service app for the Amazon marketplace and Shopify store.
×