Selective Products Import
To import the Amazon products to Magento 2,
Go to the Magento Admin Panel.
In the left navigation bar, click on Amazon Product Importer.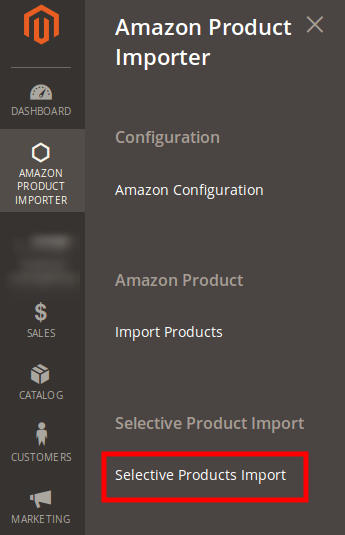 Now click on Selective Products Import. You will be navigated to the page as shown below:
Now from this page, you may easily import the products.
Select the product(s) and click on the Actions bar on the left side, above the product list. From the drop down menu, click on Import, as shown in the figure.

Click OK when the box appears, asking you to confirm your action.

Your product gets imported and the message appears.
For CSV Import,
Click on the CSV Import button on this same page and the CSV file will be uploaded and listed.
Now just select it and select Import from the Actions bar like done earlier.
Your product will be imported.
Product Import by Uploaded CSV,
In case you want to import the products through the Uploaded CSV that you uploaded in the configuration process,
Click on the Product Import By Uploaded CSV on the top right of the page, next to the CSV Import button.
Your product will not only be listed, but will be imported successfully.
×