Order Management
To Perform Order Management
Your orders on Shopee are automated with the wooCommerce store and are fetched without any friction.
Go to your Woocommerce admin panel below the CedCommerce Menu, which is on the left navigation bar.
Click on the Shopee section of the panel.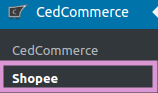 On clicking Shopee, it will appear a page where you will Click on Orders.
The ORDERS page appears as shown in the following figure:

If you have enabled the order sync from the global setting section, then the orders will automatically be fetched to the WooCommerce store.
Click FETCH ORDERS to fetch your orders instantaneously to the WooCommerce store from your Shopee store.
Note: the orders are only fetched when the order's item SKU is present on WooCommerce.
When the order is placed on Shopee, the stock on Shopee is reduced and is updated on the WoCommerce store as well.
×