Product Setting
Product Settings on Walmart Canada

If sellers want to have a different price, inventory, title description, etc then products listed on Shopify. Then they can change the setting for all products in bulk from here.
Under the products settings seller can get the following options:
Auto Product Syncing: If sellers want to change the automatic syncing from Shopify to the app for the products. Select the checkboxes for which syncing is required, then click on the Save button. Refer to the image given below: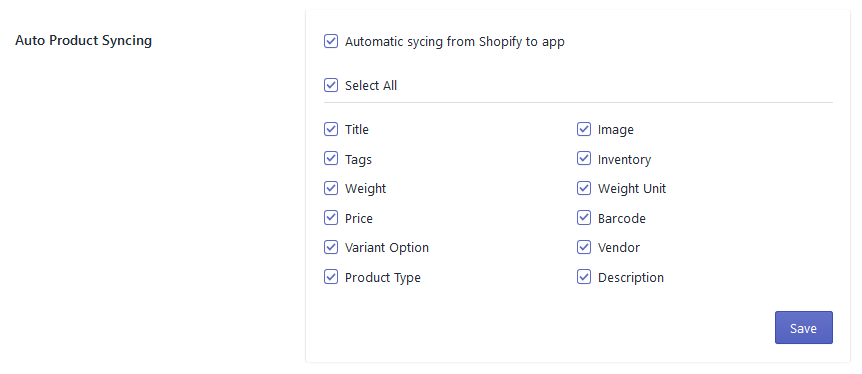 SKU Syncing: Select the option as per your need, if you used to make any changes in your Shopify products SKU then either you want to change it or not on Walmart.ca.



Product Creation: If the seller used to create products on Shopify then either he/she wants to create on the app or not. If they want to sync then need to select the option from the drop-down as given in below screenshot.


Manage Tax codes: If want the same tax code in all the products listed on Walmart.ca, it can be updated from here.


Note: Click the click here the link to get the product tax code.
Custom Pricing: The Prices of the products can be changed on the basis of fixed and percentage, select Yes to enable it. It will have 2 options "Increase Price" and "Decrease Price".
Fulfilment Lag Time: is the number of days between when an item is ordered and when it is shipped. Can update the lag-time from here:


Inventory Management: To manage Walmart inventory, what can be the maximum inventory can be listed on Walmart and the minimum stock after which the products shows out of stock on Walmart (called threshold limit).


Note: These setting will be applied in all the products that are imported on the app.
×