Other Settings
Now that Registration and Configuration steps of Fruugo Integration app are completed; all the products imported, the next step is to configure the store operations parameter. It includes shipping related settings set-up; selection of product data to be synced and contains the section where seller id & email and product URL are saved.
To configure all the aforementioned settings –
1. Click settings icon, 

 adjacent to Orders section.
Once you click the icon, a page appears which has all the app-operation-related mechanisms.
2. The first field, here, contains your Fruugo Sellers ID and subsequent password. See in the image:

3. The next field is Product URL, here the URL path containing CSV is stored, Fruugo access this URL at definite intervals to create and update listing related information.

4. The Next settings are related Product Sync.
Here all the products related information is listed which you can choose to sync the product information through Shopify.
Either you can choose:
Sync all (to sync all the products related information)
Choose Individual options
See in then below Image:
5. This is among the most important set-of-fields which will dictate the Fruugo integration app functioning.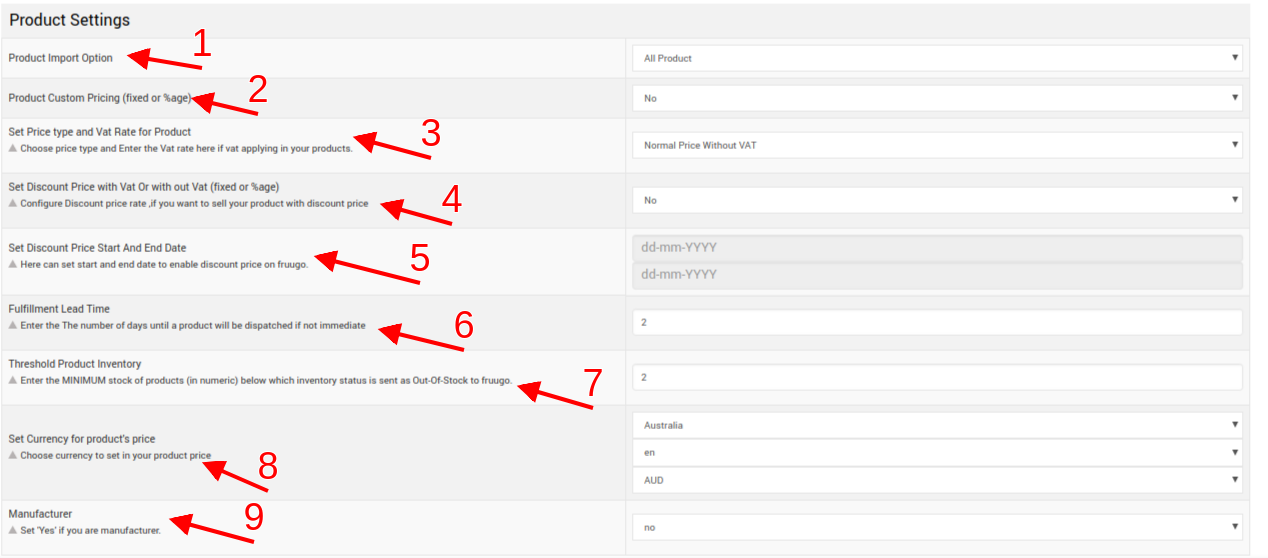 a) Product Import Option: It contains the option of different types of products which can be imported –> All Products, Published Products, Custom Products, and Filter Products.
b) Product Custom Pricing: It asks users if they want to manipulate pricing to compensate the Fruugo Commission. Upon choosing Yes, you need to upload the updated Price CSV.
c) Other Pricing Related Settings:
Price Type and Vat Rate for Product: Choose from Normal Price without VAT & Normal Price with VAT.
Set Discount Price with/without VAT: Choose Yes and No as per needs
Set Discount Price Start & End Date: Whenever you want to run a discount based campaign enter the duration – Start & End Date.
Fulfillment Lead Time: Enter the max duration between acknowledging and dispatch of the order.
Threshold Product Inventory: Set the ceiling below which product status is sent as Out-of-Stock at Fruugo.
Set Currency: Choose the Currency for your store & products.
Manufacturer: Choose Yes if you manufacture the products.
Once you set all these settings, you're in the best position to utilize the full value of the app.
×