Manage Shopee Products
This menu contains information and operations which can be carried out on your products.
To manage the products in the PrestaShop Admin panel
→ Go to the Prestashop Admin panel.
→ In the left navigation panel, place cursor on Shopee Integration menu. The menu appears as shown in the following figure: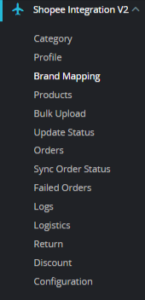 → Click on the Shopee Products, once you click the option, following screen appears: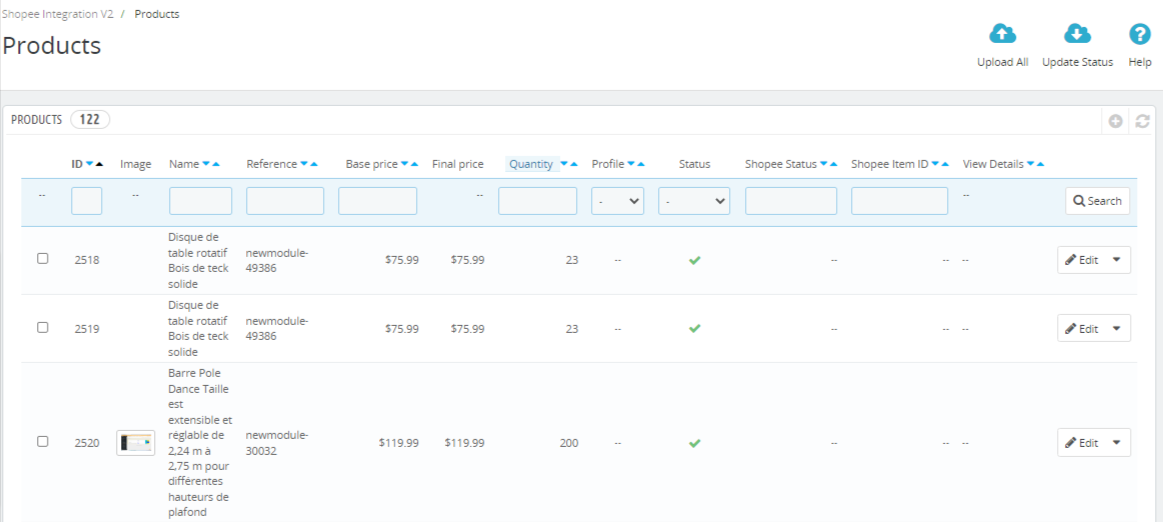 Here, there are several options as numbered:

      1. ID: It is the ID of the products in the app.
 Image:

The image of the product being uploaded..

Name:

The name of the item.

Reference:

The unique identifier of an item.

Base Price

: The initial price of an item excluding the taxes.

Final Price:

The ultimate price of an item including the taxes.

Quantity

: The total inventory of the item.

Status: The current status of the products
Shopee Status

: The status of the products at Shopee marketplace.

Shopee Item ID

: It is the Id of the product at the Shopee marketplace.

View

: It shows if the product has any error or fit to transfered to Shopee

Edit: As the name suggests, it can be used to edit the item's information.
Bulk Actions

: At the bottom, this section contains all the bulk operations such as
Upload Selected

: To upload all of the selected products at Prestashop

Update Quantity:

To update the inventory status of the items

Update Price:

To update the pricing of the products at Shopee

Remove from Shopee:

To remove selected products from the Shopee marketplace.
→ Then at the top, right hand corner, there are Upload All and Update Status Buttons, Upload all, as the name suggests, pushes all of the products on Shopee at once whereas, Update Status, updates any new changes to the existing products at Shopee.

→ Let's see how Edit works. Here is the screenshot of the Edit page: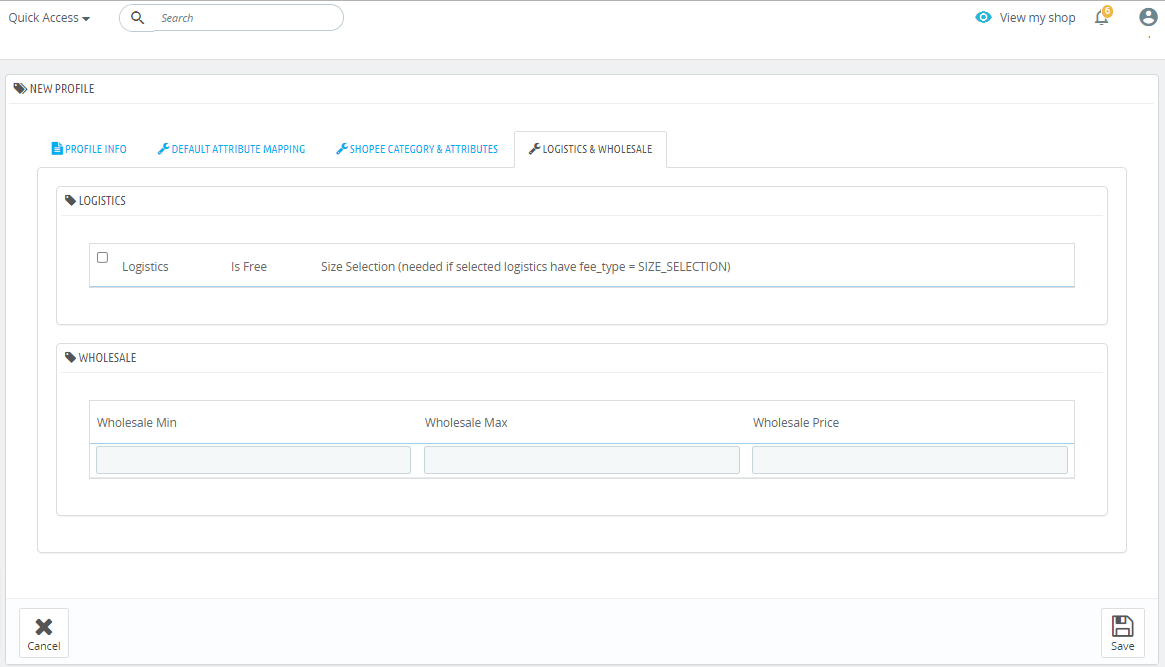 You can use this option, again, to set the shipping and wholesale pricings:
Here you can choose:
Logistics provider
Enable/Disable Free Shipping
Enter Shipping Fee
In the same tab you can define the wholesale price as well:
Wholesale Minimum:

The lower limit of the order volume to get wholesale pricing.

Wholesale Maximum:

The lower limit of the order volume to get wholesale pricing

Wholesale Price:

The price of a single unit when sold as a wholesale entity.
×