Default Configuration
Step 4: Default Configuration
Once the profile data is saved successfully, proceed with the default configuration.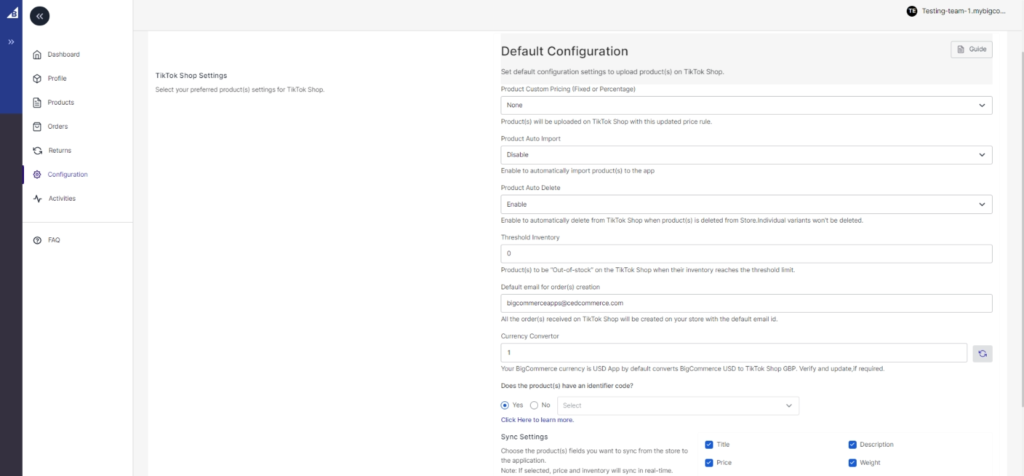 Product Custom Price:

You can set price rules for selling on TikTok Shop. For example, a 10% increase in price rule, will lead to a 10% hike in the price of product when listed on TikTok Shop. 

Product Auto Import-

By enabling this, you agree to create/ add a new product on the integration plugin if any product is created on the Magento store.
Product Auto Delete:

Any product deleted in the Magento store will also be reflected in the connector app. 
Threshold inventory:

Set minimum inventory level, after reaching which product will reflect "Out Of Stock" status. This prevents you from overselling.

Default emails for order creation: Enter email details, on this email, you will get a notification whenever a new order is received and created.

 

Does The Product Have Identifier Code:

Select yes if you have an identifier code and you don't have any, select no. Also, choose a reason from the drop-down menu for not providing an identifier code. 

Sync Setting:

Select the product details that you wish to sync with the Magento store, like product title, description, etc. Don't tick the box if you don't want the
(Note: Identifier code is an industry-standard product identifier, needed to create product listings on TikTok Shop)
After selecting your option, save & proceed.
Go To Dashboard to proceed with other settings and manage your TikTok Shop.
×