Overview
Fruugo is a UK based e-commerce company, which is a global marketplace offering thousands of sellers to cater services of sports and leisure, health and beauty, clothing, home and garden, kids, toys and more. It operates in 23 countries across the globe with great products and enthusiasm to deliver it to the customers.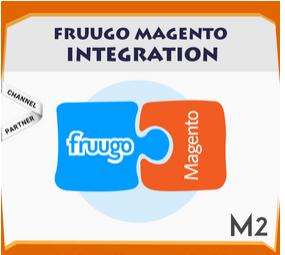 Fruugo Integration for Magento 2 is a fabulous API integration that helps Magento® 2 store owners to synchronize inventory, price, and other product details for product creation and management between Magento 2 store and Fruugo marketplace.
TheFruugo Integration for Magento 2 extension interacts with Fruugo marketplace to integrate the synchronized product listing between Magento 2 and Fruugo retailers. After the installation, the merchant can create Fruugo categories and the dependent attributes on the Magento 2 store.
The process enables the merchant (admin) to configure the desired product category into Magento 2 for automatic submission of selected product on the same category on Fruugo.
Key features are as follows:
Upload product based on profile: An admin can create a profile, map the Fruugo category and attributes to the Magento 2 category and attributes. Then, after assigning the product to the profile can easily upload the product to Fruugo.
Attribute mapping: The feature allows mapping the suitable existing attribute with Fruugo attributes

to one single category of

Fruugo

.

Archive and Unarchive Products: Merchants can close and reopen the products on Fruugo.com using the Archive and Unarchive feature. Archive disables the products on Fruugo.com and Unarchive enables the archived product.

U

pload Products in Bulk:

The admin has the option to upload the products in any number of the bulk amount

on

Fruugo

website using this feature.

Profile Based Pricing: Increase or decrease in price based on the profile.

Automated Synchronization:

The products listing, order, inventory return and refund, and pricing are automatically synchronized at regular interval of time.

Batch product request download:

You can create the batch product download request and

fetch the status. Once it turns to finish status, the admin can process by one click.

Enable and disable of products:

A merchant can anytime open and close the products on Fruugo using enable and disable the feature.

New Order Notifications: Whenever a new order is fetched from Fruugo.com, the admin receives a notification.

Rejected products notification:

If any product containing some invalid details is rejected,

then its information is fetched from the auto synchronization request along with the error due to which it is rejected.

Low Stock Notifications: Whenever Stock diminishes lower than a threshold, a notification is sent informing the status.

Simple and configurable product upload:

The a

dmin can upload the simple and configurable type of Magento 2 product on the Fruugo website.
×