Overview
Etsy is an online marketplace that enables you to buy and sell unique items, for example, arts, jewelry, clothing, photographs, toys, and digital goods. With a presence across all the eCommerce leading nations, Etsy sells globally and holds expertise in handcrafted materials. It is among one those marketplaces that make sure the exchanges happening between buyers and sellers are safe and secure enough with the help of improved technologies. On Etsy, buyers can connect directly with creative sellers for personalized and unique goods. This exclusive shopping experience helps in fostering a loyal buyer base.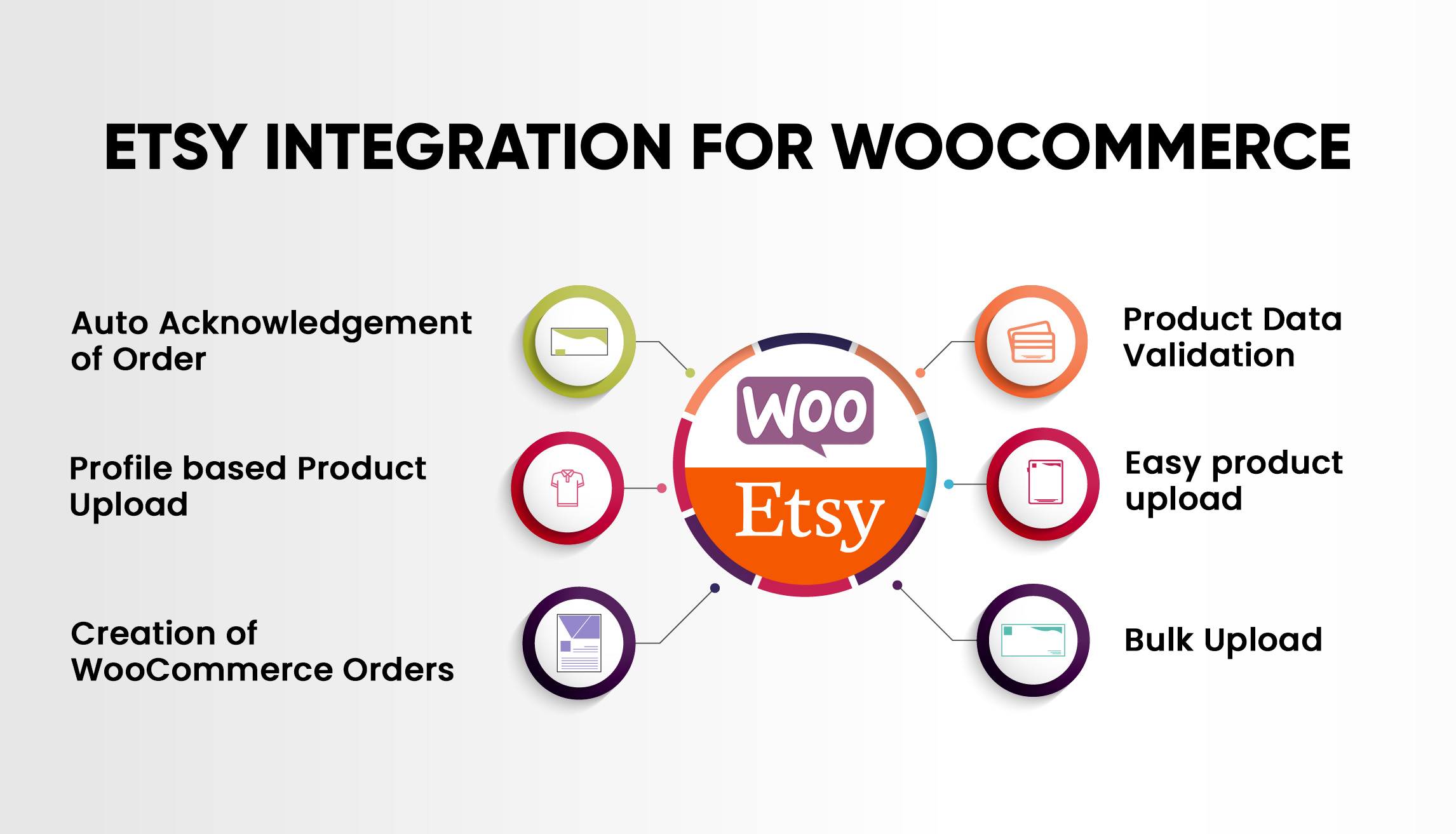 With the help of this integration, you can integrate your WooCommerce store with the Etsy marketplace. The extension provides the feasibility to manage activities between the store and marketplace in a centralized order. Sellers can automate the synchronization process of pricing, orders, inventories, and many more between WooCommerce stores and the Etsy marketplace. Automate work with all the flexible offers provided and improve the Seller experience.  It also keeps you updated with all the activities on the Etsy marketplace with the help of email notifications sent to you on the WooCommerce store.
After installing the extension, the seller can create the Etsy Categories and the dependent attributes on the WooCommerce store, and start harnessing the selling process to its best.
Key features
Bulk-upload WooCommerce listings on Etsy with a single click and set separate inventory rules, pricing plans, and many more in one go.
Experience quick access with one click authorization to Etsy Store through the Etsy Integration for WooCommerce.
Upload products based on categories and attributes on Etsy making it easy for buyers to navigate through products. And increase your product visibility.
Through Etsy integration for WooCommerce, you can manage Etsy orders right from your WooCommerce orders section.
Increase your conversion rate by drawing more prospects to your products through the Etsy marketplace. Keeping track of inventory and orders on the WooCommerce store helps you avoid overselling.
Automate your shipping process by easily adding the shipping profile on Etsy and using the same while uploading your products.
Auto Upload Listings from WooCommerce to Etsy.
Auto Import Listings from Etsy to WooCommerce.
Compatible with WooCommerce Shipment Tracking Plugin.
Support for Uploading Digital Products.
×