Schedules On Kogan
To perform the activity in Schedules follow these simple steps:
Go to the WooCommerce admin panel, below the CedCommerce menu, located on the left navigation bar.
Click Kogan on the panel as specified in the captured screen: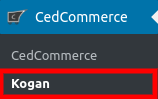 On clicking Kogan, a page will appear.
In the menu you will click on SCHEDULES as specified in the captured screen:


In schedules, you can set the schedulers for the following by enabling them-


Auto Fetch Kogan Orders: Will automatically fetch the orders from your Kogan store onto your WooCommerce store.
Auto Update Price and Stock on Kogan from Woocommerce: Will automatically update the price and stock from your WooCommerce store onto your Kogan store.
Sync Existing Products on the basis of SKU: Will automatically sync the existing products on your Kogan and WooCommerce store based on SKU.
Submit Shipment
Sellers can submit the tracking information for their Kogan orders from the WooCommerce store.
Once the order has been created, you can easily add the tracking information on the Kogan store from your WooCommerce store. In the Order Edit page of the WooCommerce store. Refer to the screenshot below:


×