Product Settings
The product setting of the app helps you manage and sync products between your Shopify store and TikTok Shop.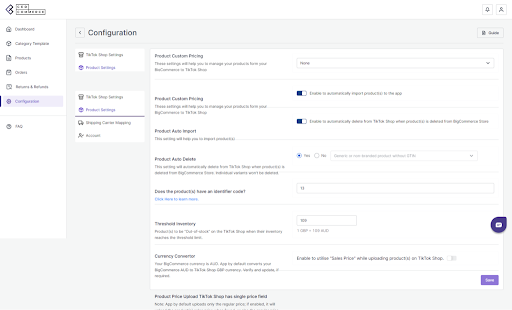 Here are the functions that you can perform on the 'Product Settings' section of the app:
Product Custom Pricing:

Here, you can set the price rule, i.e., set percentage increase or decrease or fixed price increase and decrease rule. For example, if you want an increase of 10% in all products, choose percentage increment & then write 10%.

Product Auto Delete:

Any product deleted in the Shopify store will also be reflected in the TikTok Shop and will no longer be listed.

(Note:

Individual variants won't be deleted.)

Does the product have an identifier code:

Identifier codes are unique codes/numbers that differentiate one product type from another. If your product has an identifier code, select 'Yes'. Else, select 'No' and the reason for not having the identifier code. 

Threshold Inventory:

Set minimum inventory level, after which the product will reflect "Out Of Stock" status. This prevents you from overselling.

Product Price Upload on TikTok Shop:

In general, TikTok Shop just shows one price for the product, but you can also add a selling or discounted price for the product using this option.
Save the changes & you are good to go.
×