Shipping Carrier Mapping
With this setting option, you can map/link the Shopify Shipping carrier with the TikTok Shop shipping carrier.
For example, if you ship products from Shopify Shipping carrier DFL but DFL is available on TikTok Shop with another name – DFL US, you can map these shipping carriers. So, when you ship a product on Shopify using DFL, it will automatically sync and show the TikTok Shop shipping carrier as DFL US. Thus it saves you from any shipping errors.
Note: You can map any Shopify shipping carrier with a TikTok Shop carrier, like DFL with Arrow XL or Parcel Force.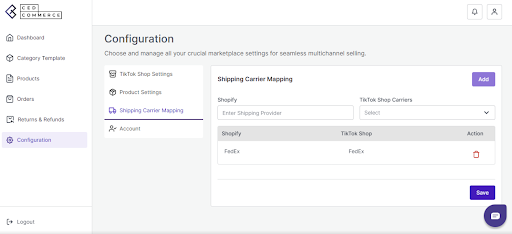 Before saving the changes, make sure you first click on the "Add" button to add the newly mapped shipping carrier to the queue and then click on "Save."
Accepted Shipping Carrier:
The integrated carriers approved by TikTok Shop are as follows:
Royal Mail 

Hermes/ EVRI

DPD

Yodel

Amazon Logistics

Parcel2Go

Parcel Force

UK Mail

UPS UK

DHL UK

FedEx UK

APC Overnight

Panther UK

Arrow XL
×