The "Edit Listing" Page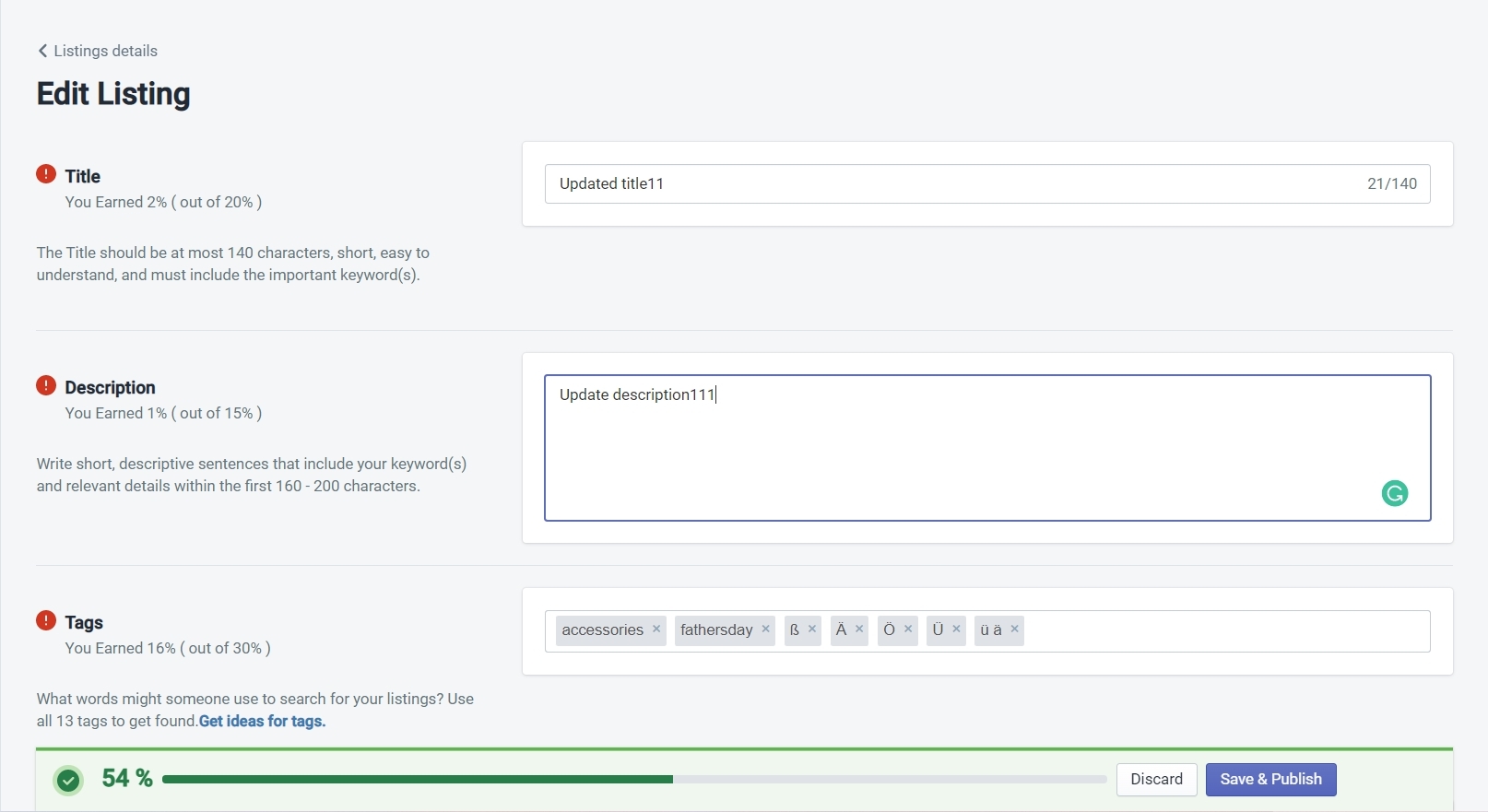 The Edit Listing page allows you to edit the Title, Description, Tags, Images, and Recommended Attributes of a listing. These are the most important ranking factors for a listing in search results. Optimizing these factors can lead your listings to rank on the first page of Etsy search results.
Title
The title of your listing weighs in at 20% of your overall listing quality score. The length of the title is limited to a maximum of 140 characters. The ideal title length should be somewhere between 125 to 140 characters which will give you a score of 18% to 20%.
The title of your listing must describe your product in short, easy-to-understand sentences and should include the most important keywords you are targeting.
For example, if you sell bracelets and want to target customers who are looking for a bracelet as a gift, then you could take inspiration from the following title –

This title contains exactly 140 characters and it would appear in search results for all buyers who are looking for the following – Mother's Day Gift, a Gift for her, a Custom bracelet, a Birthday gift for Sisters or Mothers, or a Best friend or Daughter or Wife.
Description

The description of your listing weighs in at 15% of your overall listing quality score. You can effectively write as long a description as you want, but practically you should keep your description only as long as it needs to be while providing all the necessary information about your product.
Before May 2022, the listing description was not a part of Etsy SEO, however, search engines like Google and Yahoo used them to rank your products in their search results. But now, the keywords you use in your listing descriptions will be taken into account when ranking products on the Etsy search results page.
This means that you should use your best-performing keywords at the beginning of your descriptions, ideally within the first 160 to 200 characters or the first few sentences. However, it must be noted that you don't simply copy and paste your title at the start of your descriptions. You should instead write a few simple sentences that incorporate your keywords in a manner that sounds natural.
For example, look at this description for a custom bracelet written by one of the most successful Etsy Seller Caitlyn Minimalist. It not only contains the important keywords at the beginning, but it gives complete information to the buyer regarding the product – the dimensions, the finish, how to order, packaging info, the turnaround time, and more.
♥ Custom Heart Charm ♥ The most unique jewelry you can find, the perfect gift for you and your loved one ♥
H E A R T ∙ C H A R M
Material: High-Quality Solid 925 Sterling Silver
Dimensions: 8mm (Perfect for your Pandora and European bracelets)
Finish: Sterling Silver ∙ 18K Gold ∙ Rose Gold
Personalization: The design can fit up to 8 characters on each side of the Charm
All our work is custom made by hand with Love and Care in our workshop ♥
H O W ∙ T O ∙ O R D E R
Simply use the 'PERSONALIZATION BOX' upon ordering to let us know the NAME/INITIALS and FONT NUMBER you would like. (Any font is available, not just our featured fonts)
♥ NAME + FONT NUMBER ♥
Listing necklace features FONT #49. If a font is not given, you will receive the font that is pictured.
O T H E R ∙ I N F O R M A T I O N
All items are nicely packaged and ready to gift in elegant jewelry boxes.
If you can't find the information you need or need some advice for your design? Feel free to contact us. We are fast to reply 🙂
T U R N ∙ A R O U N D ∙ T I M E
All items are custom-made to order. Our turnaround time is about 6 – 10 business days. This can change during peak seasons. Please check our home page for the most current times.
Rush your order: Please contact us to see if we can meet your deadline. You can also expedite your shipping in the drop-down menu upon checkout. This does not change production times (see above).
Remember these points when writing the description –
The most important information should be at the top

Write in short paragraphs. Try not to go above 3 sentences in each paragraph

Use bullet points to describe important features and benefits of your product

Answer the questions your buyers might have about the product

Use the search terms people are already using to find your products in the Shop stats

Provide links to other similar products at the end of the description
Tags
The tags used in your listing weigh in at 30% of your overall listing quality score and are one of the most important ranking factors on Etsy. Etsy allows you to use a maximum of 13 tags, and all 13 tags should be used for maximum SEO impact and quality score.
Each tag can be a maximum of 20 characters in length and provides you the opportunity to describe your product in different ways using multi-word phrases. You can use these ideas to come up with tags –
Use words that describe your product. For example, reusable straws, custom ceramic mugs, etc.

Use words that describe the materials and production techniques. For example, custom wooden frame, personalized pendant, sapphire stone, etc.

Use words that describe who the product is for. For example, gift for girlfriend, gift for new moms, Father's day gift, teacher gift, etc.

Use words that describe the Shopping occasion for your product. For example, Anniversary gift, Halloween costume, Christmas gift, etc.

Use words that describe a problem that your product solves. For example, workout headband, custom phone case, garden hose, etc.

Use words that describe the style of your product. For example, minimalist decor, typographic print, etc.

Use words that describe the size of your product. For example, large tote bags, small basket, tiny earrings, etc.
Here are some more important points to remember about using tags –
Avoid single-word tags

Analyze shop stats to include words that people are using to find your products

Consider using synonyms of your keywords

Consider using regional phrases for the product

Avoid repeating words in your tags

Avoid keywords from the category and attributes

Avoid using plurals and use the root word
To add tags to your listing, just type in the phrase and hit the enter key to input the tag as shown below.

Images
The images used in your listing weigh in at 20% of your overall listing quality score and are one of the most important factors that affect the click-through rate of your listings. Etsy allows you to use a maximum of 10 images, and all 10 images must be used for maximum quality score.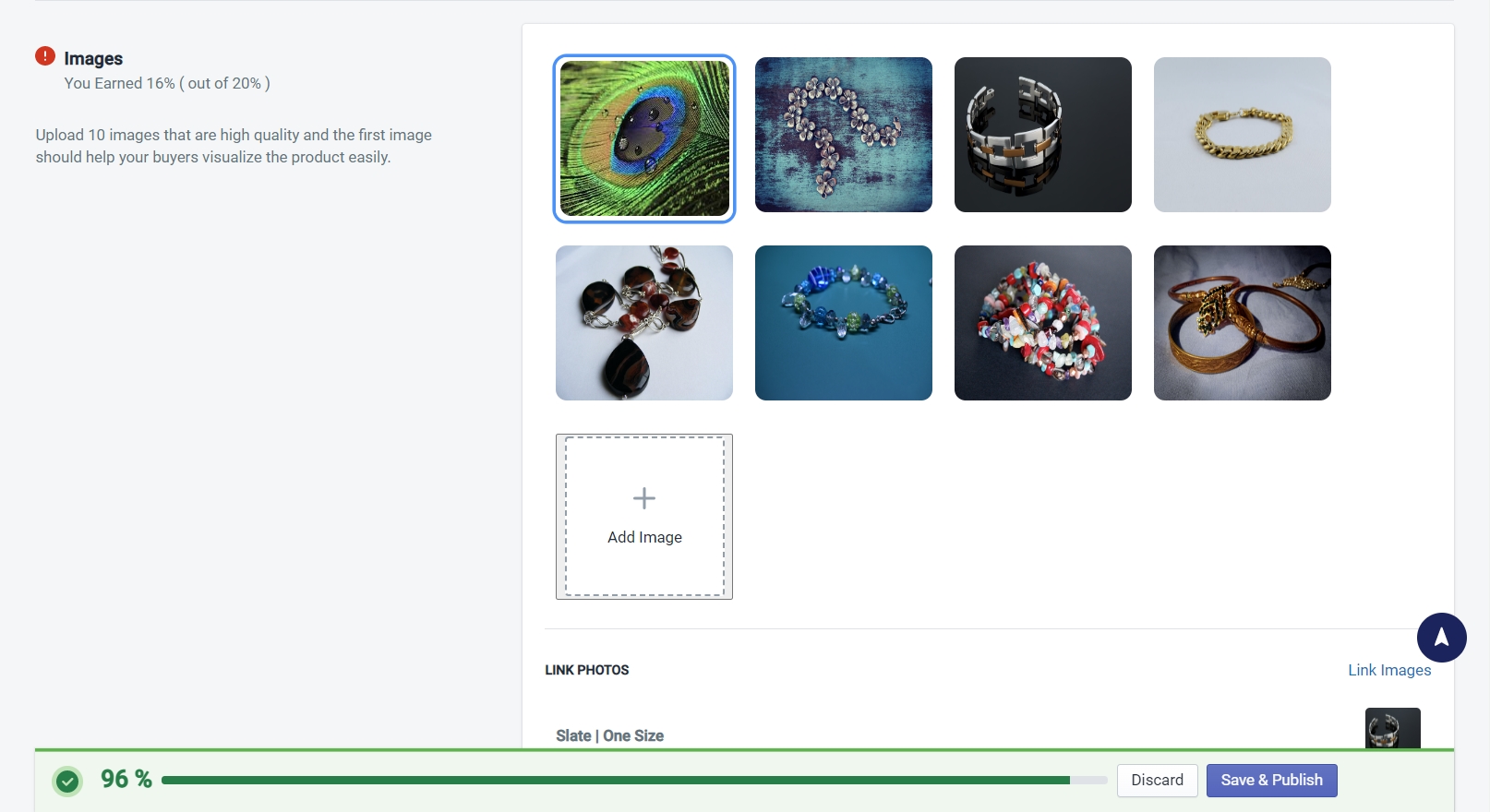 The primary image can't be changed from the SEO Analytics section, if you need to change the primary image, you will have to do it from the Product Edit page which can be accessed from the 'Actions' column in the 'All Products' page.
To add images to your listing, click on the Add image box to open the Image File Attachment pop-up. Click on the 'Add Image' button and select the images that you want to add to your listing as shown below.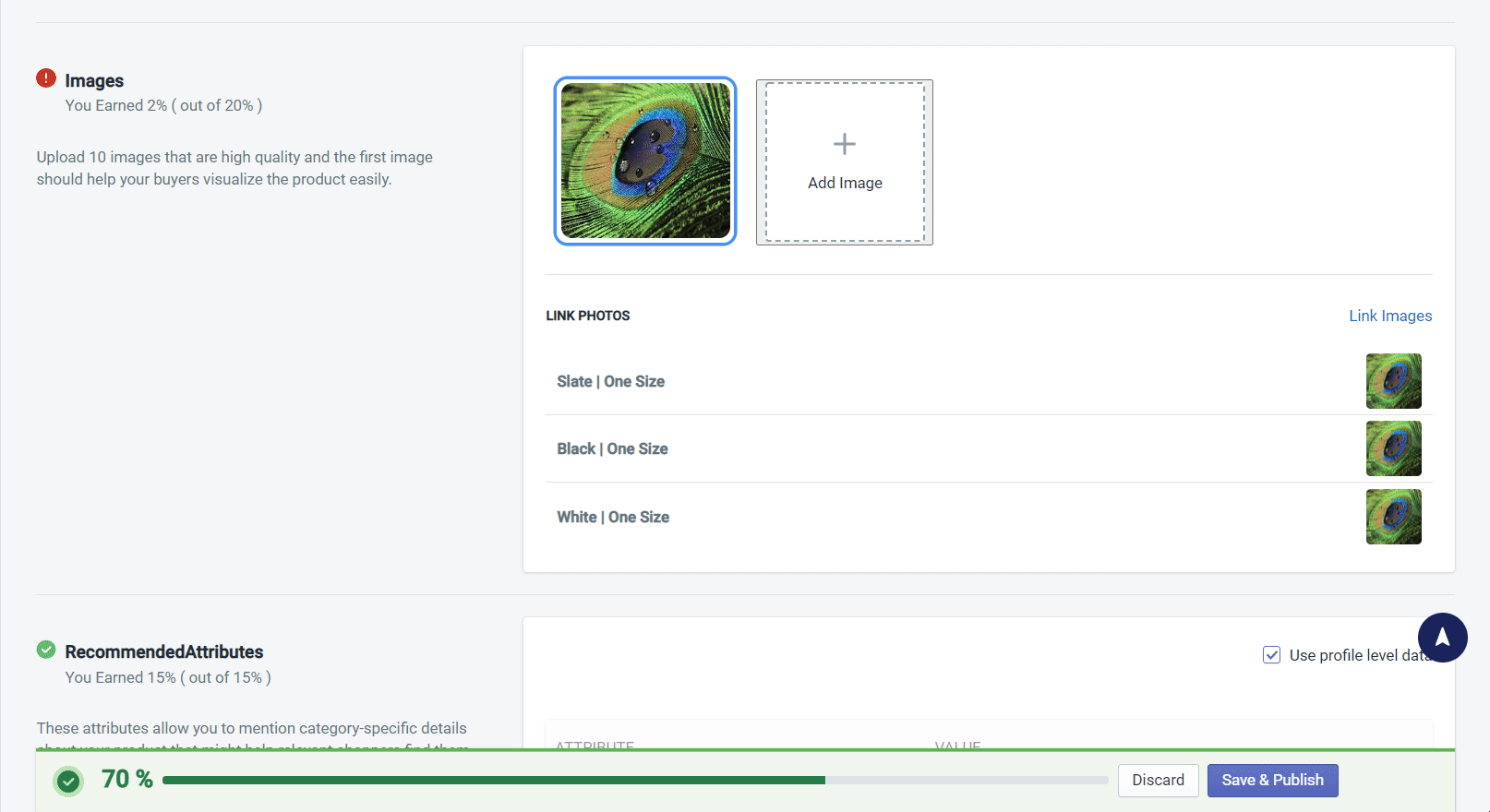 Once you have added all the images, click on the 'Attach Image' button to confirm the action.
You can also link photos to product variations such as color, size, material, etc. depending on the variations you have created using the variation mapping setting while setting up the profile.
To link a photo to a variation click on 'Link Images' to open the Linking panel. Now click on the 'Variation type' dropdown and choose a variation type. Once you have selected the variation type, select the image that you want to link to that variation, and do that for all the variations in that variation type. When done with linking the images, click on the 'Save' button to confirm your action.
Watch this video to learn more about Linking Images to Variations –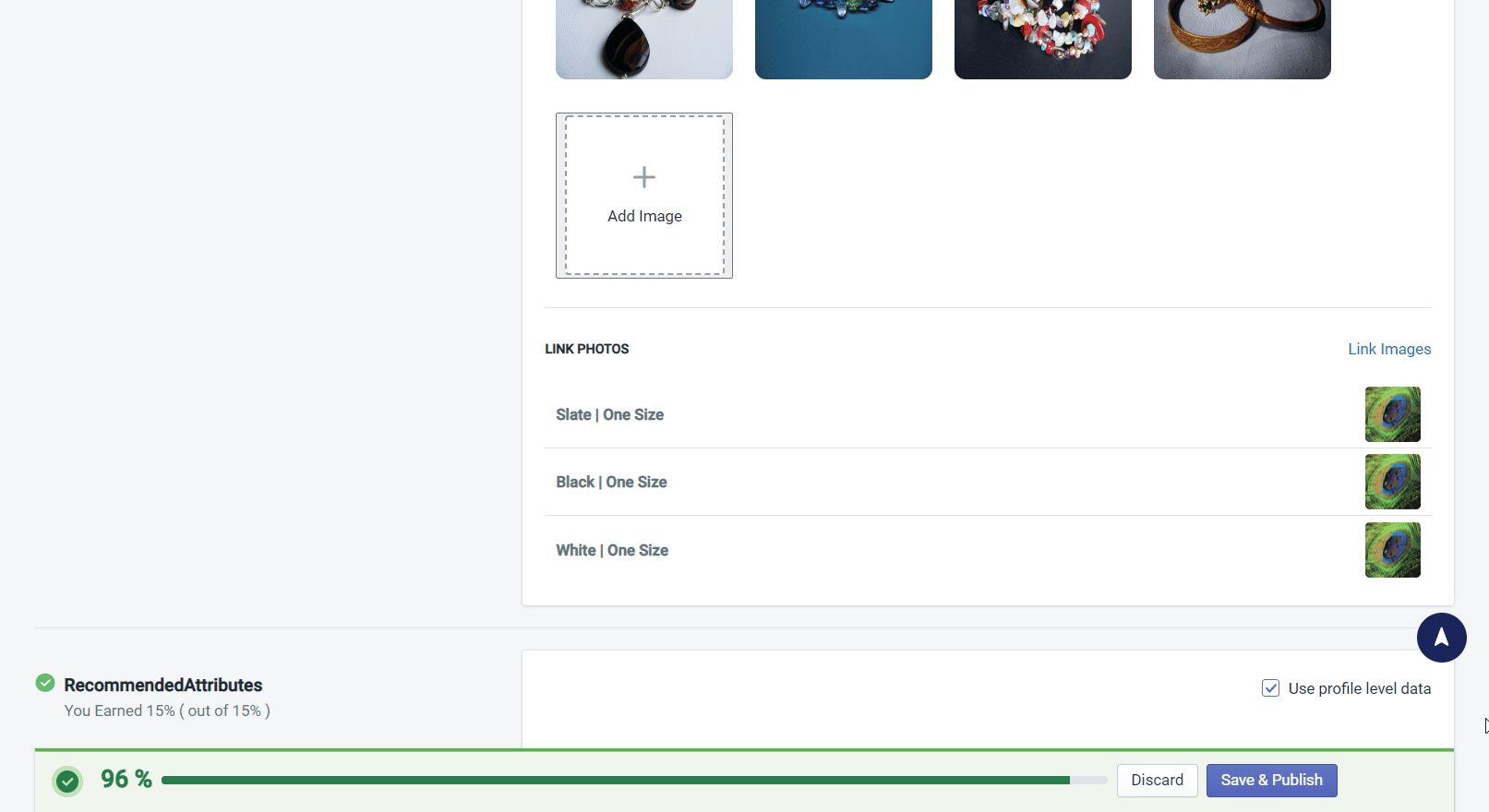 Recommended Attributes
The Recommended Attributes weigh in at 15% of your overall listing quality score and they allow you to add category-specific details about your product that you would otherwise have to use tags for. So they save you from using unnecessary tags which you can then use for adding other query-specific keywords.
Since the Recommended Attributes are based on the category of a product, you will see different attributes for products in different categories. If you specify all the attributes, you will get the maximum quality score.
You can use the 'Use profile level data' checkbox to either use or override the profile level Recommended Attributes Values and provide unique attributes for each product within a profile.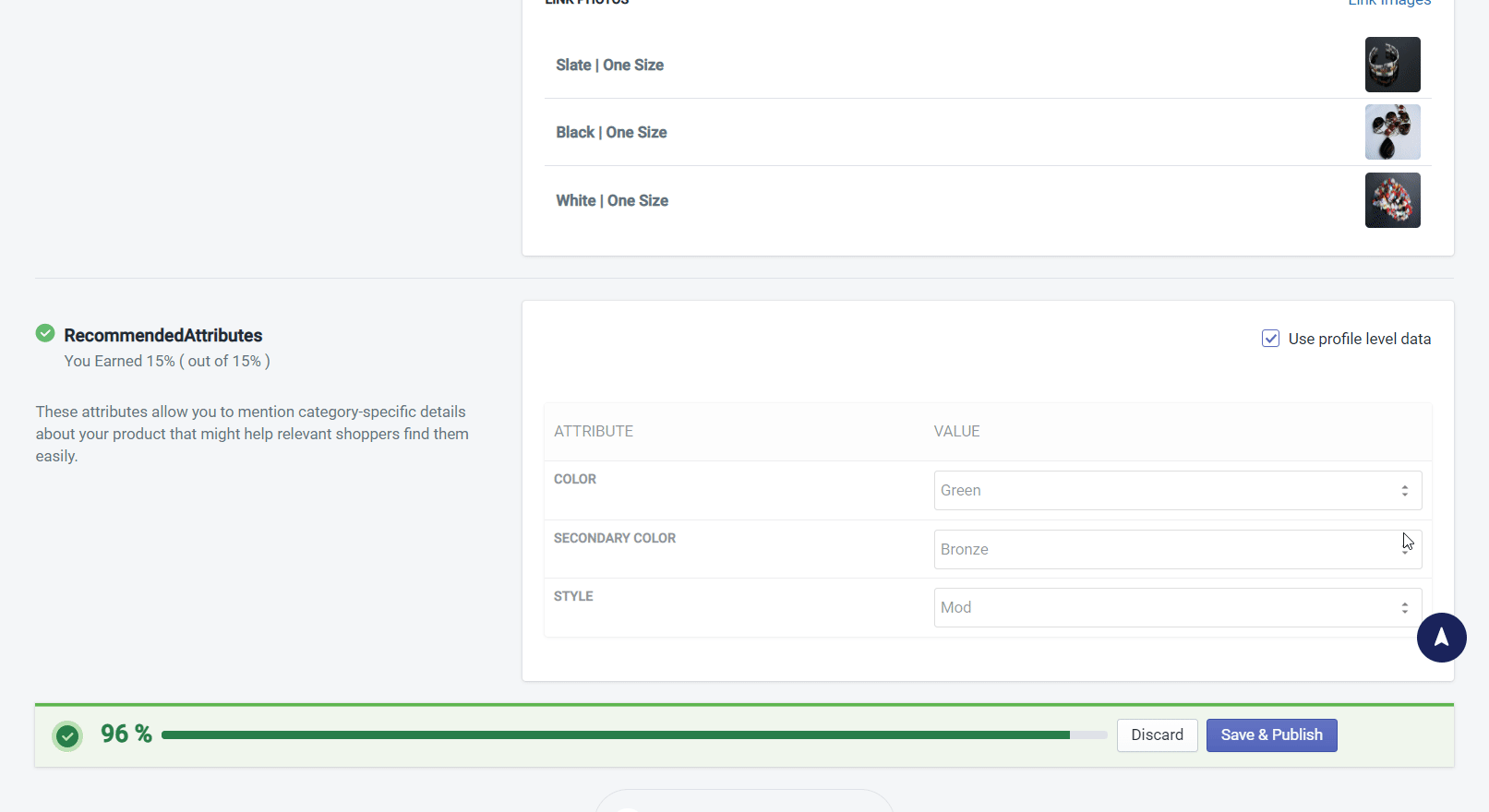 Once you have disabled the profile level data, provide values for each Recommended Attribute. And with this, you have now completed editing a product listing for the best possible quality score.
At the bottom of the page, you will see a progress bar that will show you the real-time quality score of your listing. Once you have finished editing a product listing and are satisfied with the score, click on the 'Save & Publish' button to push the changes on Etsy.
You can also use the 'Discard' button if you need to reset the listing to its original state.
×