Mass Actions
You can choose the desired products from the grid and perform the following actions: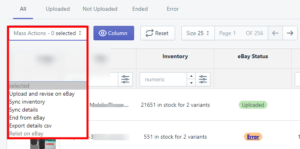 i) Upload & Revise on eBay: List the selected Shopify product(s) from the grid on eBay in a single go.

ii) Sync Inventory: Have a track of the number of your products and convey the same on eBay through the app.
iii) Sync Details: This action will help to bring the edited/updated product details, if any, from Shopify to the app.
iv) End From eBay: This will help to remove the selected product(s) from eBay.
v) Export Details CSV:  From this section you can export a detailed CSV of selected products.
vi) Relist on eBay: Enables a seller to relist a listing that has recently ended on a specified eBay site.
Note: The app consists of relevant messages to guide you through each step you perform.
HOW TO SELECT & UPLOAD PRODUCT
For Uploading selected products on eBay.
Select the products from the checkbox.
Click on the Mass Action dropdown.
Click on 'Upload & revise on the eBay' option.
Select the respected profile for the products & Click on Upload

The products will be uploaded on eBay and you can check the listings on eBay by clicking on the eBay Item ID.
×