Onboarding the App
Once you've installed the app, the onboarding process comes next. There are two ways to connect your account. The first is for a Single Amazon account, and the second is for Multiple Amazon Accounts. Let's check them one by one:
Amazon Single Account Onboarding
The onboarding has been divided into 3 steps where you get acquainted with the prerequisites of using the Amazon by CedCommerce app to start with the hassle-free selling experience on Amazon.
All you have to do is read these essentials, ensure that you fulfill these requirements, and finally click on 'I understand'.
#1. Account Essentials
Primary access to the seller account
Primary access (owner access) is required to connect Amazon by CedCommerce with your Amazon Seller Central account. We need it to connect and initiate the synchronization between your Shopify store and Amazon Seller Account.
Note: Any other access will not work when connecting the account.
Requires a Professional Account
One of the prerequisites includes having a Professional Account on Amazon Marketplace. An Individual Account holder cannot connect his seller account with the Amazon by CedCommerce application.
The seller Account should not be suspended
Suppose the Amazon seller account you want to use has been suspended for some reason or violates Amazon policy. You need to reinstate that suspended account to continue selling on Amazon.
Account should not be inactive or in vacation mode
Using an Amazon seller account in inactive mode is as good as not using an account at all. You need to make sure the Amazon Seller Central account is active and is available to start selling.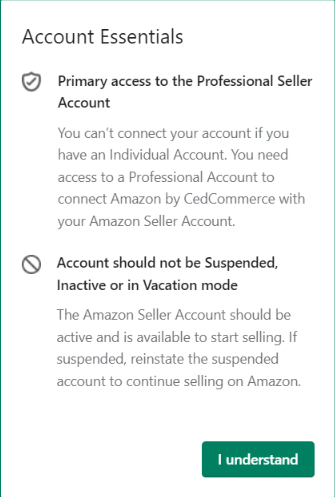 #2. Do not use any other Amazon Shopify Integration App
It is highly recommended that you disconnect and uninstall all such apps to integrate your Amazon Seller Central Account with the Shopify Store.
Using multiple apps to integrate your Shopify store and Amazon Seller Central Account may lead to duplicate order creation in your Shopify store.
Also, having multiple apps means a different user data feed may get uploaded to the Amazon seller central account from one of the apps, which may be incorrect/outdated in respect of the present status of the product.
To avoid any such inaccuracy in data, it is advised that you disconnect and discontinue using any integration service app for the Amazon marketplace and Shopify store.
Note: When adding multiple seller accounts to the App make sure they belong to the same country as this is for the single account.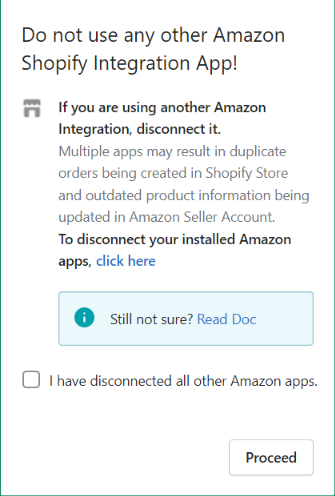 #3. If you have products listed on the Amazon Marketplace
Here you must select the product-related information you want to sync with the App.
You can toggle between enabling and disabling the option by ticking the checkbox next to the mentioned information for the product. The list includes:
Price
Inventory
Image
Product Details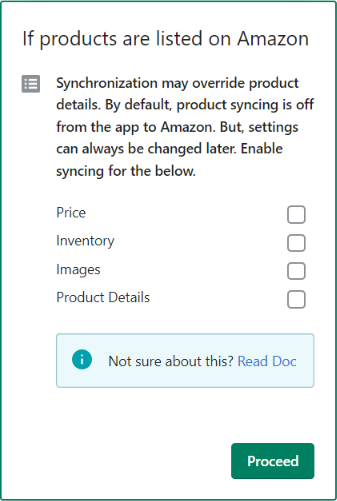 Once done, you have completed the first 3 step onboarding process.

Connect Account
Now, click on Connect Account. Select your country and give permission when redirected to a page asking for Authorization Confirmation.
Choose a Subscription Plan
Once given confirmation, you will be redirected to the app page to choose a subscription plan. Once a plan is chosen and activated, you will be ready to use the app.
Let's now move ahead to check how to connect the app with multiple amazon accounts.
Amazon Multi-Account Onboarding
Once installed the app, proceed in the following steps:
Connect Seller Account
Start by selecting your country and click on Connect Seller Account.

Fill Account Name
Fill in a unique name that helps you identify your multiple accounts from each other. Then, click on Save & Next.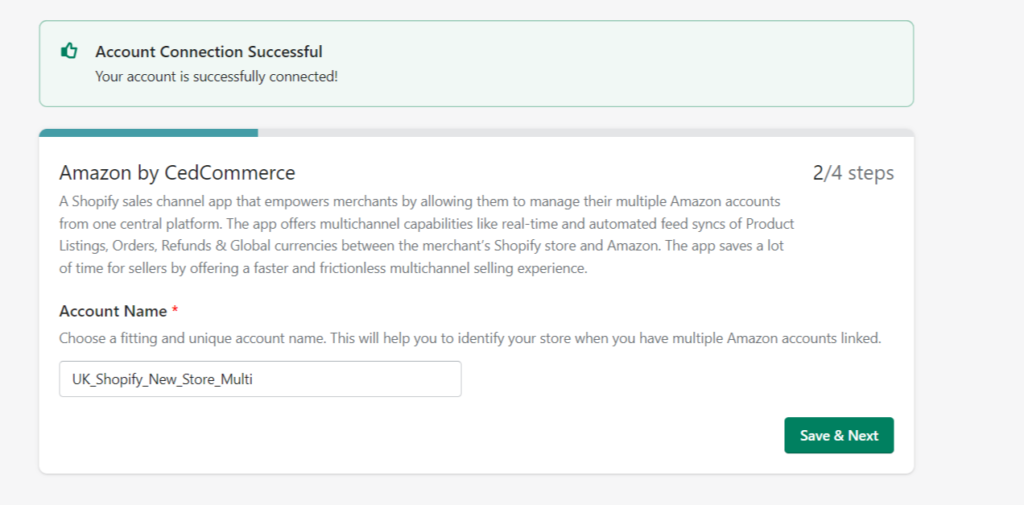 Choose b/w New or Existing seller
Choose a New seller, if you have no listings on Amazon.
Choose an Existing seller if you already have listings on Amazon.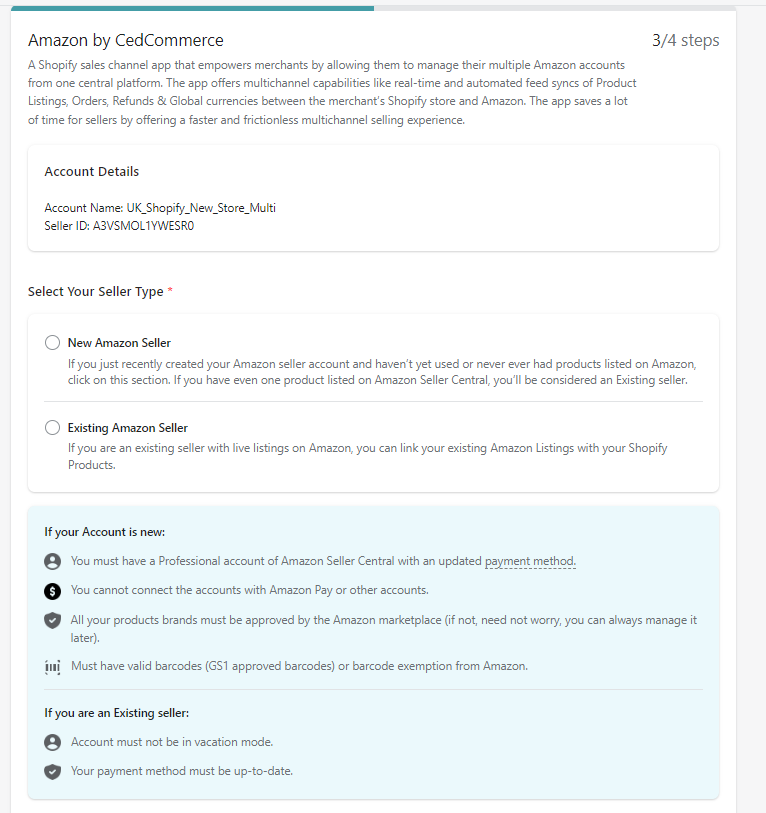 Proceed by clicking Save & Next.
Choose Sync Status for your New or Existing Listings
Here you need to select between SKU and Barcode, which option you will choose as the basis on which the app will sync your Listing b/w Amazon and Shopify. You can also choose both options.
Next, choose the parameters you want the app to sync your Amazon listing with the Shopify store. You can choose one or more than one or all of them.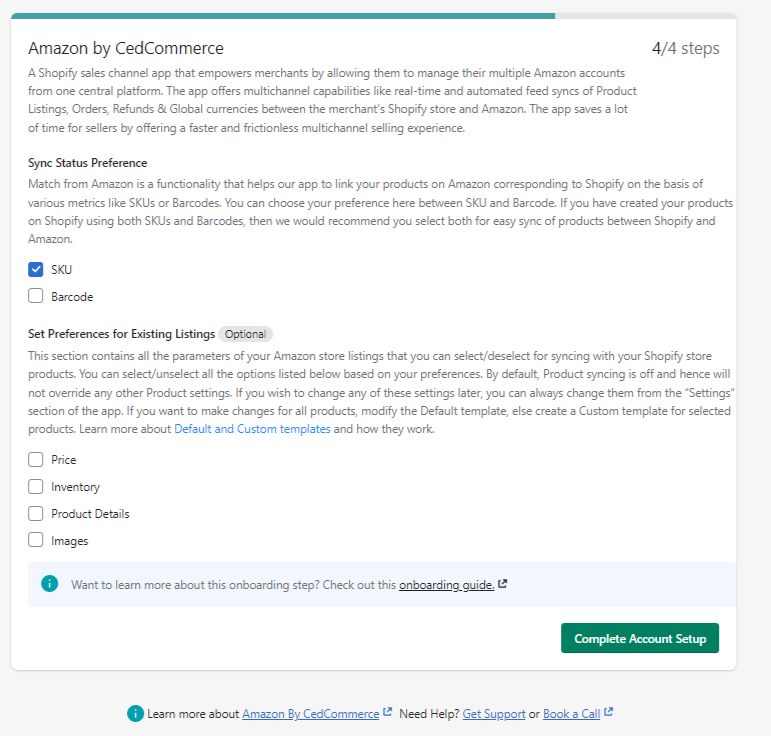 Proceed by clicking on Complete Account Setup.
Note: You can change these settings later in the Settings section under Default Template (about which you will read in the setting section of the guide).
Choose Subscription Plan
As done for a single account, you need to choose a subscription plan to proceed with the app features. Choose a plan and proceed with payments to get the plan activated.
Once done, you will have access to all the new-upgraded and enhanced selling features for your multiple Amazon accounts.
Things to Keep in Mind When Onboarding
Make sure you connect an Amazon account with only one Shopify store. Also, ensure the account you connect is an active and professional Amazon seller account.
When using a new Amazon Account
Make sure to check if the setup is complete. There may be an instance where your newly created Amazon account might be under review by Amazon Marketplace. Under such circumstances, you may get a Bad Response from Amazon, as shown below,
Bad Response! 401 Unauthorized: AccessDenied – Access denied
Kindly check if you have access to the upload of the products, as Amazon restricts product upload during this time.
If the Bad Response persists, connect with us for a guided setup process.
How to check if your account is restricted?
Go to Settings and then click on Account.
Now go to Settings, select user permissions, and click on the third-party developer and apps.
If everything is okay, a charge way sends a confirmation Screenshot of the CedCommerce App status and shares the token after generating it on Amazon.
https://sellercentral.amazon.com/gp/mws/registration/register.html?signInPageDisplayed=1&devAuth=1&developerName=Cedcommerce+Inc&devMWSAccountId=337320726556&
You need to make sure that you select the correct country when connecting with Amazon by CedCommerce.
Note: You must complete the authentication process to ensure we can get validation from Amazon to upload the products.
×