Introduction
Amazon is one of the most prominent marketplaces in the world committed to providing top-notch services, operational excellence and the best customer experience. The marketplace has a footprint across the globe, with 18 different global marketplaces.
The marketplace has over 300 million active users and 1.5 million active sellers worldwide, listing over 353 million products. According to 2020 Amazon stats, almost 65% of the US population visited Amazon once per month. The top four most visited websites in the world are Amazon Marketplaces.
CedCommerce has come up with a solution to help and assist sellers who wish to sell their Shopify products on Amazon efficiently. The application Amazon by CedCommerce enables you to list the products and manage them on Amazon through a single platform.
An Introduction to Amazon by CedCommerce
Multiple accounts connect
Connect and govern multiple Amazon accounts from a centralized location when they belong to the same region with Amazon by CedCommerce.
Supports All Categories
Amazon by CedCommerce supports all the categories on the Amazon marketplace without forcing any restrictions.
Product Templates
Experience a simplified and fluidic workflow when listing products to Amazon. The simple steps include setting the categories, inventories, applying filters and selecting templates before publishing the products.
Create Listings and Offers
The application lets you list your Shopify products to the Amazon marketplace. You also get to present offers to the existing listings through Amazon by CedCommerce.
Sync and Track Inventory
Near real-time synchronization gives you the power to monitor your inventory status. The prominent feature keeps you from overselling.
Manage Order & Shipment
The app serves as a mediator between your Shopify store and the Amazon marketplace. Orders received on Amazon gets fetched to the app and is created on your Shopify store instantly. Also, the updated shipment status for orders fulfilled through your Shopify store gets updated on Amazon.
Sections in our App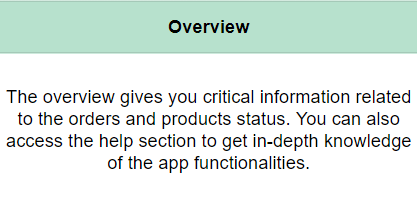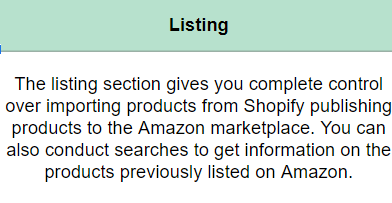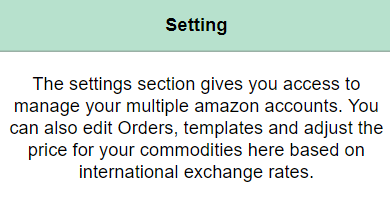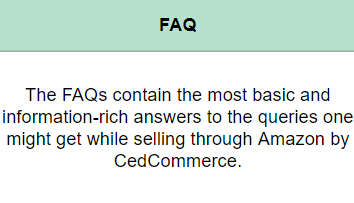 ×