Manage Shopee Product Profile
To create and manage the required Shopee Product Profile
→ Go to the PrestaShop Admin panel.
→ In the left navigation panel, place cursor on Shopee Integration menu.
The menu appears as shown in the following figure: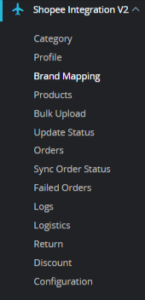 → Click Shopee Profile menu. The Shopee Profile page appears as shown in the following figure:





As you can see, the above figure, you can

1. Add New Profile
2. View Product Profiles
3. Check their status
4. Edit the Product Profiles


Once you click either Add New Profile or Edit option, you're redirected to the page which has certain sections:
Profile Info

Default Attribute Mapping

Shopee Category & Mapping

Logistics & Wholesale





1. Profile Info

a) This tab requires you to enter the Title;
b) Set the Status (Enable/Disable);
c) Choose Manufacturer;
d) Enter the Shop version;
e) Enter the language;
f) And most importantly, map the category of your Prestashop store with Shopee product category on a granular level. You can zero-in to the exact category using Parent-Child category relations

2. Default Attribute Settings:
This option enables you to define the attributes of a certain product profile. This includes mapping Name, Description, Price, Stock, Item SKU, Weight, Package Length, Package Width, Package height, Days to Ship with proper attributes of the given product profile.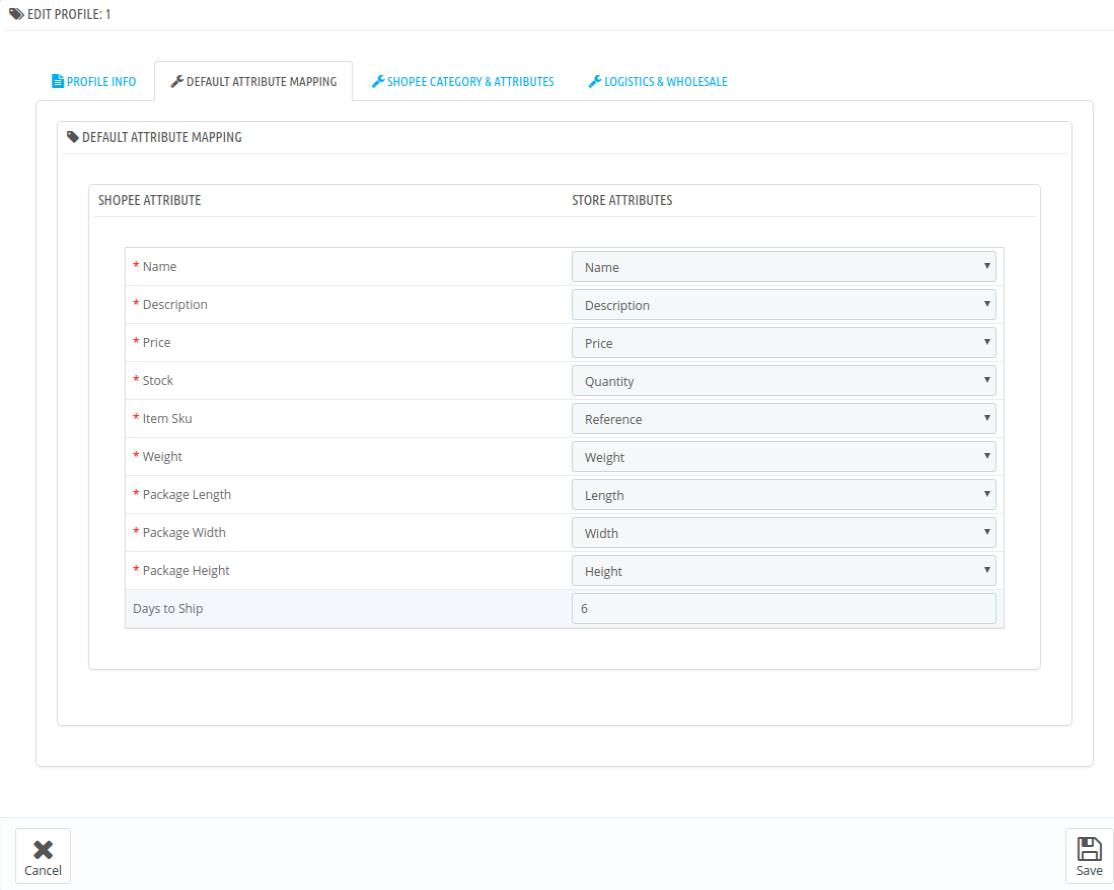 3. Shopee Category & Attributes:
This tab enables you to map the Categories and Attributes of your PrestaShop store to Shopee ecommerce marketplace for a selected product profile.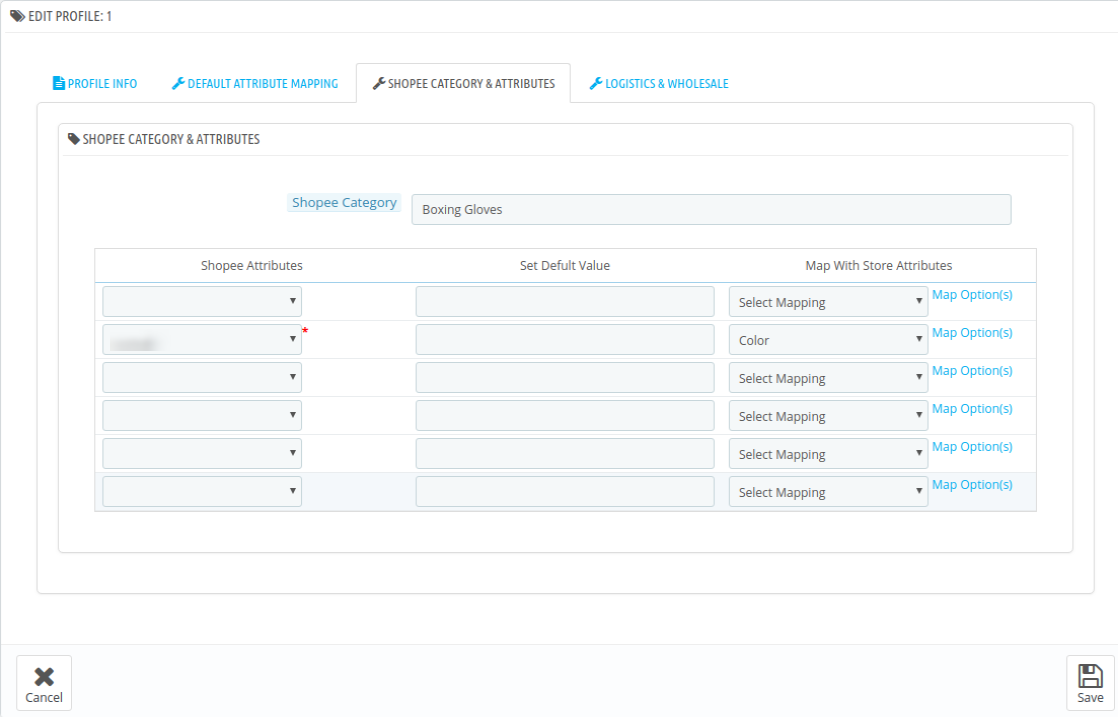 4. Logistics and WholeSale: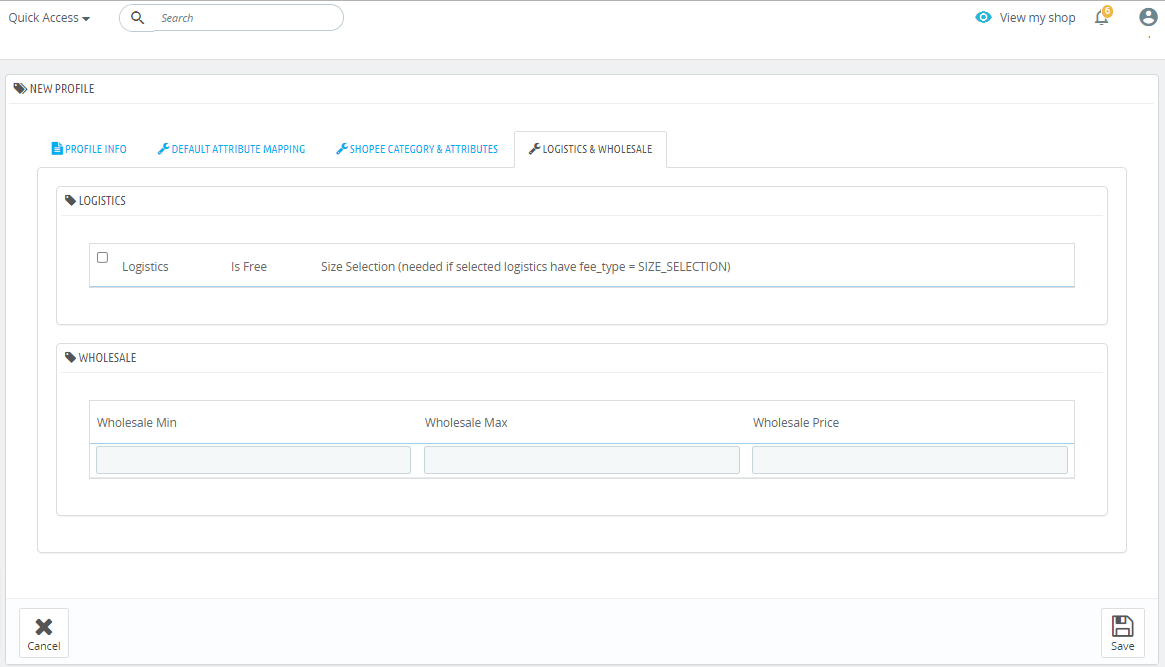 Use this tab to define/ provide shipping related information regarding a product profile. Here you can choose:
Logistics provider

Enable/Disable Free Shipping

Enter Shipping Fee
In the same tab you can define the wholesale price as well:
Wholesale Minimum:

The lower limit of the order volume to get wholesale pricing.

Wholesale Maximum:

The lower limit of the order volume to get wholesale pricing

Wholesale Price:

The price of a single unit when sold as wholesale entity.




×