Deleting the existing profile
To delete an existing profile, a seller needs to:
Go to Prestashop Admin Panel

On the left navigation bar, place the cursor on Mlibre Integration and you will see it getting expanded as below: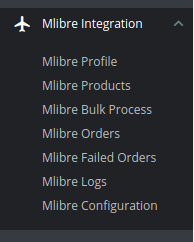 Click on Mlibre

 Profile

and you will see the page as shown below:

To

delete

the profile, click on the

D

elete

button

which appears when you click on the drop-down button next to

Edit

button.

It has been shown in the red color in the image below:

Once you click it,

a box appears asking you to confirm the deletion of the profile.

I

f you select

Yes

, the profile will be deleted.
×