Configuration Settings
The configuration settings can be opened from the Marketplace>Vendor Configuration>Vendor Payments tab
Calculate Commission Fee
In addition to Percent and Fixed-Rate, Miscellaneous Commission rate is also available selecting which will provide options to set the rates Product Type wise or Category wise.
Product Type Wise
Clicking on the "Add New Rate" button will provide options to set commission rates.
Product Types – The type of product on which the rate should be applicable can be selected from here.
Calculation Method – The calculation method i.e. fixed or percentage can be selected from here.
Commission Fee – The amount of commission fee could be given here.
Priority – The priority of the commission rate could be given here. Whichever commission rate will have high priority only that rate will be applicable.
If two rates are set, say one for "

All Product Types

" and the other for "

Simple Product

" and a product fulfils the conditions of both the commission rates then; the one with a lower amount of commission will only apply to the product.

Category Wise
It is similar to "Product Type Wise". The only difference is that all the available categories will be listed over here. The category for which the commission rate has to be set can be selected and its relevant commission fee can be given.
If a product comes under both the conditions i.e. "Category Wise" and "Product Type Wise" then minimum/maximum rule will be applicable in which either the commission rate with the minimum amount will be applied or the rate with the maximum amount will be applied. After filling all the details the "Save" button should be clicked to save the configuration settings.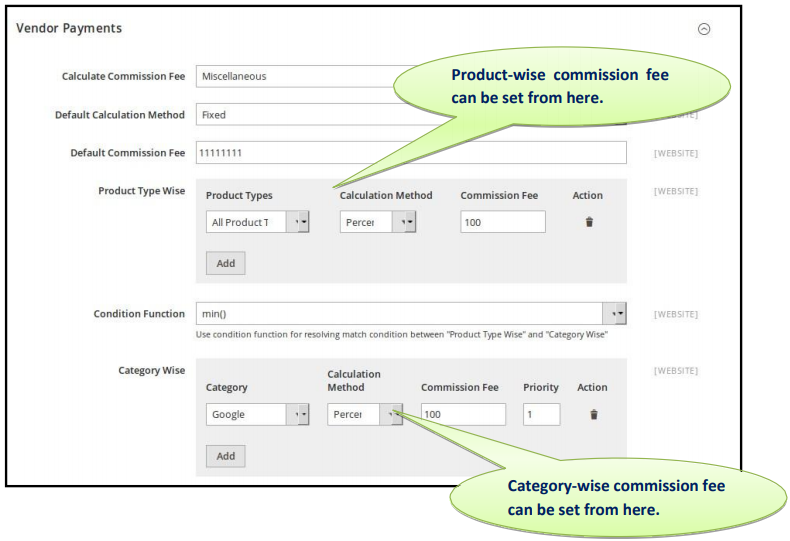 ×