Default Configuration
Step 3
Once the profile data is saved successfully, proceed with the default configuration.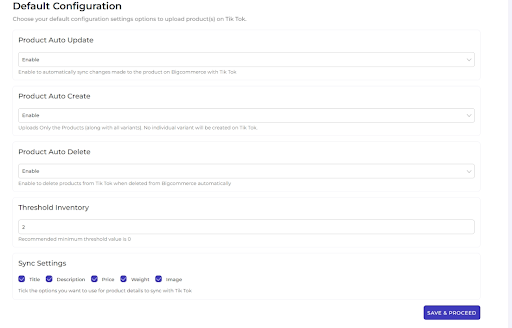 Product auto-update: If you want to sync BigCommerce & the app in real-time, enable this feature, and any update on your BigCommerce will also be reflected in the integration app.
Product auto Import: By enabling this, you agree to create/ add a new product on the integration app if any product is created on the BigCommerce store.
Product auto delete: Any product deleted in the BigCommerce store will also be reflected in the TikTok Shop. Note: Individual variants won't be removed.
Threshold inventory: Set minimum inventory level, after reaching which product will reflect "Out Of Stock" status. This prevents you from overselling. For example, if you have set threshold inventory at 4, so when your inventory reaches 4, the product will automatically go "out of stock," and you will be notified for the same. You can then order more stock for the product.
Sync setting: Select the product details that you wish to sync to the app from the BigCommerce store, like product title, description, etc.
After selecting your option, save & proceed.
Step 4
After completing the onboarding process, you will be redirected to the dashboard.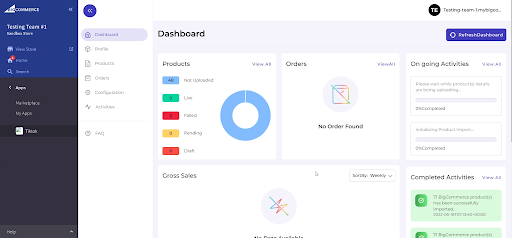 ×