Coupang Configuration
In this section, you must establish a connection between a Coupang seller account and a WooCommerce store.
Click on the Coupang menu as mentioned in the image below: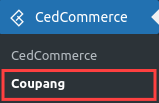 For getting the above information, you have to go on Coupang Seller Panel( Seller Information -> Additional Information section). 
After entering the above details you need to click on the authorize button as mentioned in the image.
×