Product Upload
How to upload products on Walmart?
There are two ways to upload the products on Walmart given as follow:
Upload select or bulk products
Upload products via CSV file
To upload selected or bulk products on walmart.ca follow the steps given below:

On the left menu, click the Products.
Click All Products.
The All Products page appears as shown in the following figure:

Select the checkbox on the left side of the product grid corresponding to the products that you want to list on walmart.ca, for selected products.
If you want to select all the products of the page to upload to Walmart Canada then click on the checkbox corresponding to SKU.
After selecting the products, select "Upload Products" from the "bulk action" drop-down.
Click on the Action button. The product upload process is executed and the status of the products changed to "Item processing" on the app.
Please check the feed to know that either product gets published on Walmart.ca or having some error.
Note: If there is an error in the product upload process, then it appears on the page. Otherwise, a success message appears with the process status.
To upload products via CSV on walmart.ca follow the steps given below:
On the left menu, click the Products.
Click on All Products, there you will get an option to

Export Import Action
please refer to the following image: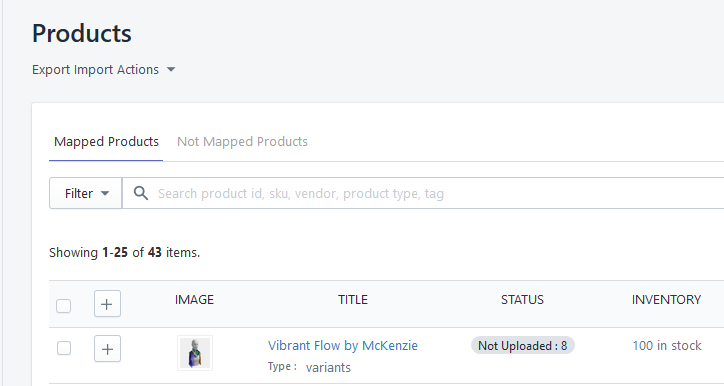 Click on the the drop-down of "Export Import Action" , you will get 2 option

Product Update
Products Upload

Select "Product Upload" then a page will be appear like this:

Here click on Export button to export the format of CSV file.
Then update the data in the exported file, for the product which you want to upload on Walmart.ca.
Further seller need to Import the updated file on the app, and then product feed sent automatically to Walmart.ca.
×