Orders
Walmart Canada Order Management
Suppose sellers want to manage Walmart.ca order with Shopify through our app. It means when the seller received any order on Walmart.ca, then our app used to fetch the order from marketplace to app and then our app sync it to Shopify. Once the order gets shipped from Shopify, then this app used to send tracking details on Walmart. Further order shows completed on Walmart also.
There are 5 stages of order on Walmart:
Ready

: When any new order created on Walmart.ca

Completed

: It means order shipped successfully on Walmart.ca.

Acknowledged

: When any new order received on Walmart, then it will auto acknowledged by the app if the seller has that product with sufficient quantity to fulfil that order.

Cancelled

: If an order gets cancelled by the seller on Walmart.ca.

Failed

: Order will be in failed status if the seller doesn't have that product SKU or quantity.

Few more terms in order section, which help the seller to manage orders are as follows:
Fetch Orders: To fetch the new orders from Walmart.ca to the Walmart-CA Integration App, click the Fetch orders.
The new orders if available, are fetched from Walmart.ca and are listed on the page and a success message appears. If there are no new orders on Walmart Canada, then the relevant message appears on the page.
Ship Orders: To update the shipment information(tracking details) of the order on Walmart.ca, click on Ship Orders.
Update Order Status: If in any case order status not updated on the app, then the seller can manually update it by clicking on "More Action" and then "update order status".
To view the order details,  click on "purchased order Id" of the corresponding order.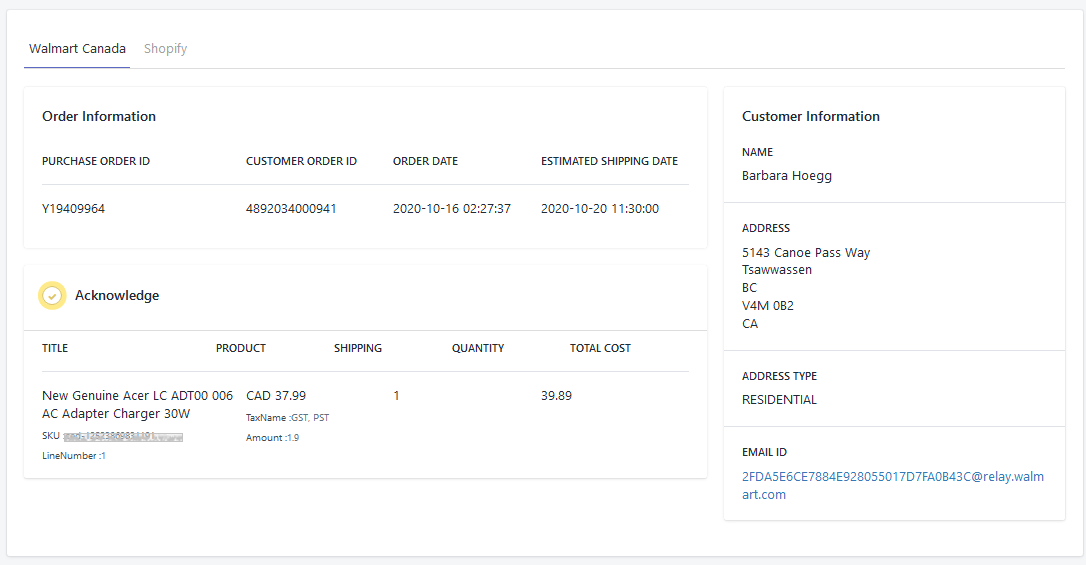 All the details of the current order appear on this page.
×