Dashboard
The app's dashboard provides insight into your store and helps you analyze the sales. It shows basic information about your stores like products and their statuses, orders and their statuses, ongoing and completed activities, etc.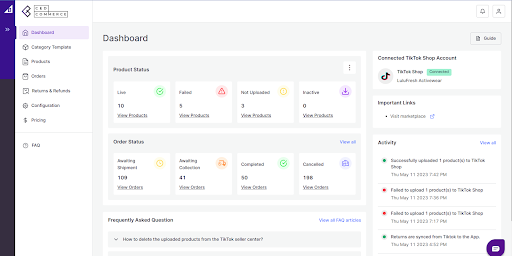 Product Status
The Product Status section on the dashboard presents real-time product updates. The different statuses visible to sellers to demonstrate the product's stages are 'Live', 'Failed', Not Uploaded', 'Inactive', and more. 
Find the meanings of the different Product Statuses below 

Live:

These products are live and listed on TikTok Shop.

Failed:

Products under this category are not uploaded on the TikTok Shop due to some error. These errors can include missing SKUs, products, not in stock, etc.

Not Uploaded:

Total number of products that are imported to the app from the Shopify store but are not yet uploaded on TikTok Shop.

Inactive:

Inactive products are the ones that have been deactivated from the app by the sellers. For instance, some seasonal products that the seller does not want the buyers to see on TikTok Shop for some time can be made 'inactive'.

Order Status

The Order Status section of the dashboard helps track the real-time status of the orders. Different order statuses include 'Awaiting Shipment', 'Awaiting Collection', 'Completed', and 'Canceled'. 

Following mentioned are the meanings of the order statuses reflected on the dashboard:

Awaiting Shipment

: As soon as an order is created on TikTok Shop, it is marked as "awaiting shipment."

Awaiting Collection

: When a seller fulfills the package using "shipped by seller" as the shipping method, the order status will become "Awaiting collection" before the order is packed and shipped.

Completed

: Once an order is delivered successfully and no return or refund request is raised by the buyer, the status will auto-update to 'Completed' in 14 days from the date of the delivery date.

Canceled

: The order placed by a buyer can be canceled by the merchant via the app by providing a proper reason. The status of the same will be updated on TikTok Shop.

Activity
Here, all the ongoing & completed activities are listed. You can keep an eye on all the activities in the app, for example, product uploading, order fulfillment, etc.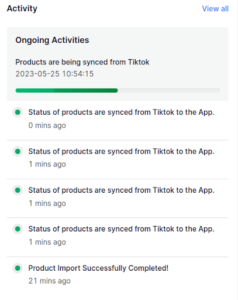 ×