Settings
Newegg Settings
To see all the information regarding Seller Id, Authorization and Newegg Secret Key, refer to this section.

Product Setting:
Under this section, come all products related setting at Newegg.com
Products Sync:
Here mark all the item properties which you want to get synced with Newegg each time a Shopify Product Sync operation is initiated.
Allow Product Create:
Here disabling this feature will no longer sync any new product created at Shopify on our app so as to get it uploaded on Newegg.com.
Note: Use this feature when you don't want any products to be uploaded on Newegg.com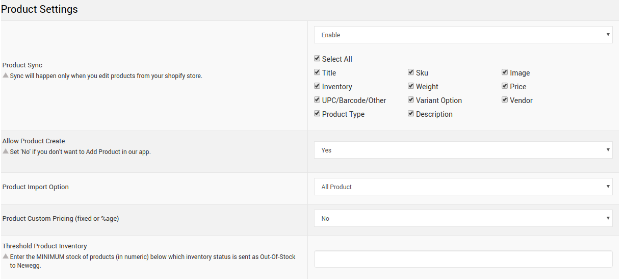 Product Import Option:
Choosing the options from this section – All products, published products and selected products – will inform our app which products to import to the app.
Product Custom Pricing:
To compensate for the commissions deducted by Newegg, Online sellers can manipulate the product pricing from here.
There are two ways to manipulate pricing-
Increase by Fixed Pricing →Here enter the fixed value by which you want to increase the prices of your product.
Increase by Fixed Percentage →Here enter the percentage value by which you want to increase the pricing of your items at newegg.com
Threshold Product Inventory:
Here define the minimum products amount below which low stock notification is sent to you and zero inventory status at Newegg.com.
Note: Since marketplaces generally penalize online sellers if they cancel orders after approving them so it becomes crucial to manage this situation before hand.
Order Setting:

Auto Cancel Orders:
Enabling this function automatically cancels the order for an item whose SKU is zero.
Shopify Order Sync:
DIsabling this feature enables you to manage orders from any 3P order management app like Shipstation, Shipwork etc.
We're an official Channel Integration Partner of Shipstation. Choosing Shipstation through us will help you get 2 months extra free service.
License agreement:
https://apps.cedcommerce.com/integration/newegg-policy/newegg-policy.pdf
Contact Us: https://cedcommerce.com/contacts
Copyright © CedCommerce 2018 DMCA Protected. http://www.cedcommerce.com
×