ManoMano Upload All
The ManoMano Prestashop extension enables the users to upload the products from Prestashop to ManoMano in bulk using this feature.
To upload all products,
Go to your Prestashop admin panel.
Place the cursor on the left navigation bar on ManoMano Integration.
Click on the ManoMano Upload All.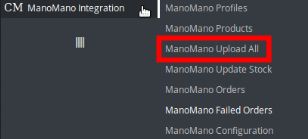 On clicking it, you'll be navigated to the page as shown below:

On this page, you may click on Process Product Upload.
The product will be uploaded in bulk.
If no product is there to be uploaded, the message will appear as below:

×