Configuration Settings
Once the module has been installed, the first necessary step needs to be taken by the admin is to complete the Configuration.
To do the Configuration Settings,
Go to your OpenCart admin panel.
Click the Catch option which is on the left navigation bar, as shown in the figure below:

From the menu that appears as shown in the image below, click on Configuration.

On clicking Settings, you will be navigated to the Catch Configuration page as shown below:
API configuration Settings:
Under the API Configuration, you will find the following settings.

In Module Status choose Enabled to enable the module. Without Enabling the module, all the changes made will not reflect on the Catch marketplace.
In API Mode, select from Sandbox or Production. The sandbox mode is for testing and the Production mode is for the live changes on Catch Marketplace.
Enter your Catch API Key in the next section. This is available on your Catch Seller Panel.
In Debug Mode, select Enable if you want the Debug log to be created.
Product Configuration Settings:
In Sync Inventory Price By Cron users can synchronize the inventory price every time the cron runs.
In 
Order Configuration Settings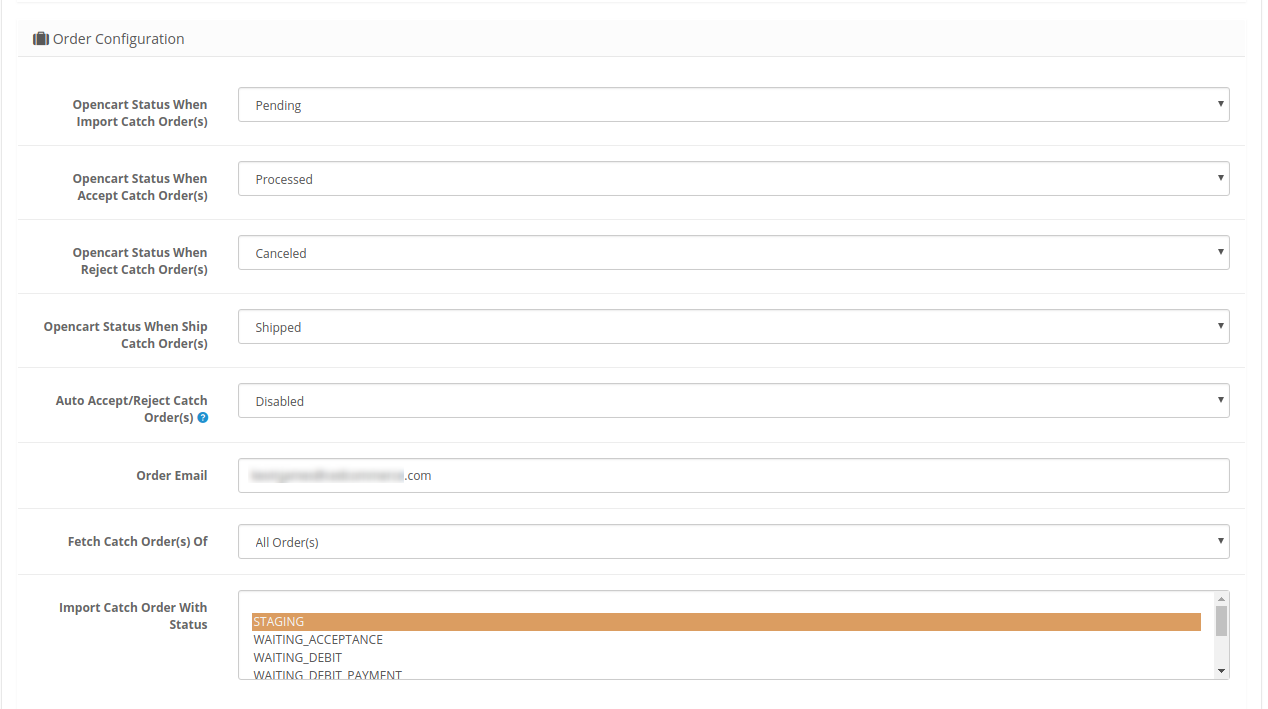 In Email Orders, enter the email id on which you want to get notified about the Catch orders via mail.
In Fetch Catch Order(s) select the range from when you wish the orders to be fetched.
Cron Configuration Settings

The Sync Inventory Price, Fetch and Create Order Crons are mentioned below.
Click on the Save Button to save all the settings as shown:
A confirmation message appears as shown below:
×