Configuration
Once the installation has been done, you need to start the configuration.
To complete the configuration,
Go to your Magento admin panel.
Place cursor on Noths on the top navigation bar.
When the menu appears, click on Configuration.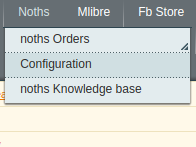 On clicking it, you will be navigated to the configuration page that appears as:
Noths API Settings
Click on Noths API Settings and the section will expand as:
In Enabled, select Yes. In doing so, the section will expand as:
In API Token, enter the API generated from Seller panel of Noths Online store.
In Select Store Choose the default Store View you wish to choose.
In Default Payment Method, choose a default payment method for Noths orders.
In , enter the email id on which you want to get an email whenever a new Noths order gets imported.
In Create Order For Out Of Stock Product, choose Yes or No as required.
If you wish to Automate Shipment, select Yes from the drop down menu.
In , select Yes if you want to enable Noths debug mode for logging.
In Noths Customer Email, enter the email for which customer will be created for Noths orders.
In , enter the Noths Order Id Prefix.
In the section Enabled Order Cron ; Select 'Yes' if you wish to run the cron automatically.
If you wish to Create Orders for Disabled Products, Select Yes from the dropdown menu.
×