Product Manager
TO VALIDATE AND UPLOAD PRODUCT(S),
Go to the Magento Admin Panel.
On the top navigation bar, move the cursor over the Ebay Basic menu. The menu appears as shown in the following figure:

Click Upload Product.
You will be navigated to the Product Manager page that appears as:

Now click on Actions drop down menu which is on the top right side of the page. The drop down menu appears as: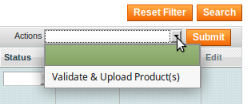 Click on Validate & Upload Product(s).
Click Submit button next to it.
You will be navigated to the page on which you will see the status of the product upload.

The product(s) will be uploaded successfully.
TO EDIT PRODUCT(S),
On the Product Manager page, click on Edit button which is present in the last column adjacent to the products, under Edit column.

On clicking it, you will be navigated to the page on which you may edit the product details.
Click on Save button once the changes have been made. The editing will be done for the product.
×