Vendor Membership Rates
Go to the Configuration page  as shown in the following figure: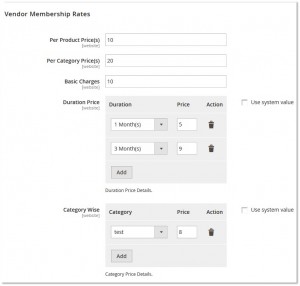 Under Vendor Membership Rates, enter the information in the following fields:
Per Product Price(s): Includes an extra price per product that the vendor has to pay to the admin for adding the products on the website.For  example: If  the  vendor  wants  to upload three products on the website and the Per Product Price value is $10, then the vendor has to pay $30 extra.
Per Category Price(s): Includes the price per category that the vendor has to pay for including the products in some categories.For example: If the vendor wants to include the products in three different categories and  the Per Category Price value is $20, then the vendor has to pay $60 as an extra amount.
Basic Charges: The basic amount of the Membership Package. The amount of both the Per Product Price and the Per Category Price values are added to the Basic Charges to constitute the total price of the package.
Duration Price: Set the price based on duration, that is, the amount of Membership Plan charged for the specific period (in months).

Click the Add button to add price based on assigned duration.
Click the Delete icon to delete them.

Specific Category Price: Set the price of the Membership Plan based on category wise, that is, the different price for the different categories.If both the Per Category Price and the Specific Category Price values are set then the Specific Category Price value is applicable first but only for that respective category for which it is set.
×