Review Based Badges
Navigate to CED Marketplace > Vendor Badges > Review-based badges
A page of the badge list will appear as shown in the below screenshot.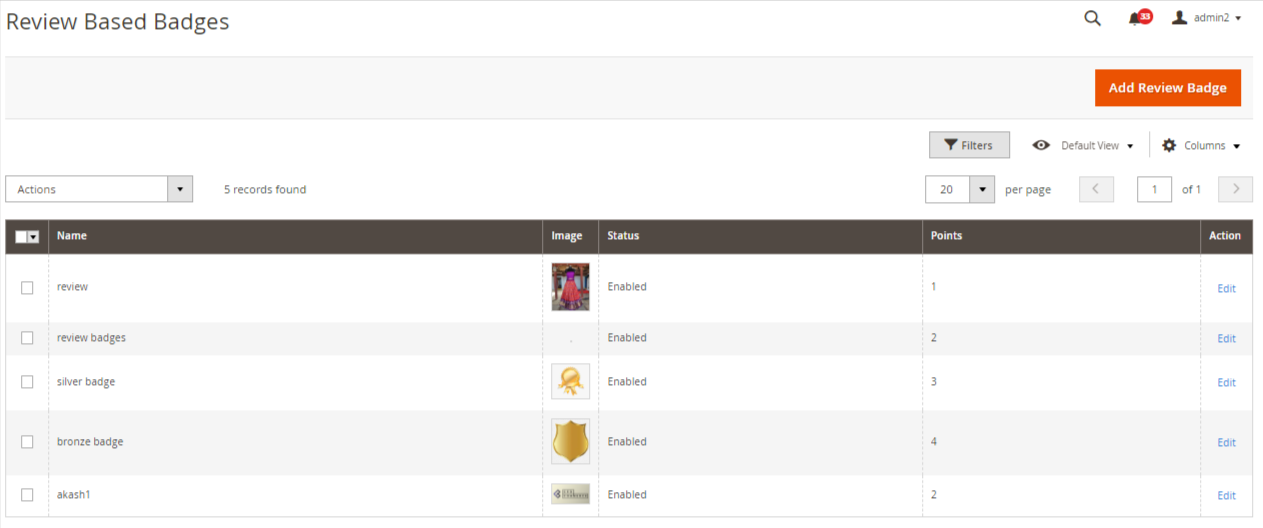 Add New Badge
An admin can add a New Badge to his marketplace by clicking on the Add New Badge button, as shown in the above screenshot.
Next, it will redirect the user to the Add Review-based badge form page, as shown in the below-attached screenshot. Fill in the details as. 

Badge Name:

Give the vendor badge a name. Admins will see this name as a reference.

Image:

Upload an image of the badge that will be visible to the customers on the vendor's profile page of the particular seller.

Enable:

Select the status as Yes if the admin wants the badge to be active in the marketplace.

Points:

Provide a parameter that will be used to decide if a vendor is eligible for the particular badge in the form of points. For example, if the vendor has more than 7 five-star reviews, a badge will be assigned to him automatically.

Save once your settings are done using  button placed in the top right corner of the page.
Edit Badge
The badge details can be edited by navigating to the

CED Marketplace < Vendor Badges < Review Based Badges.

A badge list will appear. Click on the

Edit

label in the row of the badge to be edited. Below shown form page will be displayed.

Edit the details as per the requirement. Next, click on the Save badge button.
×