Product
The product section of the app provides you with every bit of detail you need to syn, list, and manage your products. To amend or update product settings, firstly go to the 'Product Section.'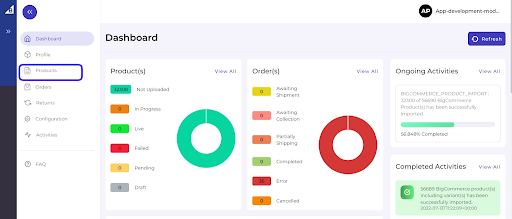 Product Status
At the top bar, you can view products on the basis of their status; it shows the following statuses:
All: It shows the total products in the integration app, whether they are listed or not listed on TikTok Shop.
Not Uploaded: Total no. of products imported from BigCommerce to the app but not uploaded in the TikTok product catalog.
In Progress: It lists the total number of products that is in progress and under review by the TikTok team.
Live: The total number of products listed on TikTok Shop.
Pending: Products that are still not live on TikTok Shop, and review is still awaited.
Failed: The list of products that failed to get uploaded on the TikTok Shop due to some or other reason.
Draft: Products that are not uploaded and listed in TikTok Shop.
More Action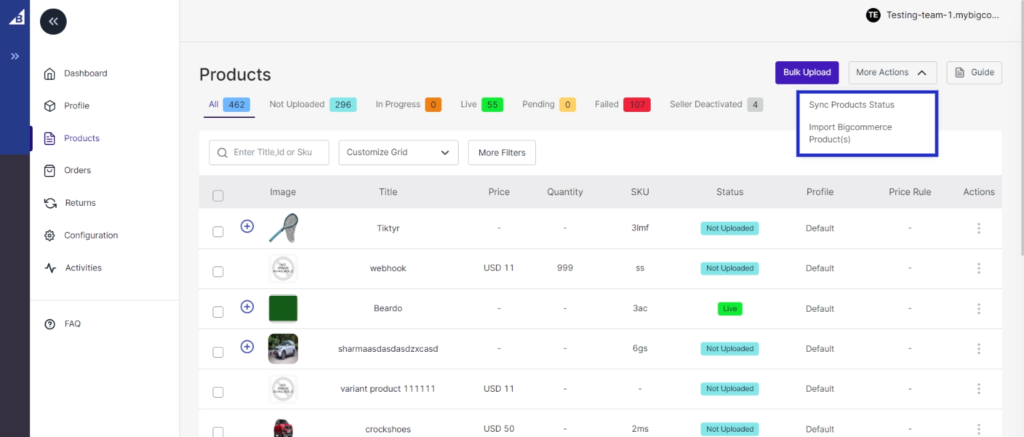 With the 'More Action' tab, you can sync and upload products on TikTok in bulk.
Sync Product Status: By clicking on this, you can sync product status with TikTok Shop. I.e., product status from TikTok Shop will be synced with the integration app.
Import BigCommerce Product: With this tab, you can import all BigCommerce products on the integration app in bulk.
×