Settings
In this section, you have the following sub sections:
1) Etsy API Settings
2) Product Management
3) Order Management

1) Etsy API Settings: In this section you can enter your Etsy shop name & Product status.
You can choose the product status as 'live' in case you want all your product to be shown as published & ready to sell on Etsy.
You can choose the 'development' status when you do not want to show your products as published on Etsy. This mostly, is the case when you have not completed your payment procedure on Etsy.

2) Product Management: You can handle your product information from this section & manage the following fields:
a) Custom Pricing: You can set the desired price to your products. You can increase or decrease your price either by a fixed price or percentage.

b) Currency Converter: From here you can convert your BigCommerce store currency to Etsy currency.

c) Inventory Management: This sub section allows you to manage the product quantity. You can set a minimum quantity to your product, called the Threshold Inventory, in order to avoid overselling. You can even set a maximum value to avoid stocking outs of your products.

d) Auto Product Delete: You can directly delete your products from Etsy once deleted, unpublished or gone out of stock from your Etsy store.

e) Product Import Option: You can list your BigCommerce products on the app to manage them efficiently. You can either import all products or published products.

f) Auto Update: You can select the field you want to update automatically on the app as soon as a new product is added or a previous product field is updated on your BigCommerce store.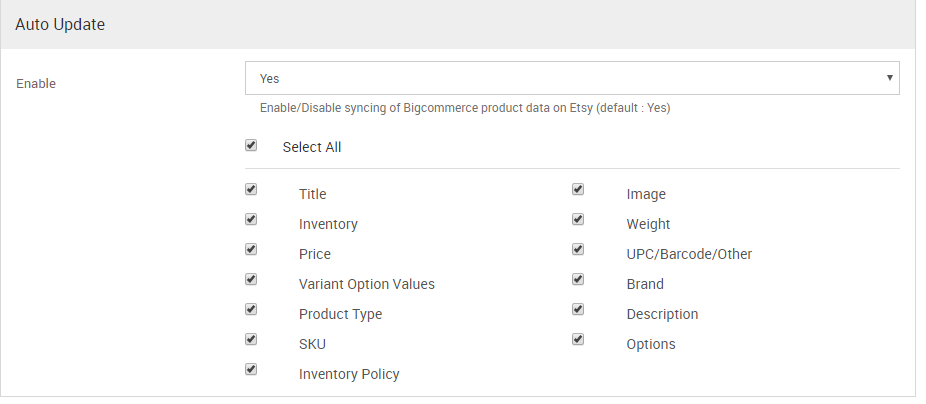 3) Order Management: From this section you can choose to manage all your Etsy orders from the app by default or you may disable to do so.
×