Manage ManoMano Accounts
TO MANAGE ACCOUNT ON MANOMANO
Go to the Magento admin panel.
On the Top navigation bar, click ManoMano.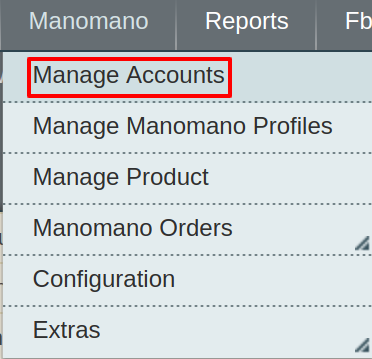 When the menu appears, click Manage Accounts.
On clicking it, you will be navigated to the ManoMano Accounts page as shown below

To add a new account, click on Add NewAccount button on the top right corner.
You'll be redirected on a new page:

Enter the Account Name by which you wish to sell on ManoMano, in the first section.
Select the Status of the account from the drop-down menu, either Active or Inactive.
Move to the next section and enter the Account Username.
Enter the Account Password in the next section.
In the Account Store section choose the view of the store.
Once all the actions have been taken so far, click on Save button on the top right of the page.
Now Go back to the Accounts page.
The product created will be displayed

A confirmation message appears as shown above.
×