Cron Logs
To see the cron logs,
Go to Magento admin panel.
On the top navigation bar, place cursor on Exborders.
When the menu appears, place cursor on Developer and then click Cron Logs when the option appears.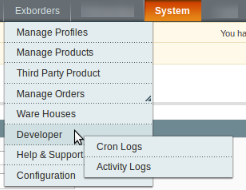 On clicking it, you will be navigated to the page as shown below:

On this page, you may see the cron details such as ID, Job Code, Status, Messages, Created At time, Scheduled At time, Executed At time, and Finished At time.
×