Allegro Knowledgebase
For knowledge base which includes help and support from CedCommerce,
Go to your Magento admin panel.
On the top navigation bar, place cursor on Allegro.
When the menu appears, click on Knowledge Base.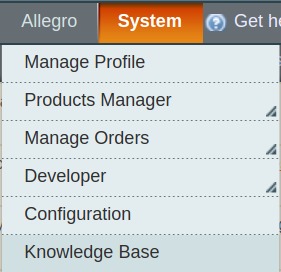 On clicking, you will be navigated to the page as shown below:

Under the CedCommerce Support: Contact us via below available mediums, you may see the different ways to get in touch with us.
Click Submit issue via ticket and you will be navigated to our website where you just need to raise a ticket and we will be there to help you in no time.
Click Send us an E-mail and your mailbox will get opened and you may mail us your question or query.
Click Connect via Skype and you will be able to join us on Skype instantly where we are available 24×7.
Under Allegro-Magento Extension Documentation, click Allegro Integration Extension User Guide and you will be able to see our user guide using which you may know how to integrate your Magento store with Allegro easily.
×