Overview
About Zoho Inventory
Zoho Inventory is a centralized inventory management platform where merchants can monitor, manage and track inventory, orders, warehouses, and more. It is an online inventory management software that helps merchants manage online and offline orders and keep track of stock levels across multiple channels. This multichannel inventory solution integrates with different platforms and monitors stock movement across all the platforms. 
Zoho Inventory has a real-time dashboard and a robust reporting feature, which helps merchants optimize purchases and inventory levels and get critical insights about their businesses anytime. The power-packed inventory management solution possesses the power to manage your inventory in real time. Users can track every item in the inventory with serial numbers and batch-tracking features.
About the Zoho Inventory Integration App
The app is best suited for merchants who wish to go multichannel and sell across multiple online platforms with ease. CedCommerce's Zoho Inventory Integration app is full of features that help you manage products, track inventory, fulfill orders, and streamline your eCommerce operations. 
It provides a centralized dashboard to merchants where they can manage all channels without switching between apps. It is a compatible solution for merchants looking for complete IMS and OMS syncing solutions without the hassle of switching between apps to sync orders and inventory. The solution streamlines inventory and order management for Magento, WooCommerce, and BigCommerce stores. 
The app offers settings that can be utilized separately for different selling channels and thus ensuring effortless management.  The platform-level settings in the app help merchants with smooth & independent data synchronization, all from a single platform.
Some Remarkable Features Of The App: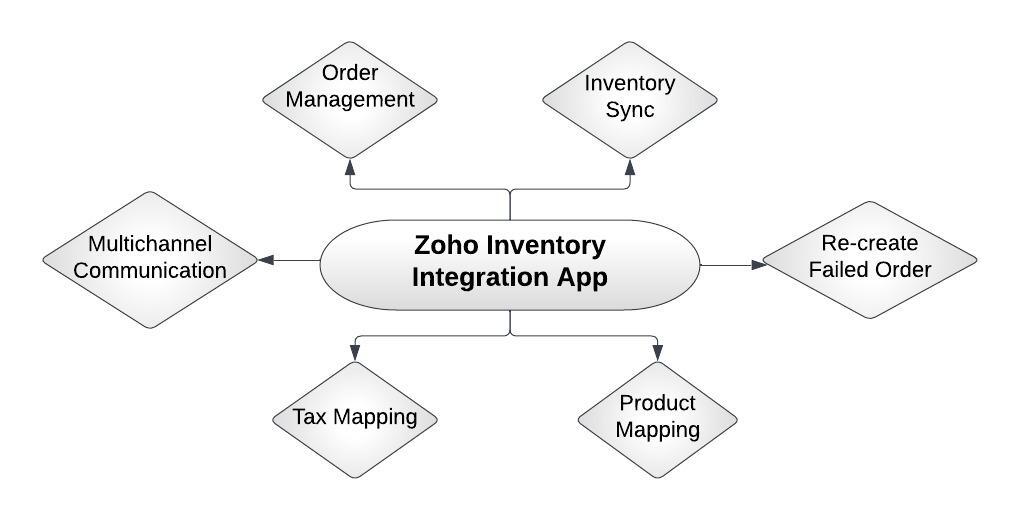 Smart Order Management:

Order management systems (OMS) provides automation and integration across every step of the order journey. This allows you to deliver consistent customer experiences at scale across every channel. Receive orders on any eCommerce platform and fulfill them from a centralized Zoho Inventory account. 

Easy Inventory Management:

With the Zoho Inventory Integration app, you can make inventory management as streamlined, cost-effective, and automated as possible. The app ensures automated inventory sync between the Zoho Inventory account and connected channel(s). Its seamless integration with other eCommerce channels like Magento, WooCommerce, and BigCommerce and makes other operations effortless. 

Multichannel Communication:

Manage multiple stores' inventory and orders under a single umbrella. Information flows seamlessly between Zoho Inventory accounts and BigCommerce, Magento, and WooCommerce stores using an API communication mechanism. This enables sellers to manage and track everything centrally without any hustle or without switching between apps. 

Real-time Synchronization

: The integration app synchronizes and provides near real-time updates between the Zoho Inventory account and other connected platforms. In this way, you only need to track the inventory in the Zoho account, and our integration will take care of the syncing of that inventory to the connected eCommerce business to receive more business.

Order Fulfillment:

Receive orders from multiple platforms and receive combined orders on a centralized Zoho Inventory account. The shipping details and tracking details are also auto-updated on the connected channel. Improve your order processing capabilities and run your business smoothly. 

Cost-effectiveness: The Zoho Inventory Integration app offers competitive pricing plans, making it affordable for businesses of various sizes. The software's features and capabilities provide value for the investment, helping you streamline operations, reduce costs, and increase productivity.
Along with the above-mentioned app's feature, CedCommerce also ensures you don't find a roadblock on the way. For companies that need a little extra help implementing or troubleshooting their platform, our account managers are here to help. 
×