Register on app
Register on CedCommerce
You need to first "Register" yourself on CedCommerce. For this, please click here to visit the Sign Up Page. You will have the Registration Page as displayed below: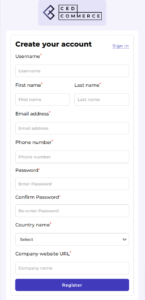 Enter your "Username", "First name", "Last name", "Email address", "Phone number", "Password", "Confirm Password", "Company name", and "Company website URL". Thereafter, click on the "Register" button. While registering you need to take care of the following points:

While entering the Username there should be no spacing in between them. For example, if your name is Ronald Patrick → Enter your Username as "RonaldPatrick" instead of "Ronald Patrick".
The password should be of a minimum of 6 characters. You are free to create the password as per your choice i.e. purely numeric or alphabetical or alphanumeric. For example, you can have passwords like Ronald@123456, Ronald1234, PatrickRonald, 879832, etc.
After successfully completing the registration process, you will be redirected to the Sign-in page.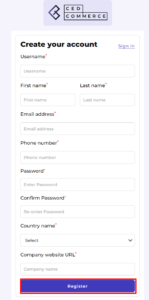 ×