Import via eBay Product Link
To import the products based on eBay product URL
Go to the Magento Store Admin panel.

On the top navigation bar, place cursor on the Ebayaffiliate menu.
The menu appears as shown in the following figure: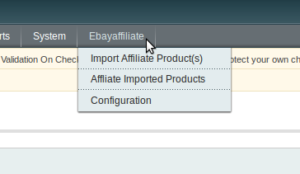 Now click on the Import Affiliate Product(s). You will see the page with the following section:

Now click on the Import via eBay Product link button and the tab gets expanded as below:

In the Enter Product Link, enter the link of the product which you want to be imported to your Magento store.

Once done, click on the Import button o the right bottom of the page. Your product will be imported.
×