eBay Affiliate Configuration Settings
Once the eBay Affiliate Extension for Magento Store is successfully installed on the Magento store, the Ebayaffiliate tab appears on the top navigation bar of the Magento Store Admin Panel as shown below:

The store owner now needs to fill-in the eBay Affiliate Id on the eBay Affiliate Configuration page of the admin panel.
Note: The eBay Affiliate Id is provided by eBay.
To set up the eBay Affiliate Configuration
Go to the Magento Store Admin panel.
On the top navigation bar, place cursor on the Ebayaffiliate menu.
The menu appears as shown in the following figure: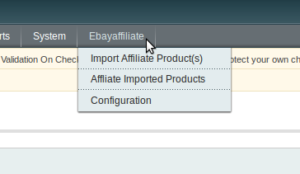 Click Configuration.
The Configuration page appears as shown in the following figure: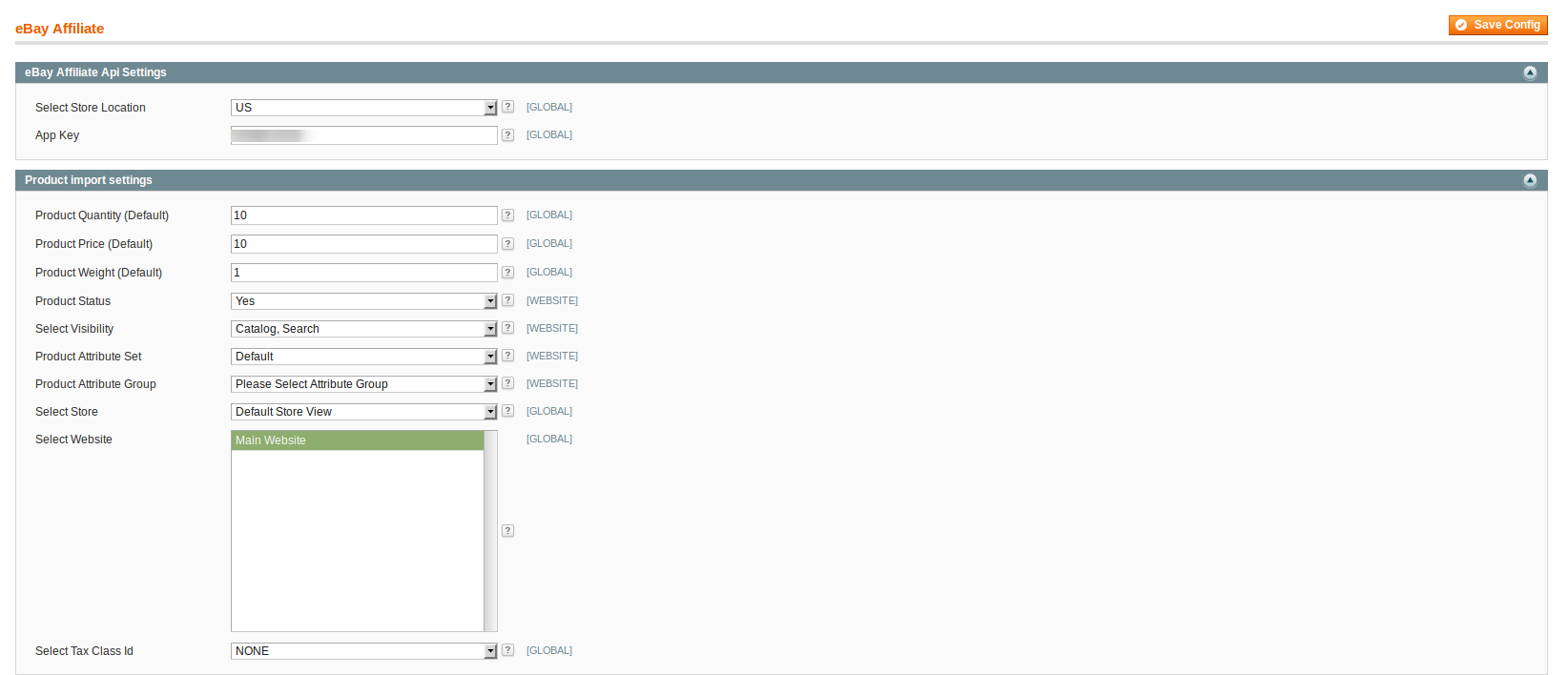 Under eBay Affiliate, take the following steps:
In the Select Store Location list, select the eBay store location in the option.
In the App Key tab, enter the App Key, which is user's eBay affiliate account Id which it can get after the registration for affiliate program on eBay.
Click the Save Config button.
Scroll down to the Product Import Settings tab.
Under Product Import Settings, take the following steps:
In the Product Quantity tab, you may either enter the quantity of products to be featured or select the default quantity.
Similarly, in the Product Price tab, you may set the price of the product or can use the default one.
The same is the process for the Product Weight i.e. enter the weight of the product or select the one that's default.
In the Set Product Visibility list, select the required option to set the area where the product is visible.
In Product Attribute Set, select Default.
In the Product Attribute Group, select the group as required.
Now select the Magento store that you want to the products to be affiliated with.
In the next tab, select the Website of your store.
In the Select Tax Class Id, select as per the requirement.
Click the Save Config button.
The Configuration settings are saved and a success message appears.
×