Sync With BigCommerce
The option enables users to perform immediate sync of the selected product(s) with the BigCommerce store to fetch the real-time status of products and information.
How to Sync product(s) with BigCommerce?
Select the products which you want to upload on Wish
Click on "Choose Action to perform"
Choose the "Sync with Bigcommerce" option from the dropdown
And click on the Submit button.
A pop-up window with the multiple fields will appear as shown in the figure: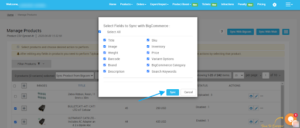 Either select your desired fields or "Select all" to choose all the fields and confirm your action by clicking the "Sync" button.
And that's all, the selected product(s) will start syncing with BigCommerce.
×