Step -5: Attribute Mapping
The Attribute Mapping page appears as shown in the following figure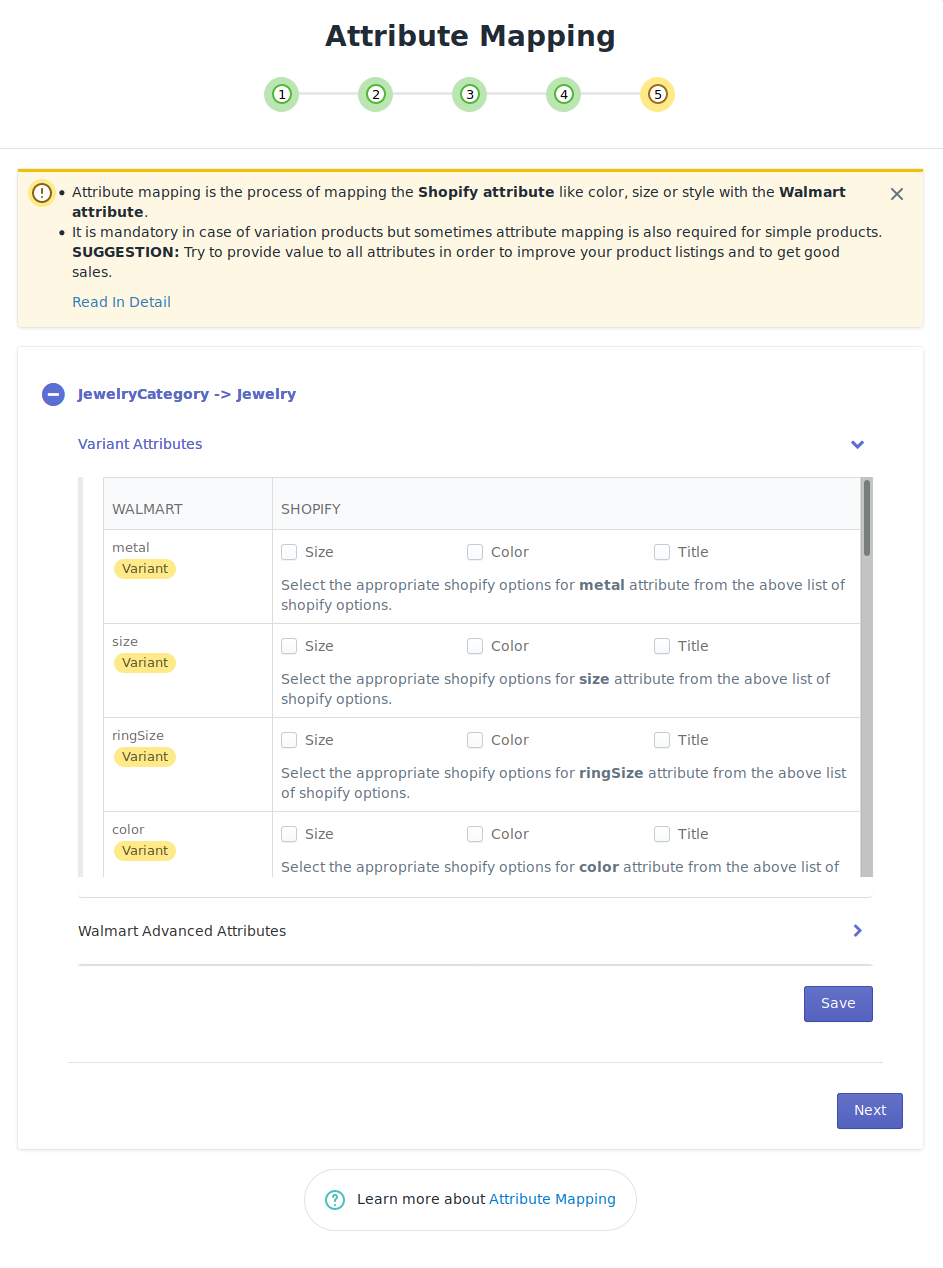 Here, you will get the Walmart Attributes corresponding to the Walmart Category you have selected for your Product Types. You need to map the Walmart Attributes with the Shopify product attributes. For every Walmart category, you will have to map the
Variant Attributes: Allows you to map your Shopify Variant Options with Walmart Attributes which helps you to list your as variants onwalmart.com
Walmart Advanced Attributes: Allows you to add the additional attributes to your products which helps in improving the listing and ranking of your products. Such as keywords, key features, gender, age group, etc.
To map the variant attributes follow the below steps
Scroll down to the row of the required Walmart attribute.
In the SHOPIFY column of the respective row, do one of the following steps:

Select the checkbox associated with the appropriate Shopify options for the Walmart attribute. Eg: Map Color with color and Size with size.
OR

Enter any value for the Walmart attribute if there is no similar option available in the Shopify column (entered value will be universally set for all the products under Walmart Category).


Click the Save button.
To map the Walmart advanced attributes follow the below steps
You have select one of the two options here, Shopify Option or Custom Value.
Map the Walmart Attribute with Shopify Option (field), eg​: You can map the Keywords (Walmart Advanced attribute) with Tags of Shopify Option or
Add custom value to the Walmart Attributes.​

Click on the Save button.
Click on the Next button to reach the app dashboard.
×