Product Section Details
 You can view the Product images, Title (as appears on Shopify), Profile Name (as assigned to the product), eBay Item Id (clicking on this id will help you see details of your products, as visible on eBay).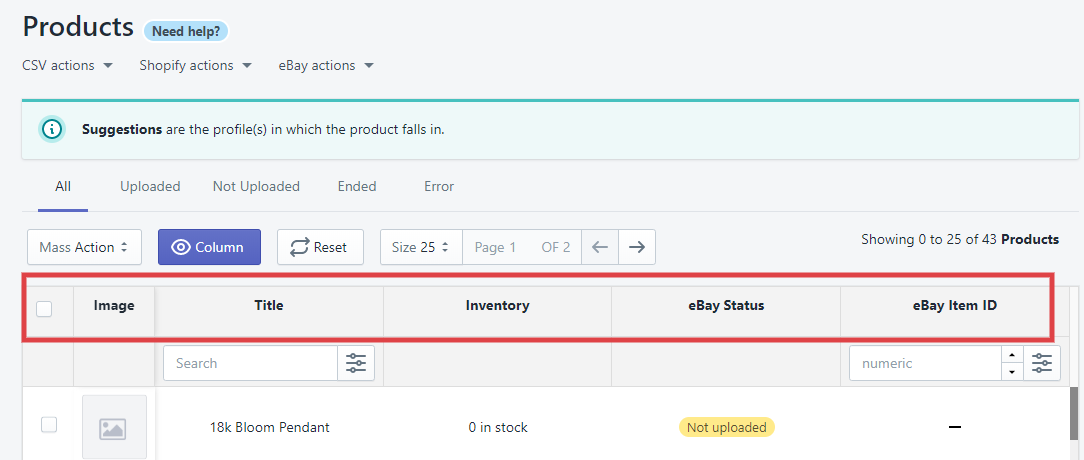 Let's shed some light to each column:
a) Image: Picture that depicts your product clearly.
b) Title:    Descriptive headline of your product.
c) Inventory: Shows the quantity available for the product.
d) eBay Status: This is the status of the product as visible on eBay ( Uploaded/Not Uploaded/Ended/Error). If a product is uploaded with an error, we notify you of that as well.
e) eBay Item Id: This is the Id assigned to your product on eBay.
f) Profile: These are the groups assigned by you to your products for easy product listing.
g) Vendor: The vendor that you give for your products on Shopify.
Sorting DropDown:
Use this dropdown to get your product grid sorted on the basis of Title or SKU. You can also disable sorting.

Column Button: This button helps to select the column heads. For example- If you want to see Product Image, Title, Inventory & eBay Status, you can opt for the following fields from the space shown below:

Reset Button: This button helps to undo the filters applied so that the new filters or no filters can be applied.

 Note: The app consists of relevant messages to guide you through each step you perform.
×