Overview
About Joom Marketplace
Joom Marketplace is an online marketplace that allows users to buy and sell a wide range of products, including clothing, electronics, home goods, and more. It is primarily focused on offering an affordable range of goods to customers. The app offers a convenient and user-friendly interface that makes it easy to search for and purchase items.
With over 400M users worldwide, 25 million monthly active users, and 20 million active buyers. Joom is yet another opportunity for merchants looking to expand their business worldwide. The marketplace has a large and growing user base, which means that you can reach a wider audience of customers than you would on other platforms. Moreover, Joom Marketplace allows free product listing, which can help you keep your prices competitive and improve profit margins.
About CedCommerce Joom Shopify Integration
CedCommerce Joom Shopify Integration App is a solution designed to connect Joom marketplace with the Shopify platform. With this app, Shopify merchants can easily list their products on Joom and manage their orders and inventory from Shopify without having to switch between platforms. The app provides a complete ecosystem where merchants can easily oversee both Joom and Shopify stores effortlessly.
Some of the key features of the Joom Shopify Integration App include: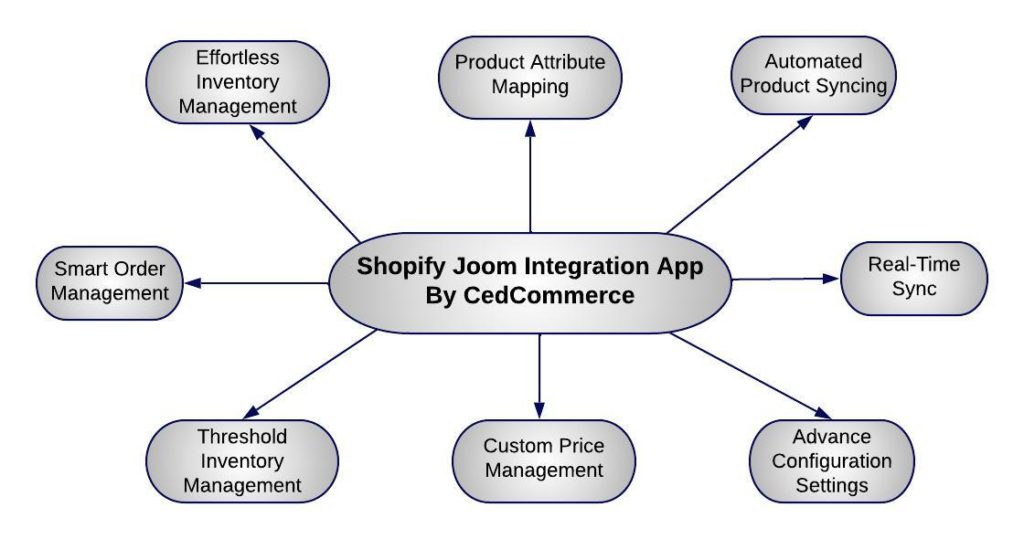 Automated product syncing: The app allows merchants to automatically sync their Shopify products with Joom, saving them time and effort. All you need is to keep your Shopify store updated, and your Joom Marketplace will get updated automatically in near real-time.
Order management: The app enables merchants to manage their Joom orders from within Shopify, ensuring a streamlined order fulfillment process. Order received on Joom Marketplace can be fetched and added to your Shopify store, and you can fulfill it at your convenience.
Inventory management: The app ensures that inventory levels are always up to date across both platforms, preventing overselling or underselling on Joom Marketplace. Get notified whenever the product stock level is running low.
Pricing management: The app allows merchants to customize product prices for Joom Marketplace, ensuring you get the maximum benefit from the platform. For example, if the product costs 500 on the Shopify store and you wish to offer it at 550 or at a discount at 450, you can do so using the integration app. This way, you can offer customized pricing without changing the price in your Shopify store.
Real-time updates: The app provides real-time updates on products and inventory levels, allowing merchants to make informed business decisions. Near real-time update and sync between Shopify and Joom Marketplace.
Overall, the Joom Shopify Integration App is a powerful tool for any Shopify merchant looking to expand their reach and sell on the popular Joom marketplace.
×