Configuration Settings
The first step in the process of integrating your Magento 2 store with HubSpot is the Configuration.
To do the Configuration,
Go to Admin panel

Click on the

HubSpot

icon which is available on the left navigation bar.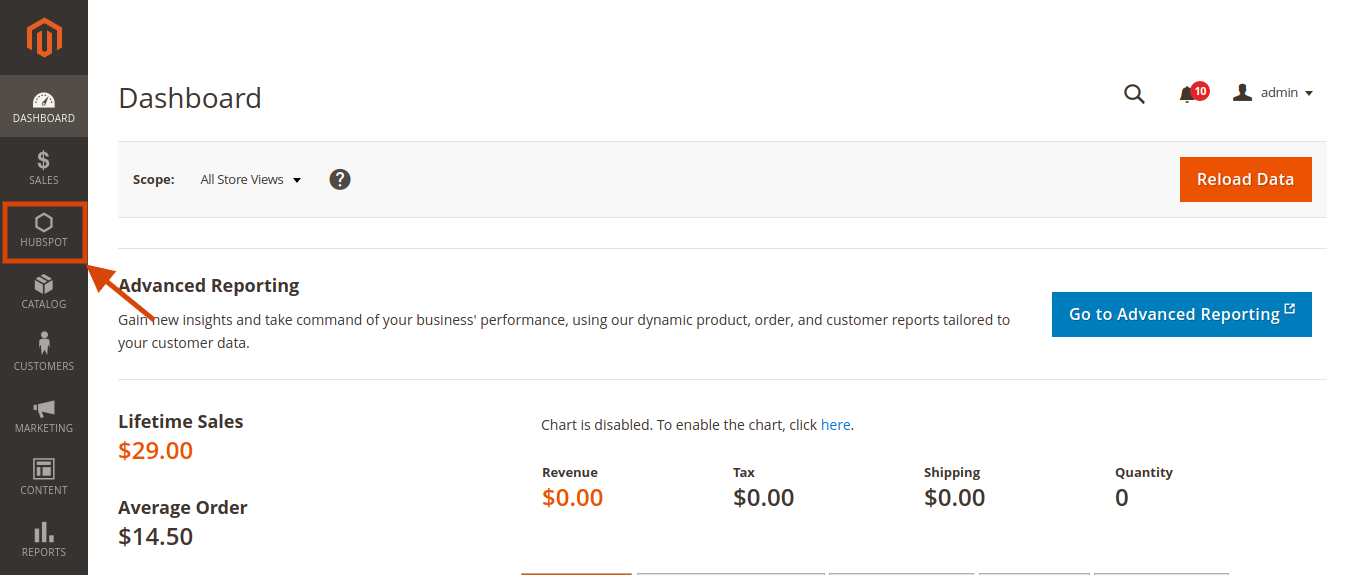 Now click on the

HubSpot

tab

After clicking on the HubSpot menu the sidebar will open and the following menu

appears.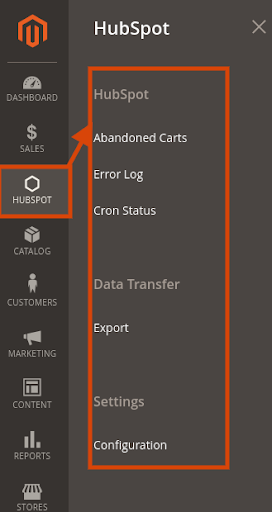 Select the option Configuration which is showing in the last, then click on it.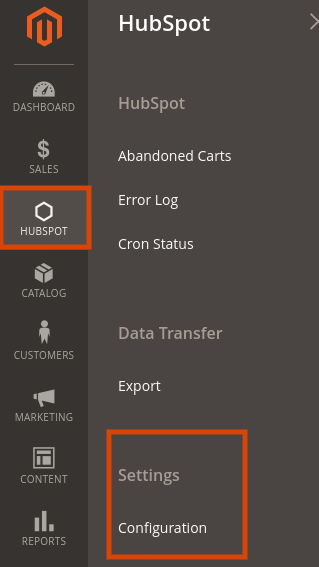 After clicking on the configuration a new  page will appear, with the following details of configuration settings, refer to below images,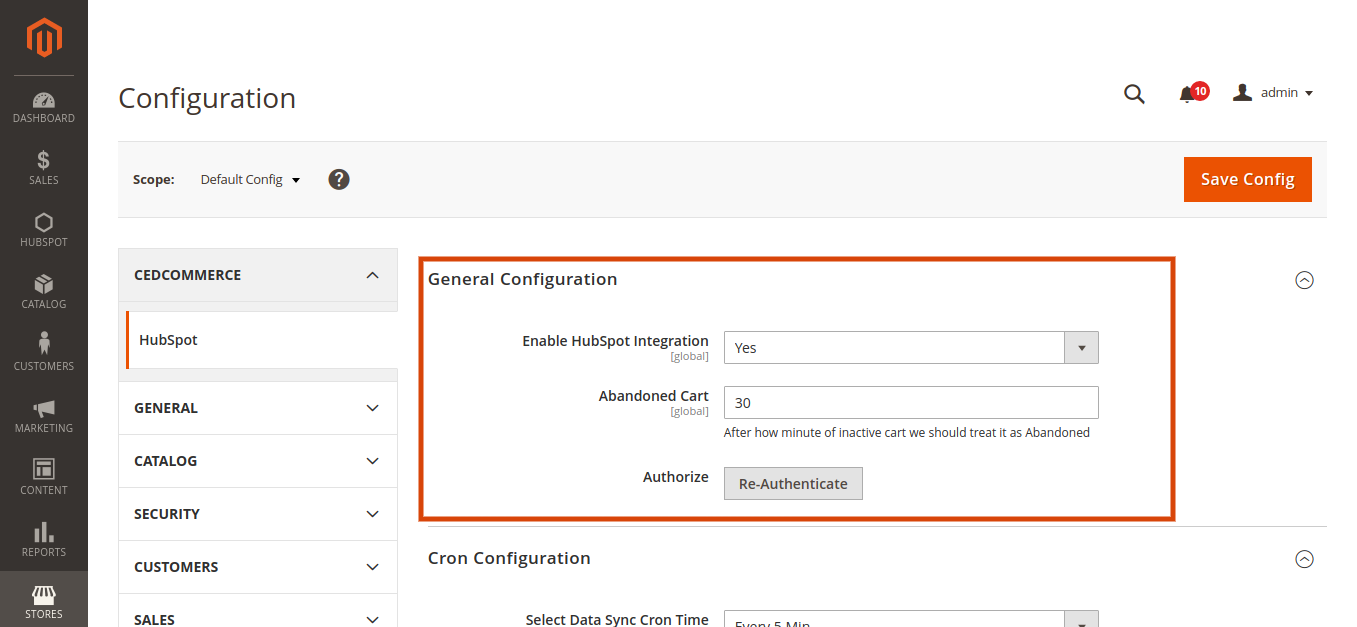 General configuration
Enable HubSpot Integration,

select

 

Yes

to enable the extension. (

Yes is the default state which is already selected.)

In

Abandoned Cart,

enter the time in minutes after which you want the inactive shopping cart to be treated as abandoned

.

In

Authorize,

once click on this option, it authorizes the above options selected by admin, a new window of HubSpot page will open up, which will ask to enter details of the signup form then it will provide authorization to access the admin panel with HubSpot. 

Cron Configuration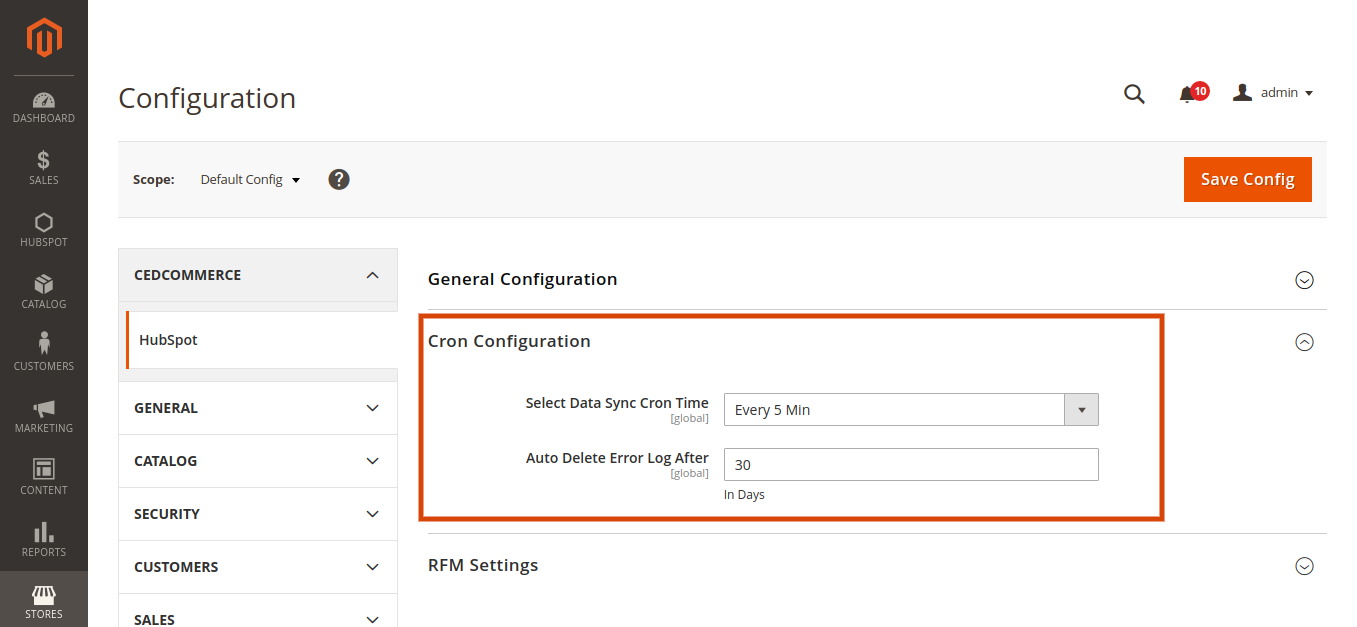 Select Data Sync Cron Time –

You can decide in what frequency Magento data gets sync to HubSpot, it can be once in a day, twice in a day, four times a day, or every hour.

Auto Delete Error Log After

This allows automatic removal of error logs. It can be set in several days.

RFM Settings
The RFM setting is to analyze the customers and divide into groups based on how recently they made their last purchase, how often they buy things and the average value of their orders. For each of these metrics, we assign customers to one of three groups, RFM stands for Recency, Frequency, and Monetary value and then rate them on a scale of 1 to 5, where 5 indicates the customers who are most inclined towards your product and 1 indicates those who are least inclined.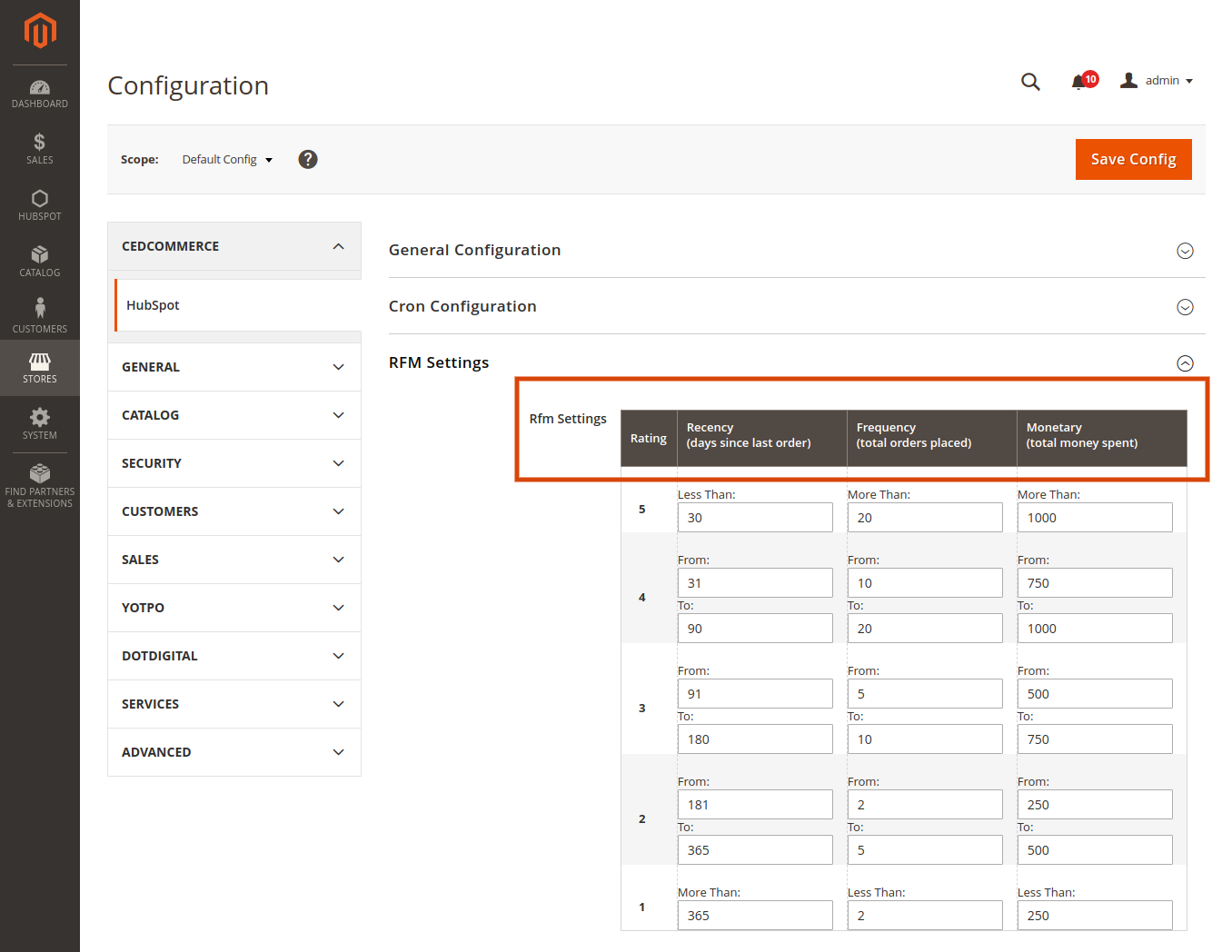 In the

Recency

column, you need to enter the numbers as a parameter for days and decide on its basis which type of customers are visiting your store most frequently. You may rate them accordingly.

In the

Frequency

column, you need to enter the numbers for the total orders placed by a customer, and based on that, you can decide about the customers who are placing most orders and who are placing the least number of orders.

In the

Monetary

column, enter the numbers as a parameter and decide on its basis who are the customers who are spending the most on your product and who are spending the least.
Once done with all configuration then click on the Save Config button on the top right side of the page then all the configuration will be saved.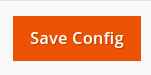 ×