For the Non-US sellers
If you are a seller selling outside the US, you can leverage the features of catalog synching, upload your inventory through the app, and manage your orders from your Shopify stores.
Having an offsite Facebook Page means, your order will be managed from your eCommerce website. In this case, the following screen will appear.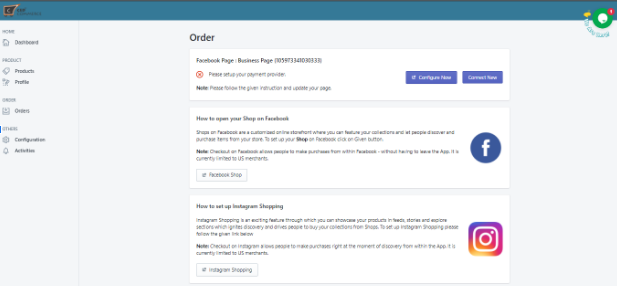 Convert existing Facebook Page to Facebook Shops
If you want to update your existing Facebook Page to Facebook Shop, you have to Click on 'Configure Now' and add details about your business account, set your preferences, and provide payment details.

Connect a new Facebook Page
In case you want to connect to a new Facebook Page rather than the already existing one; you can click on the option 'Connect new' to update your Facebook Page.

How to open Facebook Shops and Shops on Instagram
Instagram Shopping is a feature that lets you surface your products across Instagram across stories, feeds and explore sections while igniting the purchase and lets your shoppers purchase from your Shops.
While Facebook Shops are the customized storefronts that let shoppers make a purchase across Facebook networks offering checkout services.
The checkout is only available for the US merchants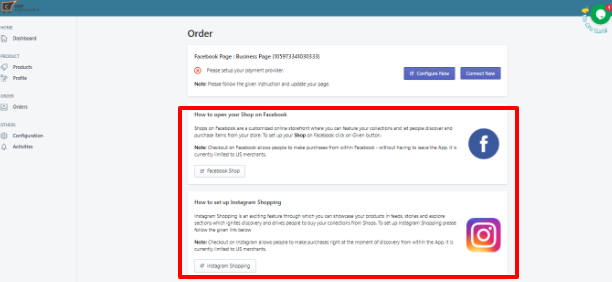 For assistance, you can click on 'Facebook Shops' and 'Instagram Shopping' respectively and get to know more about the account setup process.
×