Create a Retargeting Campaign
Facebook retargeting is a PPC strategy where you show your ads to people who are familiar with your brand or who have previously visited your website via the prospective ads.
In order to set up Retargeting campaigns, you have to:
Go to Create Campaign, and select Retargeting campaign as your preferred choice. Click on 'Create Campaign' on the Retargeting option.
Next, add campaign basic details like Campaign name, Campaign type, and Campaign Budget.

The next step is to select your Ad set name. This is the name you provide for your ad.
Next, select the catalog set then the catalog, and then proceed with an event type.
(Note: Catalog set needs to be created in the connected catalog)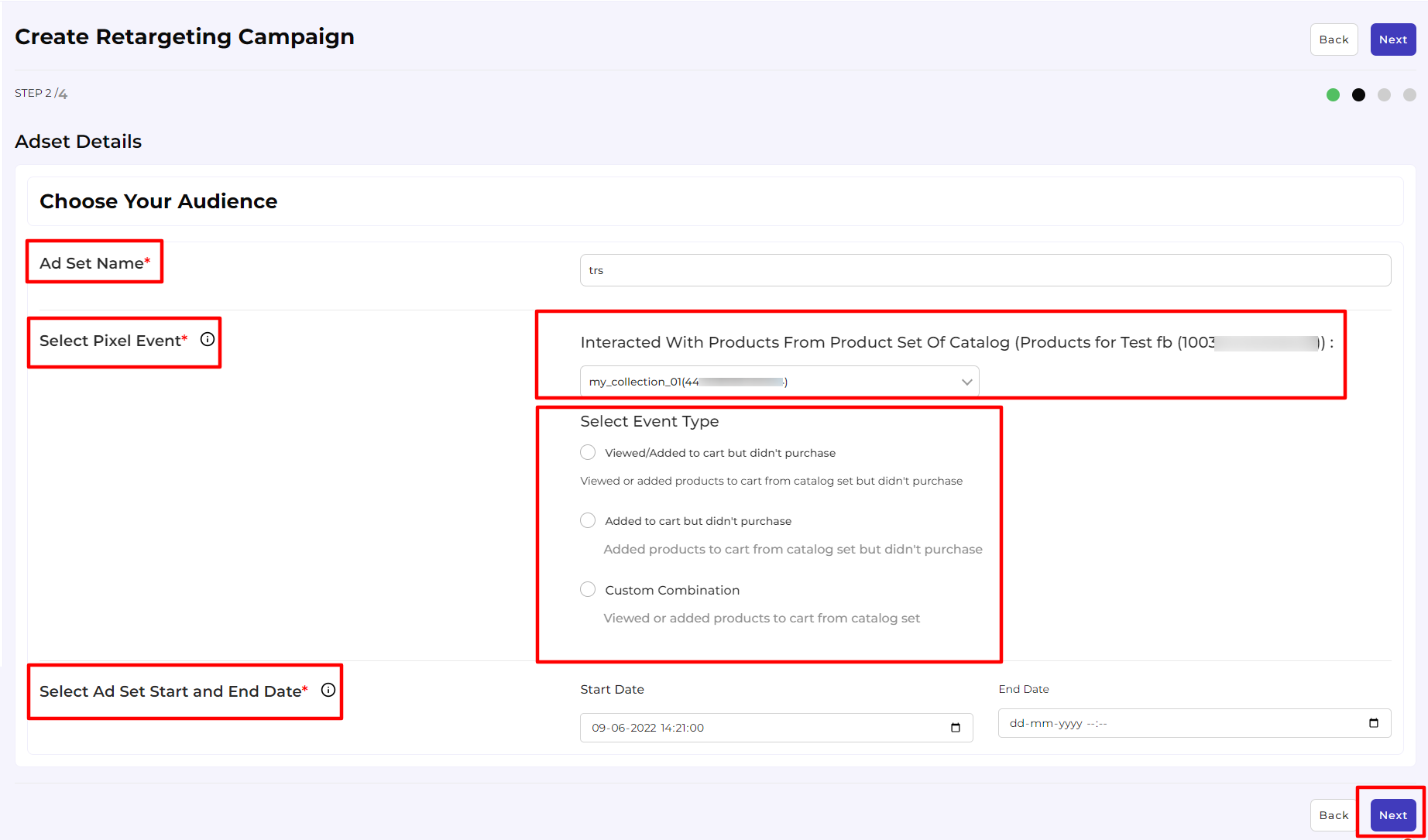 In the Event type, you can select an option between:

Viewed/Added cart but didn't purchase: This type of event is for the customers who have Viewed or added products to the cart from the catalog set but didn't purchase.
Added to cart but didn't purchase: Added products to cart from catalog set but didn't purchase.
Custom Combination: Viewed or added products to cart from catalog set. You can add include and exclude multiple conditions in order to target your audience in a more appropriate way.
In select, you can choose the option of View Content, Add to Cart, or Purchase. Add the days from when you would want to retarget the customers. Similarly, you can add the dates from which you want to exclude the customers from your campaign.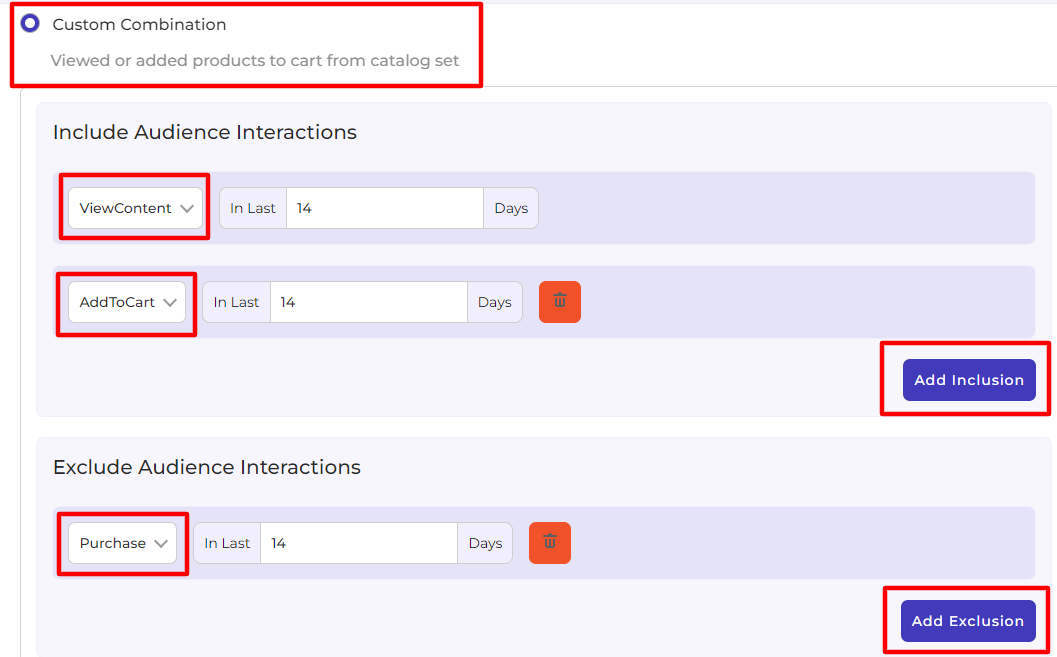 Select the Ad set start and end date for your campaign. (start date is compulsory for both daily & lifetime budget and end date is compulsory for lifetime budget)
Next, again add the catalog and catalog set to the app.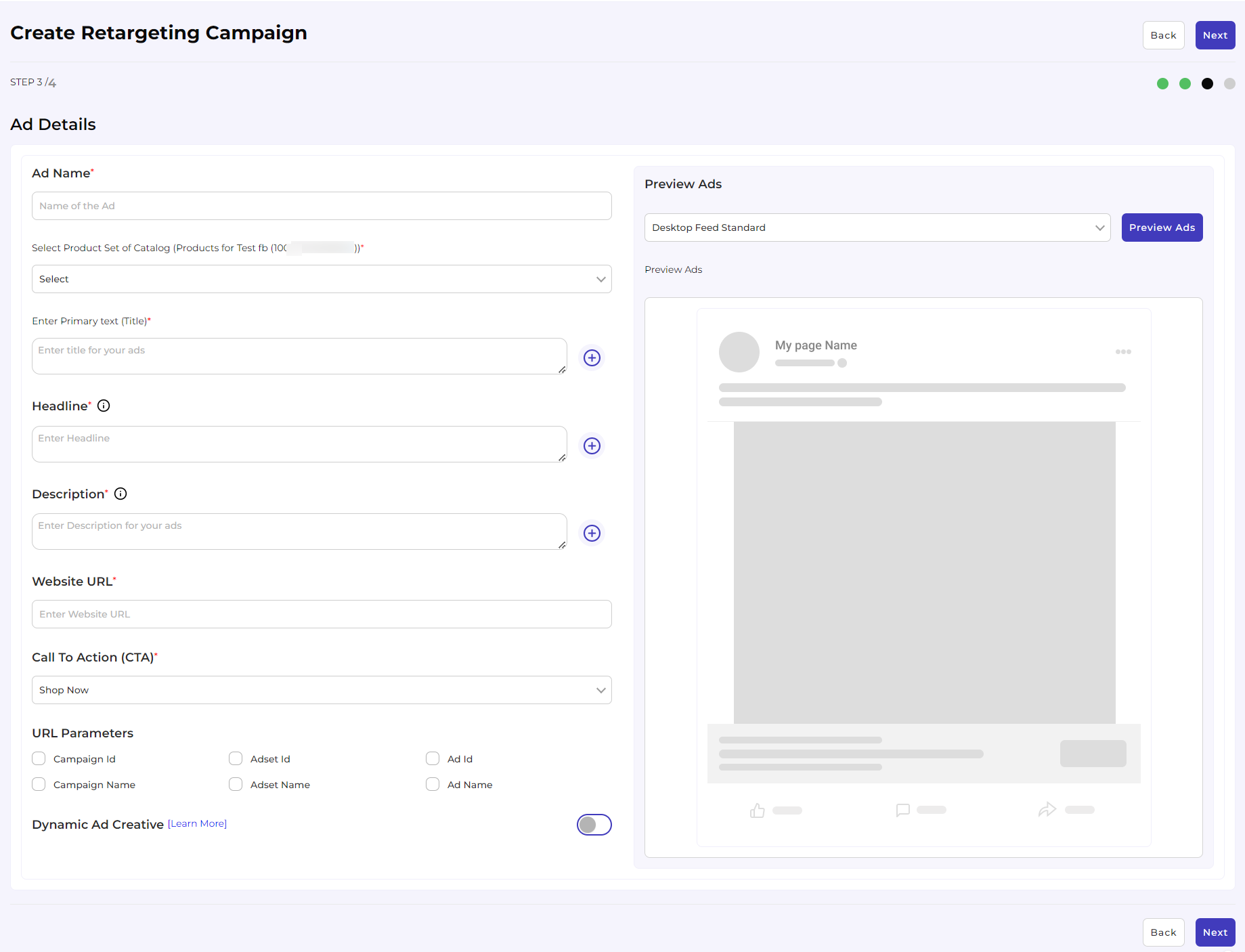 Next, add the headline, description, the primary text for your ad, and a website URL.
Add a CTA button.
In the Retargeting ads, you have an option to enable Dynamic ads. Dynamic ads automatically change the order of your Facebook ads in order to adapt content and promotions specifically to each user, ensuring that each user is exposed to the most effective creative for him or her.

Note: Once a campaign is created it can be viewed from the dashboard of the app and can be activated as well
×